Get LinkedIn to Sales: September Webinar Series

Weekly Event - Every Wednesday: 8:00 AM to 9:00 AM (PDT)
Event Details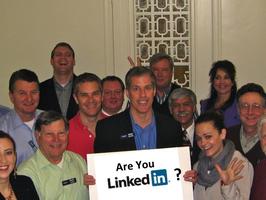 Learn how to leverage the No. 1 Social Media tool for business. 4 x 1-hour coaching Webinars/conference calls spread over the next month gives you the time and the nudge to put lessons into practice to reach LinkedIn Mastery. Choose from two options:

1. Individual Coaching - 4 x 1 hr. individual (1-on-1) coaching sessions on your selected topics scheduled at your convenience.

2. Group Coaching - 4 x 1 hr. group coaching sessions from 8:00-9:00 AM PACIFIC TIME to answer your questions and cover the following LinkedIn areas in more detail:

Sept. 7     Getting Found: Complete your Individual Profile and Company page

Sept. 14   Find Your Target Customers: Techniques for searching and research

Sept. 21   Advanced LinkedIn Features:  Mobile, Applications, and more

Sept. 28   Writing Compelling Content: Create messages that get results
Added Value: Webinars will be recorded and can be reviewed by clients at any time as reference material.
"I had a one-on-one session with Kurt about how to better utilize Linked-In--and it's working! Sincerely, I am so grateful to Kurt for showing me how to leverage LinkedIn. He makes it simple!"   
                                  Karen Solomon, SuccessAppeal
Find out more about the presenters:
Kurt Shaver at www.linkedin.com/in/kurtshaver
Carol Bell at www.linkedin.com/in/ringstruemarketing

Organizer
The Sales Foundry
The Sales Foundry helps organizations increases their sales performance via speaking, training, and consulting services. Contact us at (707) 542-9022