Get Konnected! Lunar New Year celebration on Tuesday, January 28th, 2020 from 5:30 to 8:00 p.m. at Omni Parker House Hotel Boston
About this event
We are delighted to Kick 0ff our 12th year with our annual Get Konnected! Lunar New Year celebration on Tuesday, January 28th, 2020 from 5:30 to 8:00 p.m. at Omni Parker House Hotel (60 School St, Boston, MA 02108).
Each year we partner with National Association of Asian- American Professionals (NAAAP) Boston for this event. This year 2020, we are delighted to expand our partnership to include also the Commonwealth Seminar and Wells Fargo as well as our longstanding media partner Comcast and NBC10 Boston.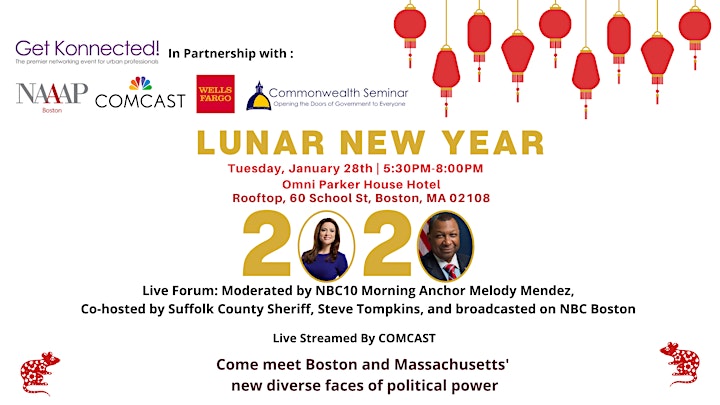 Organizer of Get Konnected! Lunar New Year
Get Konnected! is Boston's premiere bi-monthly networking event that brings together urban and international professionals, business executives, and entrepreneurs from various cultures. Its goal is to enrich professional development and forge new business and social relationships, making Boston a more diverse and inclusive city. These bi-monthly events provide exposure to a broad spectrum of ideas and validate the contributions people of diverse cultural backgrounds are making to world.