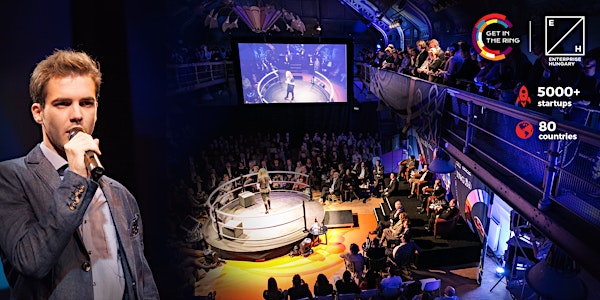 Get in the Ring! Budapest Finals
When and where
Location
Akvárium Klub Erzsébet tér 12. 1051 Budapest Hungary
Refund Policy
Contact the organizer to request a refund.
Description
Join Get in the Ring! and watch international entrepreneurs pitching their ideas and competing for the attention of investors in a boxing ring!

In Get in the Ring! the battle for investors takes place in the form of a unique show. Two entrepreneurs enter the ring, where they have to convince the jury in five rounds, that their idea or business offers the superior investment possibility. Every round deals with an important topic providing valuable information for investors, customers and potentional partners alike.

Get in the Ring Budapest will take place on the 24th of November, 2016 at Akvárium Klub where 8 brand new, high potential European startups will compete to be the new champion of Get in the Ring.
SCHEDULE
16:45 - 17:00 // Registration
17:00 - 17:10 // Welcome speech
17:10 - 17:30 // Opening lecture
17:30 - 18:30 // Quarterfinals
18:30 - 18:45 // Break
18:45 - 19:00 // Hiventures presentation
19:00 - 19:30 // Semifinals
19:30 - 19:45 // Final Round
19:45 - 20:00 // Victory ceremony
20:00 - 24:00 // Networking



Buy your ticket and watch the international startup show live and get the 20% sale offer from our food delivery partner, Odrit!
We donate 100% of the income to CoGoodwill.
About CoGoodwill:
CoGoodwill connects people in need directly with good-hearted people and socially responsible companies by providing a platform where you read life stories of people recommended by foundations, organisations worldwide in order to solve social problems and create success stories together. Thanks to this transparent and personalised way of giving it's communicated precisely what is needed, who is in need and what happens to people after helping them. CoGoodwill has received recognition for being in the final round of this year's European Youth Award!
CoGoodwill transfers all GITR charity to Pamilerin.
About Pamilerin
Pamilerin was born 5 years ago. The joy of her birth soon turned into a nightmare of anxiety and confusion when the baby girl was discovered to be paralytic, blind, deaf and dumb. An early physiotherapy treatment helped resolved the mobility problem while the sight, hearing and talking impairments persist. Pamilerin's dad died just when she was 7 months old, and the company, he worked for, ceased its operations and couldn't support Pamilerin's medical treatment any more. Further operation is recommended to achieve the full restoration of her sight. Total cost of the surgery is estimated at circa $6,000.