Get Hired in 2013! (Powered by TCE University) ONLINE ONLY

Multiple Dates
Event Details
100% ONLINE TRAINING EVENT
Worried About YOUR Fiscal Cliff?
Getting Out of the Military?
Concerned About High Unemployment?
Hearing Rumors About Layoffs or Firings?  
Don't Get FOOLED...Get Hired!
Need REAL Help with your Job Search!!!
Bottom-line:  The BEST Employers are looking for the Top 10%. They want performers, not presenters, they NEED employees not candidates. Where Do YOU stand?
Attend this TCE University Power Seminar and Learn....
The Secrets to LANDING a Job in THIS Economy?

Top Career BOOSTERS

That Will Get YOU Noticed?
How to Tap into the HIDDEN Market and Avoid Pitfalls?
Get YOUR Career Questions ANSWERED by "The Career Engineer"
 "I attend a workshop conducted by Francina Harrison, MSW, earlier this month and it was excellent. She is a competent professional, excellent communication and engaging skills. Immediatley after the workshop I implemented some of her tips. My confidence has increased due to her workshop, writtten information provided and the free telephone consultation provided." (Marie Barnes)
Did you know...
...That over 70% of the BEST opportunities ARE NOT advertised?
...Employers ARE Hiring and most struggle to fine the "right talent!" 
...300 resume per week are viewed by  gatekeepers hiring for 10 jobs or less!
2012 was a TOUGH Year...let me help you make 2013...BETTER by learning Career strategies that can BOOST your results. 
"TCE Rocks!  I had a great session with Ms. Francina, she calmed my fears of facing unemployment and helped me focus on getting started on a new path. I'm looking forward to working with TCE!"  (Leigh)
 __________________________________________________________________________________________ 
 TCE CAREER RESOURCES
(CLICK AND USE RIGHT NOW!)
---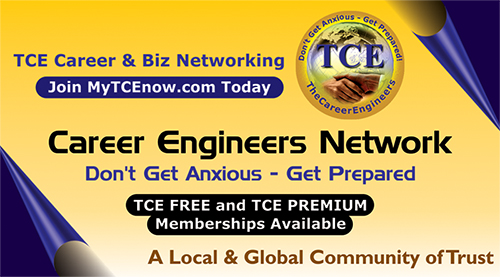 ---
---
The Career Engineer's (TCE) award winning Career & Business expertise featured on Media Outlets across the nation.
Materials obtained from this TCE University Training is protected by copyright laws and is to be used for the sole purpose of assisting registered individuals with their career search.  No reproduction, usage of materials (print or verbal) or it's likeness is permitted without written consent from Harrison & Associates.  
Copyright @ 2011 Francina R. Harrison.  All Rights Reserved.
Organizer
Don't Get Anxious - Get Prepared!
TCE delivers career & business re-engineering strategies that build confidence, courage, increasing your value and visibility which increases your income potential and your chances to get hired! CONTACT: info@TCEnow.com or call or text us 757-745-4823