The best motivational event of the year brought to for free!
About this Event
Do you invest time into listening to audiobooks, motivational videos, podcasts, and subconscious programming? Wish you could go to one of those high paid personal development events, but your budget doesn't allow? Are you serious about living life on a higher level? Are you committed to being a better version of your self?
Well, imagine if some a dynamic lineup of speakers coming together on one platform. Imagine if they all had a secret ingredient for you need to create the best year yet. Imagine if there were also vendors who had the products and service you didn't know you needed and you could shop in real-time. Imagine if this was FREE for you to attend!!!
Get High On Motivation LIVE 2021: New Year, New Year! is here to propel you to the next level of success. Prepare your self to not only be motivated, but to empowered to make a difference your life, your family and community's life, as well as the Universe-at-large.
This virtual event is geared towards business professionals who are ready to shift their paradigm and create a lasting legacy. Here is an opportunity for Entrepreneurs, Business and Community Leaders, CEO's, Public Figures to connect and to get their dose of motivation, information and inspiration!
The curator, Mimi the Motivator, has a vision of bringing VALUABLE professional and personal development to the people who need it most!
Only 75 tickets are available to attend live via Zoom.* Reserve yours today!
What to expect:
Five dynamic speakers plus Mimi the Motivator
Vendor Market opens 30 minutes prior to presentation
Networking (visit the PRG's Speed Networking Room)
When:
Saturday, January 23, 2021
11:11am Mountain Time |1:11pm Eastern Time
(Please check and adjust for your Time Zone!!!)
Where:
Registered attendees will connect via Zoom. Event will also be live streamed to YouTube LIVE and Facebook LIVE.
*Must attend via Zoom to shop Vendor Booths.
Come early to shop and meet the speakers!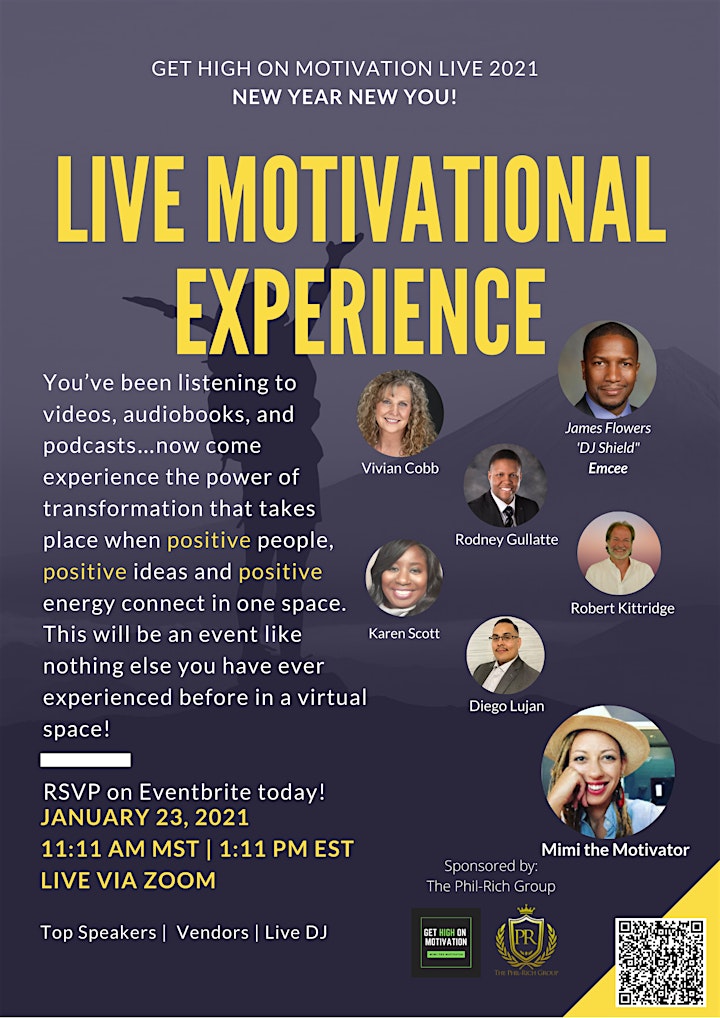 Speakers Lineup:
Karen Scott was born in Philadelphia the youngest of two girls. Even as a child, she was recognized as a gifted orator. Her gift has matured over the years as she participates in events, workshops, and conferences all over the country speaking to many different audience sizes on a plethora of different subjects. Karen's her first devotional, 'Exodus: 40 Lessons From The Wilderness' which can be purchased on Amazon. Her second book, a novel, When I Found Out Who I Was, All The Bullshit Stopped a coming of age story of a man who aged out of the foster care system and reconnects with his birth family. This novel will be coming out in early 2021. Karen lives with her husband Ken in Virginia and their two children, Kevin and Katharine.
Diego Lujan is the owner of Alphalete Plumbing and Heat, in Colorado Springs. He is someone who has lived a very destructive, negative life, but has now become a successful business owner and entrepreneur that is spreading the message of positive life positive mind! He owes his success and transformation to the dedication to and from his wife and children.
Robert Kittridge has inherent gifts of intuitive intelligence, sensitivity, and inspired communication, which has led him to be recognized as an influential mentor, coach, trainer, and speaker. His 30 years of fire service prepared him for his outstanding coaching career incorporating his people, crisis management, and communication skills. He has an innate ability to cut to the heart of someone's core issues, either personally or with leadership and team development while exuding the caring and support his clients need.
Robert's transformational journey inspires others around him and adds to his understanding of what motivates and emotionally holds back his clients. His passion for the Human Design theory elevates his insight and knowledge for revealing to his clients their unique design and what it takes to live their true self separate from what they are conditioned to believe. Robert, guides his clients on their unique journeys from a place of highly tuned sensitivity and intuition backed by a depth of knowledge.
Vivian Cobb began her career in video and film production before moving on to the real estate industry, where she has worked for more than 18 years. An expert in real estate operations, Vivian has experience selling and listing as a Realtor, owning a brokerage, and acting as a mentor to other agents. She has worked with some of the largest national real estate agencies and, since 2006, has owned and operated her own brokerage, Cobb Real Estate.
Recently, Vivian has focused on her public speaking career as Vivian Cobb Speaking, honing her talent for communication and presentation skills as a speaker for organizations such as Toastmasters International and Rotary Clubs. She has now expanded her public speaking to share her personal story and offer guidance to others on a national and international level. As an Emotional Health Coach and Speaker Coach for TEDx Colorado Springs, she imparts the wisdom she gained through her life experiences: first, as a struggling single mom; then, as the wife of a wealthy real estate investor, which nearly ended in disaster for her family; finally, as a freed entrepreneur, renewed by her triumph over adversity.
Rodney Gullatte is a community leader, US Air Force Veteran, Certified Ethical Hacker, Certified Chief Information Security Officer, Certified Network Defense Architect.  With a background in Information Technology and Cybersecurity that includes Department of Defense, retail, healthcare, casinos, utility companies and more, Rodney has developed Firma IT Solutions to bring enterprise technology solutions to small businesses. He comes to Colorado Springs by way of Key West, FL where his wife was stationed in the Air Force. In the short span of 5 years, Rodney has established himself in Colorado Springs as a member of the Southern Colorado Women's Chamber of Commerce, Chamber of Commerce, Tri-Lakes Chamber of Commerce, Colorado Springs Chapter of eWomen's Network, Past-President of BNI Strategic Alliances Chapter, Cybersecurity Consultant for the Pikes Peak Small Business Development Center and Board Member of the Better Business Bureau of Southern Colorado.
His latest accomplishments are becoming the President of the Rotary Club of Colorado Springs, Co-chair of the Southern Colorado Business Partnership, winner of Colorado Springs Business Journal Best in Business 2017 #1 Cybersecurity Company, recipient of the Colorado Springs Business Journal Rising Stars Class of 2018 award, winner of the 2020 Mayor's Young Leaders Award in Technology and Sustainability, winner of the 2020 Front Range Power Connectors Networker of the Year, founder of the Colorado Springs Black Business Network and the winner of Small Business Week 2019 Veteran Business Owner of the Year. He is also a board member for the Colorado Springs Conservatory and the Colorado Springs Chamber and EDC.  Rodney leverages his multiple affiliations to help grow his sphere of influence to help others succeed. This philosophy of "Givers Gain" has brought him success in business and among the community. He believes that educating the business community about cybersecurity will help create a CyberSafe Community which is a program his company sponsors with Fox21 News.
Mimi the Motivator is the modern-day Master Teacher, a dynamic speaker, and coach who empowers all to create the life and business desired; an inspirational business woman, volunteer and voice in the community. She's lived between Nashville, TN and Tampa, Florida the majority of her life. Now she spend most of her time in Colorado Springs and traveling the US, working with conscious entrepreneurs of various industries.
Through keynotes, workshops, blogs, social media and daily encounters, Mimi is raising the vibrational altitude of people around the world. Find her on your favorite podcast app, where she hosts Get High On Motivation. With 25 years of public speaking, Mimi serves multiple roles for Toastmasters International. As Vice President of the Yes Ma'am No Ma'am Institute, she has only begun to give back to her community in Nashville, Tennessee. Known as an avid volunteer working with multiple youth groups, business owner, consultant, contributing to the birth and growth of many grassroots organizations.
Mimi has a degree in Mathematics, with additional studies in Education, Leadership and Business Administration. She started on her path of entrepreneurship at the age of seven, attaining her first business loan by 16. Several years later she continues as a serial entrepreneur who has been successful at turning businesses, sales teams, and individuals into positive minded, motivated result producing machines. Owner of the Phil-Rich Group Ltd., a social impact company empowering conscious entrepreneurs and organizations to transform who they are in oder to create desired success.
Your favorite motivator's favorite Motivator can be found on Apple Podcast, Spotify, iHeartRadio, Pandora, Stitcher and more...Get High On Motivation, a program that includes inspiration, advice, interviews that invites listeners to get their minds, bodies, and spirits in alignment. Published weekly on Wednesdays, the mission is that it will provide some midweek motivation and stimulation for listeners to live the happiest, healthiest, and best life possible. The audience is encouraged to share their situations, questions or concerns for Mimi find the message in their mess. Most interviews are with female or minority entrepreneurs. Topics may vary, but the goal is the same, transform traditionally programmed sheeple into deliberate cocreators manifesting the life of their dreams. Subscribe now... Be happy. Be healthy. Be You!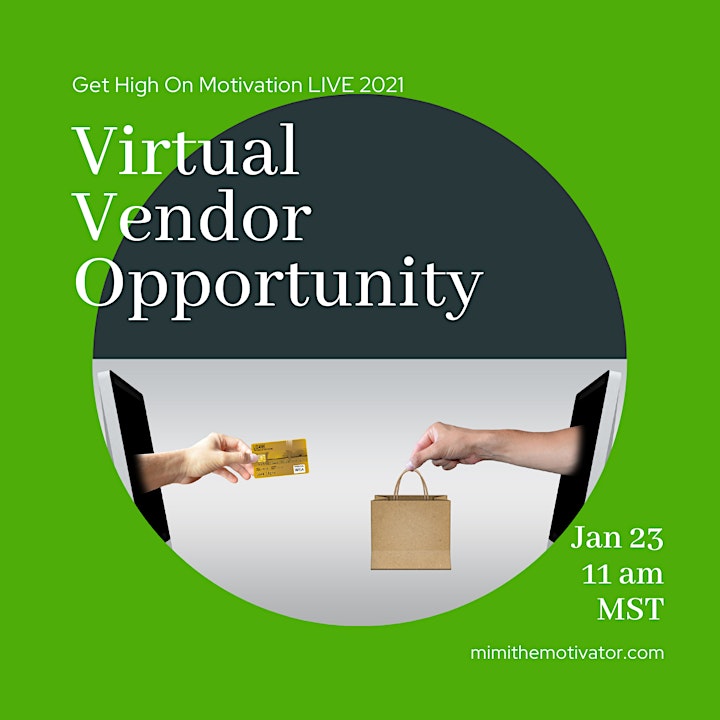 Do you have a product, service or valuable information that business leaders need in their lives? Apply to be a vendor.
For $25, you will be assigned a virtual booth, a private breakout room, for guest to interact and shop with you directly, before and after the live speaker presentation. Your brand will be advertised via multiple social media platforms and during event.
To apply, >>>>click here<<<<.