"Get Healthy, Wealthy & Wise in Business" - Lunch and Learn with WPN
Description


You're in Luck! Join us on St. Patrick's Day for an inspirational and motivational Lunch and Learn event hosted by the Women's Power Networking - Heart of Durham Chapter. You will have opportunities to network, participate in small group discussions and enjoy a raffle for prizes! But wait...there's more! You'll learn strategies from a panel of experts who will share information, tools and tips to create, maintain, and expand a thriving practice, through the care of your self, your family, future, and business.
Get your tickets now as seating for this event is limited!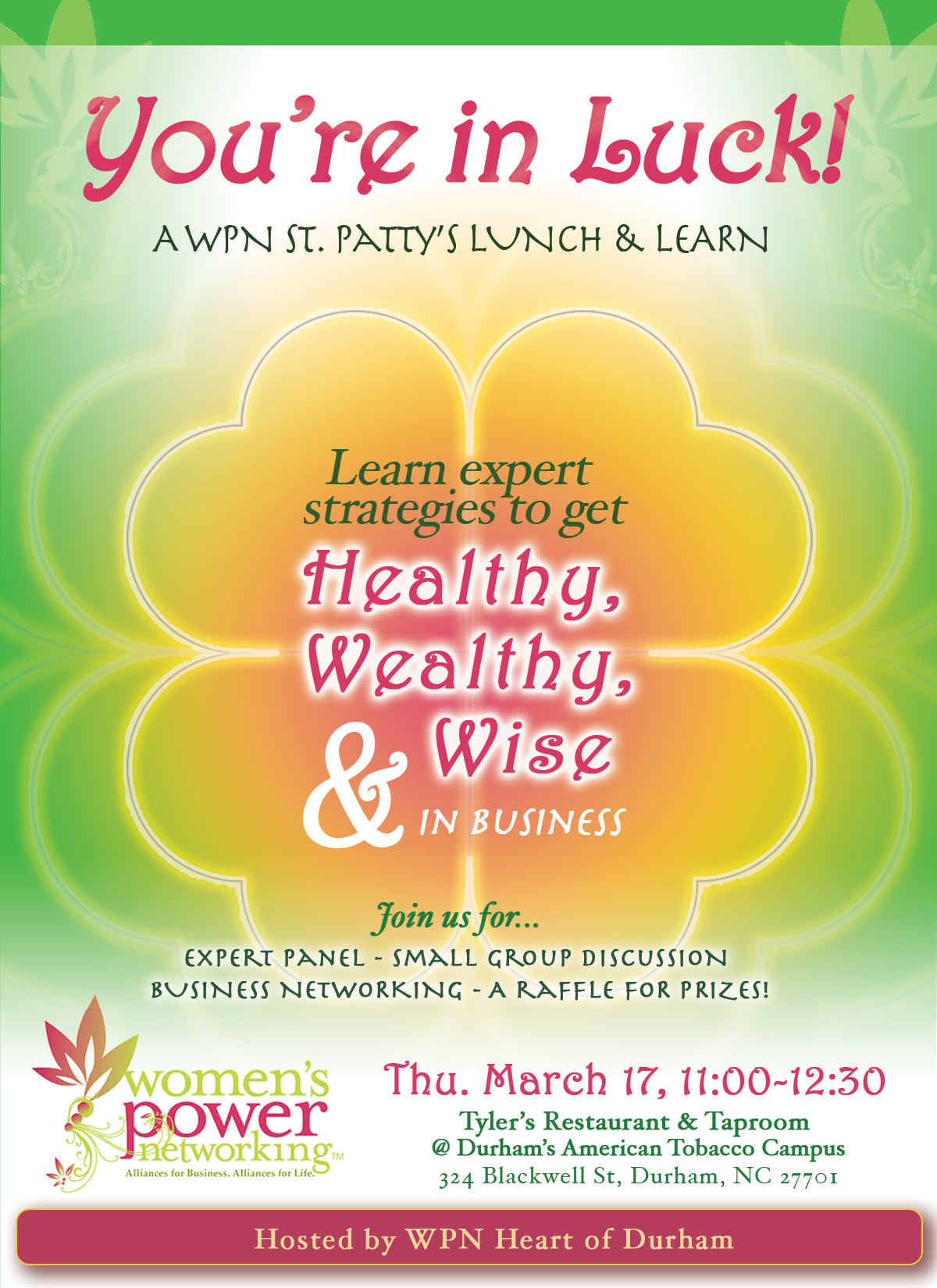 YOUR PANEL MEMBERS
*Dr. Barnsley Brown
www.spirited-solutions.com
Professional speaker and coach, Dr. Barnsley Brown loves helping busy professionals, women, and business owners who want to have more time, energy, and money right now!
As a licensed massage and body therapist with over 30 years of training in a wide array of somatic practices, Joanne offers her clients individualized sessions that assist them in taking their next step for optimal health.
Recharge your radiance with beauty foods, lifestyle, and skin care products.
*Rekshan Hyder

Sr. Mortgage consultant with Sierra Pacific Mortgage. Making the dream of home ownership true.
*Dawnelle J. Hyland

Leadership Consultant / Transformational Trainer
Align Leadership, LLC and Trainer Designs Global, LLC


Coaching leaders and their teams to excel at their talents and thrive professionally and personally.
*Sonya Linton

Estate Planning Attorney
sonya@sonyalintonlaw.com

/ 919-908-1879
Helping families and small business owners develop thoughtful estate plans.
*Maribel Manibo
Management Consultant and Trainer
Right Hand Partner Company, LLC
www.bemyrighthand.com /
919-636-6796
Assisting business owners/leaders/managers and their teams/organizations (private & not-for-profit) to determine & implement strategies, systems and processes to continually multiply their results, success & impact.


Cost: Free. You may order lunch/appetizers/beverages from the menu at your own cost. However, you are not obligated to do so.