GET FAMOUS or Die Laughing Comedy Jam with Daniel Dugar & Kirk McHenry

Friday, June 7, 2013 at 8:00 PM

-

Saturday, June 8, 2013 at 12:00 AM (PDT)
Event Details
You don't want to miss this next edition of GET FAMOUS or DIE LAUGHING COmedy Jam. We have Oakland's funniest comedians back for ONE NIGHT ONLY...
Town Business Edition features:
Daniel Dugar http://www.danieldugarcomedy.com/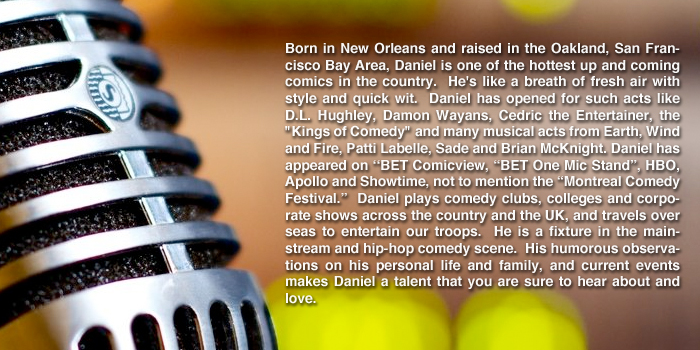 Kirk McHenry http://www.youtube.com/watch?v=sq0NHET4DGw
Born and raised in Oakland, CA, Kirk has had a variety of experiences. Life in the inner city, prep school in the suburbs, college life in the south and even a successful four-year stint in the United States Marine Corps. He blends all of his life experiences together into a storytelling brand of comedy that has been described by some as Bill Cosby with a Richard Pryor twist. 
Having already opened for such stars as Paul Mooney, Bobby Slayton, Tommy Davidson and Don "D.C." Curry, Kirk has been labeled one of the Bay Areas fastest rising young stars by his peers. He even gained recognition as one of the top 10 comics in the Bay Area by Karma 777 Film works & Productions. 
In addition to Kirk's comical talent, he is also a freelance writer and voice impressionist. He was nominated for Outstanding Voice Performance by the National Academy of Video Game Testers and Reviewers Corporation (N.A.V.G.T.R) for doing the voice of "Toe Jam" in the SEGA game Toe Jam & Earl III: Mission to Earth.
Also featuring Comedian Tristan Johnson, Reyna Amara, Jerrell Parker, and host Christopher Riggins... Other funny Bay Area comedians TBA but this right chea is already the show that go #Yeee!
Comedian Tristan Johnson https://www.facebook.com/ComedianTristanJohnson
Comedian Tristan Johnson was raised in Oakland California always had charisma, being quick witted became known as silly. But in 2009 he gave birth to being a comedian.  Comedy was life changing and Johnson became smitten with the mic creating his three stage personas: himself; his "silly side," Trissie Tris; and his "thug-silly side," Hoody 2 Shoes.  His aggressive style of comedy landed him producing his own show Nutty Mondays, in the heights of Sacramento.

On stage this refreshing comedian Tristan Johnson leaves no room for sensitivity, he even makes a few jokes about himself ; race, religion, stereotypes, relationships and sex are all fair game when he hits the stage. As a Class A truck driver he spent a lot of time on the road thinking of crazy stuff that is relate able to all. His skits can be located on you-tube include: Rent a Nigga & Any Trissie Sunday. Watch out for this comedian currently residing in Los Angeles, he has his mamas hips and his tag lines have a future in comedy.
Reyna Amaya - http://www.youtube.com/watch?v=6KllUB1NN4Q
Reyna was born and raised in Oakland, CA but now resides in LA. She is also pursuing her acting and modeling career while continously growing in her comedic career. This is her FIRST TIME performing in the BAY!!!
Jerrell Parker - http://www.youtube.com/watch?v=VilwWRme3Js
Jerrell Parker's motto. At 26, he has been gaining fame through out the Bay Area
performing stand-up in Berkeley, Richmond, Fairfield, Hayward, Oakland and his
hometown Vallejo, CA. He also performed in Sacramento and at The Comedy Store in
Los Angeles.
The first performance Jerrell did, he was 18. It happened at downtown Vallejo's
Listen and Be Heard. He recalls the experience as being more difficult than just
telling jokes to friends and family. "I was real nervous and stuttered a lot, but got
a lot of laughs." He was always the funniest person in class throughout school, yet
was told he wouldn't actually be funny on stage. After that first performance he fell
in love with it. Proving the doubters wrong has been key in fueling Jerrell to keep
perfecting.
Jerrell was born one of seven children in Vallejo, CA. He participated in sports with
his brothers, but was always genius when it came to making his teammates and
family laugh. Over the course of his life Jerrell has dealt with the loss of a brother,
sister, and most recently his mother. Nonetheless, he sees all of it as motivation and
has only worked harder to perfect his craft.
Hosting the show is funny man Christopher Riggins!!! 
https://www.facebook.com/christopher.riggins.5
BE FUNNY!!! Im a comedian, father, husband, and an all around asshole! follow me on twitter @kewlchris!
"if you gotta be a monkey, Be a Gorilla"
-Redman
Have questions about GET FAMOUS or Die Laughing Comedy Jam with Daniel Dugar & Kirk McHenry?
Contact FLOW PRESENTS
When & Where

Geoffrey's Inner Circle
410 14th St
Oakland, CA 94612


Friday, June 7, 2013 at 8:00 PM

-

Saturday, June 8, 2013 at 12:00 AM (PDT)
Add to my calendar
Organizer
FLOW PRESENTS
FLOWpresents goal is to be the brand the presents the brand, whether it be the hottest new talent, product, service, or business idea.
We are in the business of creating events that grows your network and your networth. We are also here to close generational poverty gaps and increase high achievement. We do that by sharing information and resources.
We have found that you can do all of these things and still have a great time. We pride ourselves in high quality events.
Stay tuned for our wine tasting and sips. Join our wine club at flowpresentswine.com
Like our FB page at https://www.facebook.com/pages/FLOWpresents/140304312651637?sk=info to stay updated on the next comedy show.
Join our GET FAMOUS, the independent edition group that hosts over 500 independents across the nation. 
Catch, Gabby Valentino, as a comedian on stage when she is not producing an event or participating in a speaking engagement.
GET FAMOUS or Die Laughing Comedy Jam with Daniel Dugar & Kirk McHenry