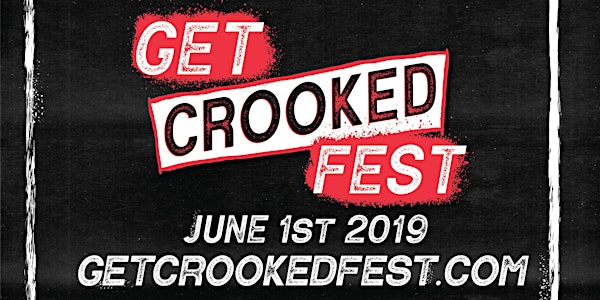 Get Crooked Fest
When and where
Location
Anne Arundel County Fairgrounds 1450 Generals Highway Crownsville, MD 21032
Description
Get Crooked Fest is a festival celebrating local music and beer in support of a great cause benefiting the Oyster Recovery Partnership. This event will host live performances by:
Jimmie's Chicken Shack
Stolen Rhodes
Yellow Dubmarine
Joey Harkum
Burt the Dirt
Justin Shapiro
Crooked Crab Brewing Company will be offering both year round and seasonal beers for purchase in addition to a special beer that will be first released at the festival! Check back for even more beer from other Maryland breweries!
In addition to beer and music we will have food, games, and lots of fun. There is no better way to spend your Saturday!
Come celebrate Maryland, with great music, great beer, fun times and #getcrooked.
Visit www.GetCrookedFest.com for more details!
GET YOUR TICKETS NOW! $25 GENERAL ADMISSION
POLICIES:
Get Crooked Fest reserves the right to change and update the information provided on this site at any time. Beer list, food menus, musical performances, and all other activities are subject to change at the discretion of Get Crooked Fest.
FESTIVAL SECURITY:
For security purposes, all backpacks, camera bags, purses and bags of any kind are subject to inspection at the festival gate prior to entry into the festival area. No coolers of any kind will be allowed. Get Crooked Fest reserves the right to disallow any container, bag, or sack at any time for the festival event. Guests are permitted to bring personal cameras into the festival area and use them as much as they'd like as long as it does not interfere with the enjoyment of other guests.
ALCOHOL POLICY:
Festival is 21+. No alcoholic beverages of any kind may be brought into or removed from the festival area. The state of Maryland prohibits the sale and consumption of alcoholic beverages to any persons under the age of 21.

• Guests will be required to show proper proof of identification when entering the festival and purchasing alcoholic beverages.
• Alcoholic beverages will not be served after 8:30pm. Last call announced at 8:15pm.
• Get Crooked Fest holds the right to deny the sale of alcoholic beverages to any guest for any reason.

TICKET PURCHASES & RAIN POLICY:
Get Crooked Fest will be held rain or shine on June 1st, 2019 from 2pm to 9pm. In the event of extreme inclement weather, musical performances, beer sales & all other activities may be delayed until after the inclement weather has left the area. All admission tickets and all beer ticket sales are final. No refunds or exchanges will be permitted for any reason. Gifts and souvenirs purchased from individual festival vendors are not the responsibility of Get Crooked Fest.
RE-ENTRY POLICY:
For the safety and security of our guest, re-entry back into Get Crooked Fest is restricted.