Description
Presented By Get Connected, on Thursday, June 27th, 2019, Get Connected invites storytellers,
throughout the Film, Music & Entertainment industries, to the "Welcome To Summer" event.
Event:
Get Connected "Welcome To Summer"
Date:


Location:
The Springs Cinema & Taphouse
5920 Roswell Road, Suite C-103,
Sandy Springs, GA 30328
Time:
6-11pm
Dress:
Business Casual
DETAILS:
| Food and Drinks for sale at the concession stand | Food Trucks | Screenings | Panels | Networkig |
Cost:
$20 Registration - Limited Tickets Available | NO REFUNDS
NOTE:
Due To Capacity Limitations, We Suggest Attendees To RSVP Early To Secure Your Tickets.
PANEL: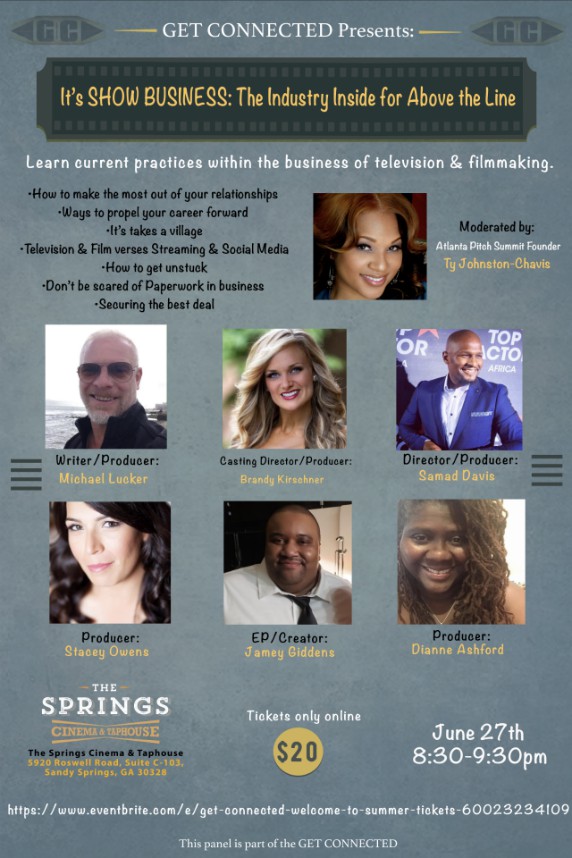 MOVIE SCREENINGS - See Below: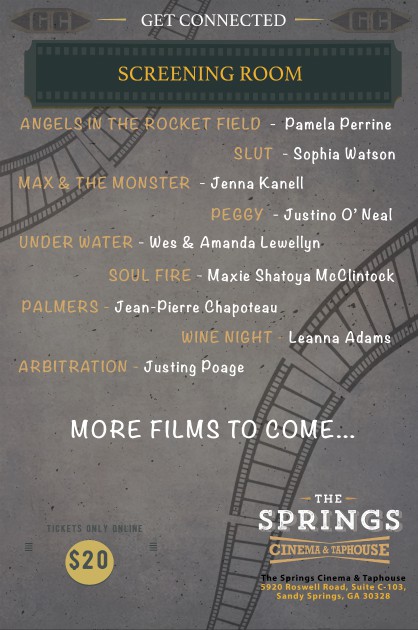 RESUME & HEADSHOT DROP OFF
Crew: Resume & headshot drop off for Triple Horse Studios & Areu Bros Studios.
Actors: Resume & headshot drop off for Joy Pervis, People Store, and East Coast Talent.
Writers: sample drop off for AUBURN AVENUE FILMSand Prominent Productions.
Please just have a logline and synopsis. All genres welcome.

Baskets will be stationed for Drop off. Please bring enough copies.
About Get Connected:
Get Connected has steadily grown over the past 8 years and has become a staple networking event for those in the Atlanta Film Community. We are here to celebrate you and your successful journey and hard work in the industry.
Never Heard of Get Connected? All the more reason to learn about us and come out to this amazing event.
Here are a few benefits we have been able to provide individuals, corporations, and non-profits over the years...
1.- We have helped over 38 families during the Holidays over the past 5 years.
2.- We have raised over $40,000.00 for local charities.
3.- We have helped to feed over 3,000 homeless individuals
4.- We have helped over 24 families during the Holidays over the past 5 years.
5.- We have screened hundreds of finished projects over the past 7 years.

Get Connected is excited for what the next 8 years will bring. Those involved with this event strive to provide a great platform for Atlanta's booming film and entertainment industry. Your support and participation is what allows us to bring all the talented individuals in the area together! So THANK YOU. We appreciate you.