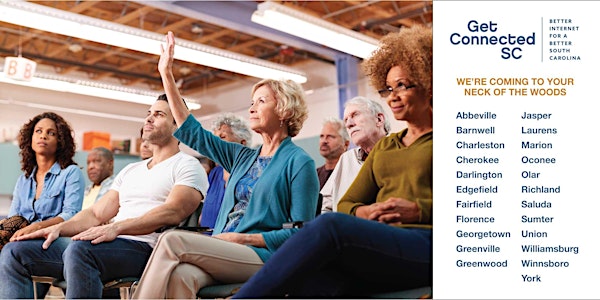 Get Connected SC: Better Internet SC Townhall:(Kingstree)
A town hall listening tour to engage local communities, assess Internet needs and effectively expand Internet access where it's most needed.
By SC Office of Regulatory Staff Broadband Office
When and where
Date and time
Starts on Thursday, March 23 · 10:30am EDT
Location
Williamsburg Technical College: Room 444 601 Martin Luther King Jr. Ave. Kingstree, SC 29556
About this event
The GetConnectedSC initiative's mission is to help bring reliable, high-speed internet to every South Carolinian. From education, to healthcare, to social interaction, work and play, high-speed capability is critical to thrive in the modern world. So we're identifying areas of greatest need, investing in broadband infrastructure and providing support services to make that transformation possible for every home, business and community in the state. That's where you come in. Join us Thursday, March 29 to voice your questions and concerns. You may also complete the Better-Internet Survey in person or before you arrive.
Agenda
Demo: How to Complete the Survey
Complete Survey with ORS Staff
Frequently asked questions
Who can attend this event?
Do I need a ticket to attend?
Can I complete the Better Internet Survey if I don't have internet?
What counties are on the tour?
What can I expect at a local meeting?
Where can I learn more about Get Connected SC?
Do I have to attend a town hall event in order to take the Better-Internet Survey?