GET Conference 2013 in Boston, April 25-26

Thursday, April 25, 2013 at 8:00 AM

-

Friday, April 26, 2013 at 12:00 PM (EDT)
Event Details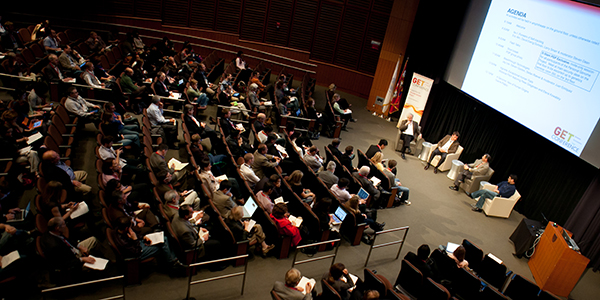 The GET Conference 2013 will highlight the revolutionary ideas and thinkers that are shaping how we understand human biology.  For more details about the conference, please visit our website: www.getconference.org
WHEN AND WHERE
April 25-26, 2013
Back Bay Events Center in downtown Boston, MA.
SPEAKERS AND AGENDA 

Each year we bring together around 30+ world-class speakers and conversation leaders to discuss the important ways in which new genomic technologies will affect all of our lives in the coming years and to debate their technical, commercial, and societal impacts.  For a complete list of speakers, including bios, and to view the agenda for the GET Conference 2013 please visit www.GETconference.org
WHO ATTENDS?
Each year, the GET Conference attracts thought leaders, innovators, investors, researchers and pathbreakers from industry, start-ups, academia, policy, healthcare, education and research.  Another big contingent includes research investigators, participants and activists: the people that are advancing our understanding of how genomes and the environment combine to form human traits by putting their own skin (or saliva, lymphoblasts, urine, etc) in the game.  

Hundreds of Personal Genome Project (PGP) participants have attended the GET Conference and we expect a record turn out this year.  These individuals include some of the most well-characterized humans on earth. An increasing number of research groups are organizing phenotyping sessions, specimen collection, recruitment booths and other research activities at the GET Conference to take advantage of this special opportunity.
TOPICS AND THEMES
Omics: personal genomes, microbiomes, immunomes, metabolomes, more
Sensors: health and enviromental sensor technologies, self-tracking
Policy: access, sharing, governance, privacy, IP 
Data & IT: visualization, modeling, applications, tools 
Traits: measurement, interpretation, new products and practices 
Medicine: preventive + predictive + personalized + participatory
Participatory research: reimagining the researcher-participant relationship
This year we celebrate the 60th anniversary of the DNA double helix: first described by Waston and Crick in their famous 1953 Nature paper. 
CONFERENCE TICKETS
The number of seats are extremely limited.  We sell out every year.  Purchased tickets are transferable, but all ticket sales are final and no refunds will be given due to limited seating.  Regular admission is $1000.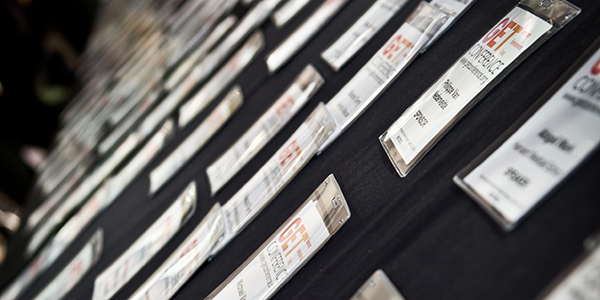 We offer a limited # of discounted registrations.  Only one discount can be applied per registration.
Physicians: 50% off. Fax proof to 617.701.7643 or email to info@getconference.org  Use code DOCTOR
Small Start-up: 50% off.  For full-time employees of a start-up with 8 or fewer employees.  Fax business card to: 617.701.7643 or email to info@getconference.org  Use code STARTUP
Nonprofit: 50% off.  For full-time employees of valid 501(c)(3) nonprofits.  Fax proof to 617.701.7643 or email to info@getconference.org  Use code NONPROFIT  
Government: 20% off.  For full-time government employees.  Fax proof to: 617.701.7643 or email to info@getconference.org  Use code GOVT
Early Bird: 25% off if purchased before Feb 15, 2013.  Use code EARLY
Press: You may be eligible for complimentary tickets.  Please apply here. 
Students: 90% off for full-time students.  Proof needed includes a copy of student ID and class schedule.  Fax proof to 617.701.7643 or email to info@getconference.org  Use code STUDENT
TAX DEDUCTIBILITY
PersonalGenomes.org is qualified as a charitable organization under Section 501(c)(3) of the Internal Revenue Code. Contributions to PersonalGenomes.org are tax-deductible to the extent permitted by law. Your ticket to the 2013 GET Conference may constitute a contribution that is deductible for federal income tax purposes. The amount of any deduction would be limited to the excess over the fair market value of the goods or services provided to you by PersonalGenomes.org in connection with the 2013 GET Conference, which is currently estimated at $45. Attendees who purchase tickets to the 2013 GET Conference will receive an acknowledgment and receipt following the 2013 GET Conference indicating the final fair market value of 2013 GET Conference tickets as calculated by PersonalGenomes.org. Please consult with your tax professional.
SPONSORS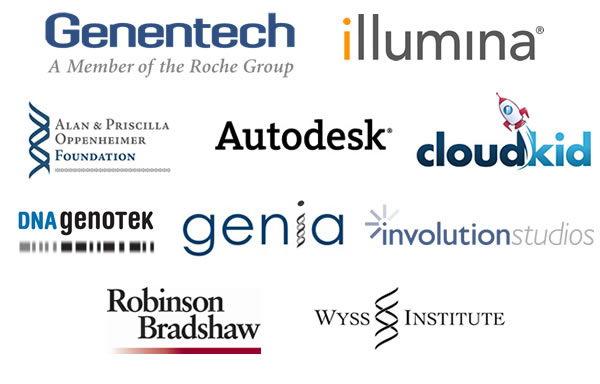 Learn more about our sponsors. Interested in becoming a sponsor?  Please contact Jason Bobe at jason@personalgenomes.org
ACCOMODATIONS
We have negotiated a special discounted rate on a block of rooms at the historic Park Plaza Hotel and Towers in downtown Boston.  This beautiful hotel is one block from the venue.


Rate: Discounted rate is $199/night + tax for Wednesday and/or Thursday nights (April 24 - April 25)
Deadline: Rooms must be book before April 5, 2013 or while supplies last
Extended Stay: If you plan on staying in Boston longer and want more nights at the hotel, they agreed to extend the discount to 3 days pre- and post-event (while supplies last).
There are two ways to make your reservation:
(1) Call Park Plaza and Make a Reservation by Phone.  The Reservations Department can be reached at (800) 225-2008 and ask for the "GET Conference" room block.
OR
 
 
(2) Make your Reservation Online.  Please follow these steps: 
1. Go to the hotel webpage at http://www.bostonparkplaza.com/
2. On the top right click on BOOK NOW
3. Under Special Rate, please select Group Code on the scroll down option
4. Under Code, please type in "PEG"
5. Then put in your check-in date, check-out date, and number of nights
6. Press the search button, and let the system check the availability
7. Select the room type that you want and fill out the appropriate information to book your reservation! 
Guests can also use the code above directly in the following link: 
https://bostonparkplaza.reztrip.com/rt/ext/promoRate?property=100&mode=b&pm=true&sr=22944
SOCIAL MEDIA
GET Conference page at Lanyrd
Twitter Hashtag: #get2013
CONTACT
For more information visit our website: www.getconference.org or email jason@personalgenomes.org
When & Where

Back Bay Events Center
180 Berkeley Street
Boston, MA 02116


Thursday, April 25, 2013 at 8:00 AM

-

Friday, April 26, 2013 at 12:00 PM (EDT)
Add to my calendar
Organizer
PersonalGenomes.org
 PersonalGenomes.org is a charitable organization working to generate, aggregate and interpret human biological and trait data on an unprecedented scale. Our mission is to make a wide spectrum of data about people accessible to increase biological literacy and improve human health. PersonalGenomes.org's programs are informed by values encouraging greater transparency and collaboration between researchers and the public.
Our programs include:
1. Global Network of Personal Genome Projects, which includes research studies in 4+ countries that collaborate on the development and evaluation personal genomic technologies and practices at increasing scales.  http://personalgenomes.org/organization/network
2. Open Humans attempts to break down health data silos through an online portal that will connect participants willing to share data about themselves publicly with researchers who are interested in using that public data and contributing their analyses and insight to it. We aim to make it easy for anyone to participate in research projects and to facilitate highly integrated, longitudinal health data.
3. Genomes, Environments and Traits (GET) Conference, an annual event that brings together leading thinkers to discuss how we measure and understand people and their traits. This event explores the frontiers of understanding about human biology and serves as an annual forum to debate the technical, commercial, and societal impacts. Each year we host world-class speakers and examine a host of issues at the bleeding (and spitting and swabbing) edge of knowledge.
GET Conference 2013 in Boston, April 25-26