| | |
| --- | --- |
| | |
Event Details
The GET Conference 2012 will highlight the revolutionary ideas and thinkers that are shaping how we understand human biology.  www.getconference.org
WHEN AND WHERE
The GET Conference 2012 will take place at the Joseph B. Martin Conference Center at Harvard Medical School on April 25, 2012 -- World DNA Day!
SPEAKERS AND AGENDA

Eric Alm, PhD (MIT professor and explorer of the #2-ome)

Madeleine Ball, PhD (Director of Biology, PGP)

Greg Biggers (CEO Genomera)

George Church, PhD (Harvard Professor, PGP#1 and Founder PersonalGenomes.org)

Joel Dudley, PhD (Author of upcoming book: Exploring Personal Genomics)

David Ewing Duncan (Experimental Man)

Esther Dyson (investor and PGP#3)

Juan Enriquez (Excel Venture Mgmt)

Preston Estep, PhD (Director Gerontology, PGP; telomeres and aging)

Steven J. Gordon, PhD (CEO IBS)

Robert Green, MD (translational medicine)

Peter Gregersen, MD (

Director Robert S. Boas Center at the Feinstein Institute)

Ira Klein MD, MBA (Aetna)

Zak Kohane, MD PhD (Harvard Medical Professor, healthcare as "living laboratory")

Jimmy Lin (Rare Genomics Institute)

Jeantine Lunsof, PhD (PGP ELSI advisor & Marie Curie Fellow)

Daniel MacArthur, PhD (MGH & 1000 Genomes)

Holly Menninger, PhD (Director of Public Science for Your Wild Life)

Svante Pääbo, PhD (Deciphered the Neandertal genome)

Eric D. Perakslis, PhD (CIO and Chief Scientist at U.S. FDA)

Stefan Roever (CEO of Genia, Inc)

Larry Smarr, PhD (self-tracking pioneer)

Gregory Stock (CEO Ecoeos)

Latanya Sweeney, PhD (privacy technologist)

Michael Vincent, MD, PhD (VP Pfizer)

Daniel Vorhaus, JD (RBH)

Dana Waring (co-

founder of Personal Genetics Education Project)

John Wilbanks (weconsent.us)
For a complete list of speakers, including bios, and to view the agenda for the GET Conference 2012 please visit www.GETconference.org
ATTENDANCE
The third annual GET Conference will be a gathering place for scientific, industry and thought leaders in the fields of personal genomics, personalized medicine, microbiomics and systems biology, health-IT, personal health, self-tracking, diagnostics.  There will also be a speical track for participants and scientists of the Personal Genome Project research study. 
CONFERENCE TICKETS
Only 200 tickets are available for reserved seating.  Purchased tickets are transferable, but all tickets sales are final and no refunds will be given due to limited seating.
Are you an enrolled PGP participant?
You may be eligible to register for the conference at no cost.  Log-in to your account for more details.
Are you member of the press?
You may be eligible for complimentary tickets.  Please apply here.
ACCOMODATIONS
We got a group discount on hotel rooms at The Inn at Longwood Medical (operated by Best Western), located just a few blocks from Harvard Medical School.  To receive the discounted rate of $189 per night plus tax, attendees should call the hotel at 617-731-4700 and mention the "GET Conference".  The group discount is available while supplies last, or before March 27th, whichever happens first.
For other options, please see the interactive map showing lodging and parking near the venue.  
SPONSORSHIP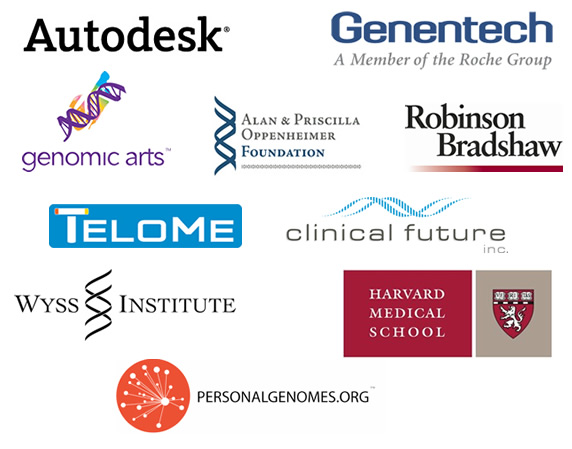 All proceeds from the GET Conference will support PersonalGenomes.org, a 501(c)(3) charitable organization which supports the Personal Genome Project and whose mission is to serve as a global ambassador for emerging genomic technologies and knowledge that will positively impact the health and well-being of humankind. 
There are limited sponsorship opportunities available. Please contact Jason Bobe at jason@personalgenomes.org
SOCIAL MEDIA
2012 GET Conference page at Lanyrd
Twitter Hashtag: #get2012
CONTACT
For more information visit our website: www.getconference.org or email jason@personalgenomes.org
Where
77 Avenue Louis Pasteur
Boston, MA 02115


Organizer
PersonalGenomes.org
 PersonalGenomes.org is a charitable organization working to generate, aggregate and interpret human biological and trait data on an unprecedented scale. Our mission is to make a wide spectrum of data about people accessible to increase biological literacy and improve human health. PersonalGenomes.org's programs are informed by values encouraging greater transparency and collaboration between researchers and the public.
Our programs include:
1. Global Network of Personal Genome Projects, which includes research studies in 4+ countries that collaborate on the development and evaluation personal genomic technologies and practices at increasing scales.  http://personalgenomes.org/organization/network
2. Open Humans attempts to break down health data silos through an online portal that will connect participants willing to share data about themselves publicly with researchers who are interested in using that public data and contributing their analyses and insight to it. We aim to make it easy for anyone to participate in research projects and to facilitate highly integrated, longitudinal health data.
3. Genomes, Environments and Traits (GET) Conference, an annual event that brings together leading thinkers to discuss how we measure and understand people and their traits. This event explores the frontiers of understanding about human biology and serves as an annual forum to debate the technical, commercial, and societal impacts. Each year we host world-class speakers and examine a host of issues at the bleeding (and spitting and swabbing) edge of knowledge.