Get Clients NOW! Program

Monday, October 5, 2015 at 12:30 PM

-

Friday, October 23, 2015 at 11:30 AM (CDT)
Event Details
Get Clients NOW! 
November 5 - December 11,2015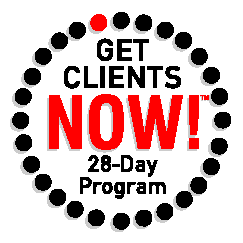 GET CLIENTS NOW!™
a 28-DayMarketing Program
Create an endless stream of clients by doing 
10 simple things per day
How? Enroll in the upcoming Get Clients Now! program 
GET CLIENTS NOW!TM
28-Day Marketing Program
Learn to create an endless stream of clients
By doing 10 simple things per day!
WHAT YOU WILL LEARN...
What really works to market your professional services, and what doesn't

Over 100 different tools & tactics for marketing your business

How to diagnose your marketing ailments with the Universal Marketing Cycle

Discover the missing ingredients that can prevent you from being successful

Break out of "analysis paralysis" and make the right choices about spending time & money on marketing
WHAT PEOPLE SAY ABOUT THE PROGRAM...
"Get Clients Now! has been life changing. The program was so powerful that ...I filled my practice for the next six months. ...I can't say enough about the simplicity of the program and the results."
- Lia Allen, Business Devel. Specialist
"I have seen a four-fold increase in business, have a pipeline that is overflowing, and a cadre of referral partners... I went from stuck and stymied to committed and cashing in because the GCN program taught me how..."
- Kathy Sullivan, Web Designer
 "I owe you a million thanks. I doubled my business in 12 months using your book and program. It simply works."
- Nick Irons, Personal Trainer
"This class went beyond my expectations. Not only was I able to learn how to put structure around my marketing and sales activities so that they were consistent and effective, I learned which personal behaviors were getting in the way of accomplishing my goals. This was a high value class providing an excellent return on my investment." 
- Kathryn Neal-Odell, CEO, Sales-Onsite
WHAT YOU GET WITH YOUR ENROLLMENT…
Two 90-minute group seminars by telephone (call from anywhere -- no special equipment required but a landline is preferred)

Four hours of small group coaching sessions by phone (1 per week)

A toolkit of tested sales and marketing strategies and tactics

Your own customized 28-day marketing plan that you can use over and over

Coaching, accountability, perspective and support from your coach and team

CLIENTS!
Want to hear more about Get Clients NOW!...

Listen to the webinar recording.
Webinar Play Back 
Phone Number: (605) 475-4799
Access Code: 205990#
Reference Number: 9#
When will the program meet...
Bootcamp Teleclass Seminar Two Mondays:
November 5, 2015   12:30 - 2:00pm Central
November 12, 2015 12:30 - 2:00pm Central
Campaign* Teleclass Sessions Four Mondays:
November 19, 2015 12:30 -1:30pm Central
November 26, 2015 Thanksgiving Day No Class
December 3, 2015 12:30 -1:30pm Central
December 10, 2015 12:30 -1:30pm Central
 YOUR PROGRAM LEADER…
LeAnna Brennan is the Chief Marketing Officer, President of Sales and Head Coach of her own heart-based solopreneur business.  LeAnna is a licensed facilitator for the business development program Get Clients NOW!  She also offers customized coaching sessions based on specific client needs and a personal development program that she created and named The W.A.Y.. You partner with LeAnna, not a trainee, to eliminate your struggles to market and fill your business. You directly benefit from her unconditional, objective and positive support for your journey. 
REGISTER TODAY ON EVENTBRITE 
COMPLETE 28-DAY PROGRAM ONLY $295
Please note: *The Get Clients Now! book is required for this program.
You may purchase the Third Edition at 
http://www.profcs.com/app/?af=1634785. 
The Kindle version is also available at Amazon.com.
Be sure to get the Third Edition. 
Please order your book and read chapters 1-3 before our first Bootcamp Teleclass Seminar.
Need more info…
TheWAYCoach@gmail.com
850.733.9242
https://www.facebook.com/2GetClientsNow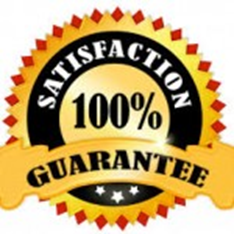 Your Commitment
Purchase the Third edition of Get Clients Now! by C.J. Hayden. Attend and participate in the weekly calls. Commit the time on your calendar to do the daily and weekly actions you've chosen. 
Complete the program, have fun and get clients!
My Commitment
You will move your business forward as a result of this program. I guarantee it! If you honor your commitments and your business does not move forward, I will refund the full purchase price of the course. 
Get Clients Now! TM is a trademark of Wings for Business LLC and is used under license.
Campaign: a systematic course of aggressive activities for some 
specific purpose
When & Where
Telephone



Monday, October 5, 2015 at 12:30 PM

-

Friday, October 23, 2015 at 11:30 AM (CDT)
Add to my calendar
Organizer
LeAnna Brennan is the Chief Marketing Officer, President of Sales and Head Coach of her own heart-based solopreneur business.  LeAnna is a licensed facilitator for the business development program Get Clients NOW!  She also offers customized coaching sessions based on specific client needs and a personal development program that she created and named The W.A.Y.. You partner with LeAnna, not a trainee, to eliminate your struggles to market and fill your business. You directly benefit from her unconditional, objective and positive support for your journey. 
leannabrennancoaching@gmail.com
850.733.9242