Get Clients Now! Immersion Program Oct 2017

Wednesday, October 11, 2017 from 9:00 AM to 11:00 AM (PDT)
Event Details
Get Clients Now! Immersion Program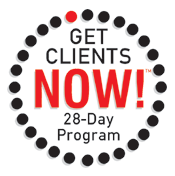 The new Get Clients Now! Immersion Program with Kristine Carey is here.
Doing ten simple things per day can bring you all the clients you'll ever need
You can learn more about what Get Clients Now! is by watching this video

Get Clients Now! is a road-tested 28-day marketing and sales program used by thousands. It's designed to help you set a specific business goal and take systematic steps to achieve it. Diving deeper into the program, as this Immersion Program does, allows you to explore what marketing activities both play to your strengths and help your business thrive. You'll look at what really works for YOU to get clients and build your business, as well as where your sweet spot is for marketing and sales. It's one thing to create a list of 10 marketing activities you'll do each week for 4 weeks; it's another entirely to have those things be activities that make your heart sing and your business thrive.
Participate from anywhere in the world — all classes take place via Zoom.

The genius of this plan is that it's so comprehensive and consistent that in my experience you're marketing return is so much greater than anything you've ever achieved. Plus, it's your plan, you're the boss, and you're doing it because you want to!
– Marc Stewart, Consultant & Hair Salon Specialist

What You Will Learn

How to create a 28-day marketing program that fits you and your business

What really works to market a professional services business, and what doesn't

Marketing approaches that "play to your strengths," reducing your fear or self-doubt

Where to put your marketing effort, guided by the Universal Marketing Cycle

Discover the missing ingredients that have prevented your marketing from being successful

Break out of "analysis paralysis" and make the right choices about spending time and money on marketing


It demystifies the marketing and sales cycle better than any program I have ever seen. It breaks everything down in understandable, component parts in a wonderful way.
- Chuck Hammond, President & CEO, Hammond & Associates

The GET CLIENTS NOW! Immersion Program is perfect for service businesses, such as:
Accountants • Attorneys • Architects • Bodyworkers • Chiropractors
Coaches • Computer Professionals • Consultants • Counselors
Designers • Engineers • Financial Advisors • Freelancers
Health Practitioners • Insurance & Investment Brokers • MLM Distributors
Photographers • Real Estate Agents • Recruiters • Salespeople
Speakers • Therapists • Trainers • Writers • YOU!


This immersion program is for you if you're ready to "get on it," business-wise. It's a little intense (in a good way), a lot supportive, and with a double dose of accountability. If you've got business goals you've been wanting to pursue, yet haven't had the time, energy, or focus - or perhaps you're not sure where to start - the Immersion Program is perfect for you.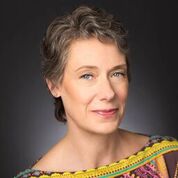 Your program is led by Kristine Carey, BCC
Director of Licensing and Training for GET CLIENTS NOW!

How would I describe the Get Clients Now! program to someone who could benefit from it? As a simple way to really get marketing done, while reducing fears about it, and without needing a boring, wordy, marketing plan. Also a great way to grow your network of upbeat professionals.
- Mhairi Gordon-Preston, YourSeaChangeLife.com


Your Enrollment Includes:

Two powerful workshop sessions:

Session 1: How the Get Clients Now! system works to produce results quickly. What marketing strategies, tactics, tools, and goals might be best for you.

Session 2: Live working session, where you design your own customized 28-day marketing plan, which you can use over and over.

Five sessions of small group coaching to provide accountability, perspective, and support from your coach / facilitator, as well as your peers.

A toolkit of tested sales and marketing techniques to choose from.

Daily program-specific and motivational emails to keep you focused and on track.

CLIENTS!

+ 2 hours of learning together (how Get Clients Now! delivers results)
+ 2 hours of creating together (you develop a program tailor made for you)
+ 4 weeks of doing together (you & your peers taking action!)
= A Happy You & A Thriving Business


"Not only did it provide a very methodical approach to marketing that did not require much of a budget, but it also helped us understand where we had been falling short… the program inspired us to set and meet aggressive goals… a powerful system that levels the playing field."
— Patricia Rivera, translation agency owner
"I owe you a million thanks. I doubled my business in twelve months using your book and program. It simply works."
— Nick Irons, Personal Trainer

Program Dates and Times
October 11 - November 10, 2017
Dive into the Get Clients Now! Program
Wednesday, Oct 11 – 2 hours
9-11 AM Pacific Time

Live working session to create your personal 28-day program
Friday, Oct 13 – 2 hours
9-11 AM Pacific Time

Program Kickoff Session
Monday, Oct 16 – 1 hour
9-10 AM Pacific Time

Accountability & Coaching Sessions
Fridays: Oct 20, 27; Nov 3 – 1 hour
9-10 AM Pacific Time

Final Accountability Call & Wrap Party
Friday, Nov 10  – 1 hour
9-10 AM Pacific Time
As a BONUS, you're invited to attend an informal, live working hour every Tuesday from 9 – 10 AM Pacific Time during the program. This hour is a dedicated time each week for you to work on your Get Clients Now! activities and connect more personally with your fellow participants.

All times listed are Pacific Time
9:00 AM Los Angeles / 12:00 PM New York / 5:00 PM London
Please note daylight savings time starts on Oct 29 in the UK & Nov 5 in the US. If you're calling in from outside the US, this will affect the times listed above; please consult www.timeanddate.com to confirm the correct times in your area. 

Participate from anywhere in the world! All sessions take place via Zoom video conferencing. (Video connection strongly encouraged; you can also call to connect from any phone line.) All sessions are recorded in case you miss one.



Please note:
1. The GET CLIENTS NOW! 3rd edition book is the mandatory text for this program. If you do not already own a copy, you may add it to your order at checkout.
2. Zoom video conference is accessed via the Internet, so make sure you're positioned in a place where your Internet connection is stable.
3. If you wish to participate by phone, the line may be a long-distance call for you. You will be responsible for any toll charges to call this line.

Questions? Contact us!

When & Where

Via Zoom Meeting Room - 7 sessions total




Wednesday, October 11, 2017 from 9:00 AM to 11:00 AM (PDT)
Add to my calendar
Organizer
Coach Kristine Carey brings enthusiasm, expertise and humor to her work. She has more than 11 years of experience coaching free agents, micro businesses, and the otherwise self-employed, empowering them to align their talents and passions with their business goals. She is a trained and Certified Coach, a true Catalyst, owner of Moxie, Inc., and the Director of Training & Licensing for Get Clients Now!™. You can learn more about her at www.kristinecarey.com.