Description
*** UPDATE ***
Here's the Timetable of the day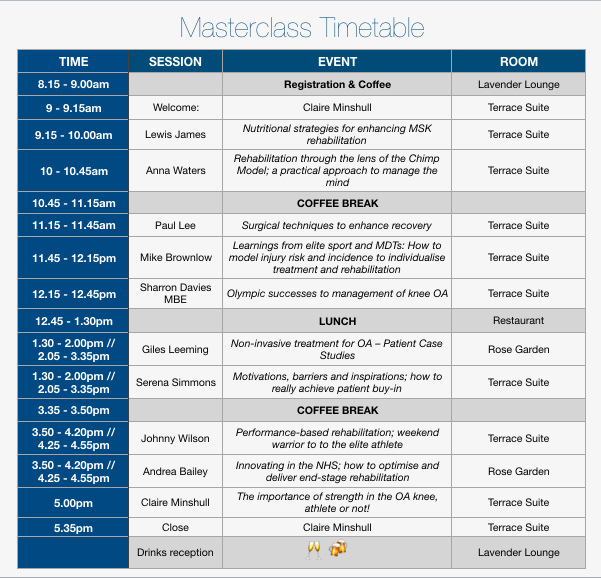 This Interdisciplinary Masterclass brings together some of the best minds in MSK Rehabilitation, Conditioning and Research to help us redress the fundamental principles that drive adaptation and thus recovery. Importantly, we're not just focussing on the 'physical', we will delve into some of the topics that may play just as an important role in recovery, but that are less well acknowledged; a holistic approach you might say.
It goes without saying that we will be taking a detailed look at physical rehabilitation, like the dose-response for strength adaptation, but we wil give equal forum to other topics. For example, when was the last time you talked about nutrition with your patients/clients? If we're expecting the musculoskeletal and neuromuscular systems to adapt and recover following surgical intervention, injury and challenging rehabilitation endeavours, are we ensuring the right and sufficient nutritional intake to fuel these adaptations?
Likewise, what about the psychological needs, deficits and barriers injured individuals face? How can you tap into their motivations to achieve better buy-in? What about sleep? Does that influence recovery?
Whether your patients are looking to return to elite sport, or just normalcy without breaking down, there will be learnings for all and take-home strategies you can apply to your patients the very next day. And as this is a Masterclass, there will be plenty of interactive and practical sessions, and opportunities for discussion with the presenters.
---
Sharron Davies MBE: Olympic Champion & Sports Commentator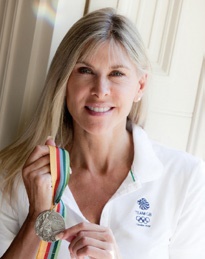 We're really excited to be welcoming Sharron as our Keynote! As well as sharing her stories surrounding her Olympic successes and her battles with injury, Sharron will be telling us about her more recent diagnosis of knee OA and the rehabilitation and innovative treatment strategies she's successfully used to avoid joint replacement surgery.
Bring your questions for Sharron, she will be taking time out for a Q&A
---
Speakers:
This isn't just your average conference, we're bringing your the best. Take a look below to get a flavour of our speakers and topics:
Dr Claire Minshull: Get Back To Sport & RJAH Orthopaedic Hospital: Strength neuromuscular conditioning (Director and Founder of Get Back To Sport, Claire spent much of 2018 travelling the World delivering her flagship sell-out courses, performing consultancies and sharing her research at prestigious venues, such as the House of Commons. She is delighted to welcome you all to what will be a game changer of a conference and share some more research-leading neuromuscular rehabilitation strategies). Claire will be speaking on: "The importance of strength in the OA knee athlete or not"
Dr Lewis James, Loughborough University: Nutrition and rehabilitation (A World expert in hydration and nutrition, seriously! We're lucky to have him; he managed to squeeze us in between his TV appearances and World travels). Lewis will be speaking on "Nutritional Strategies For Enhancing MSK Rehabilitaion"
Dr Anna Waters, Chimp Management: Psychology, mindset and recovery (If you have heard of the book The Chimp Paradox or Dr Steve Peters, or the

mind technique used to assist Olympic medallists such as Sir Chris Hoy, you'll know why we're excited to have Anna; she

is a director of this company and leading Psychologist. Anna's talk is entitled: "Rehabilitation through the lens of the Chimp Model; a practical approach to manage the mind"
Professor Paul Lee, Consultant Orthopaedic Surgeon - Sports & Arthroplasty: (Paul is a leading surgeon in cartilage regeneration surgery and one of the few who favour the conservative option before jumping in with the knife). Paul's talk is entitled "Treatment options for management of knee pain; non-surgical to regenerative medicine"
Johnny Wilson: Athlete Rebuild, Beyond Pulse: Performance-based rehabilitation (Formally of Notts County FC and fresh from various high level football sports medicine consultancies Johnny is a thought leader in performance-based rehabilitation). Johnny will be speaking on "Performance-based rehabilitation; weekend warrior to to the elite athlete"
Dr Andrea Bailey, RJAH Orthopaedic Hospital: Innovating rehabilitation in the NHS (A jobbing physio, and a [very modest] pinoeer in challenging NHS physiotherapy practice!). Andrea's talk is entitiled "Innovating in the NHS; how to optimise and deliver end-stage rehabilitation"
Mr Mike Brownlow, English Institute of Sport & Spire Nottingham: Learnings from elite sport (Among other leading roles, Mike has completed 3 Olympic cycles with Short Track Speed Skating as lead in Physio and Sports Medicine). Mike will be speaking about: "Learnings from elite sport and MDTs; how to model injury risk and incidence to individualise rehabilitation"
Serena Simmons, Nottingham Trent University & APE Model Psychology: Psychological motivations and barriers (If you've never done one of Serena's workshops, you're in for a treat! Courted frequently by the media, she'll give you some great insights, on you and your patients!). Serena's session is titled: "Motivations, barriers and inspirations; how to really achieve patient buy-in"
Also, our lovely sponsors Ossur UK will be running brace fitting workshops applicable to OA and ACL-deficient patients.
---
What else will you get?:
As well as all the masterclases, workshops and seminars, the ticket price also includes:
Tea, coffee and refreshments throughout the day
A tasty lunch
A splendid goodie bag
Massively discounted room rates if you want to stay over
AND a drinks reception at the end of the day. We figured that we'd be up for a beer or glass of wine, so let's all have one (soft drinks also available)!
On a practical level, at the end of the day you will walk away with immediately deployable tools and strategies across several mediums to enhance your patients' recovery. We also hope that you'll also feel inspired and raring to go.
---
Who's this for?
Physiotherapists, Sports Therapists, Osteopaths, Chiropractors ... all rehabilitation professionals
Psychologists with an interest in rehabilitation
Strength & Conditioning coaches
Exercise and fitness professionals involved with prescriptive exercise
Professionals in the fields of Nutrition and Dietetics
You will have plenty of opportunities to spend some QT with all the presenters, get involved with panel debates, and you'll be invited into a closed, private Facebook group where the presenters will be on hand to ask any burning questions that occurred to you afterwards.
Student Discount: We've reserved a percentage of tickets for students. Proof of student ID required.
We're looking forward to seeing you!
---
Thinking of Staying Over?
We've secured a number of rooms at the venue at a massively discounted rate for attendees. Follow the link below to obtain the code and book your room.
http://eventsathilton.com/show/5b64208eeb7b243a45ef0477
---
Accreditation & CPD
This event is accredited by the Royal College of Physicians