"Get Ahead by Giving Back" - Business Growth for Bright Entrepreneurs

Saturday, February 3, 2018 from 9:30 AM to 5:30 PM (PST)
Event Details
Can I really succeed in this cuttthroat world of business?
I think I'm too nice for my own good.
I want to make a bigger difference in this world through my business!
Am I even fit to be a social entrepreneur at all?
Man, I just want to be more successful so that I can give back to some really great causes!
Ugggh, I hate sales and marketing - it just feels so slimy. I pretty much suck at it...
If any of the above apply to you - come join us for this exciting time to learn and grow in ways you never imagined.
Improve the way you lead your company and see your profits grow by leaps and bounds as you start to match the way you do business with the way you are built.
This world-class training progam is limited to only 75 participants to maximize actual growth starting the minute you leave our time together.
I've been training high-caliber leaders for over 28 years and I pride myself in bringing very tangible and actionable ideas, strategies and methods to your business for dramatic growth. 
Do you consider yourself a socially conscious business leader, a budding social entrepreneur or maybe even a small business owner with a big heart?
Whether you're a total newbie entreprenuer or a seasoned business owner - you're going to love learning how generosity and your kindness are actually powerful advantages for your success!
Check out the TED talk and meet like-minded entrepreneurs and learn how to grow your business through the power of GENEROSITY.
How often do you get to learn how to do the thing you heard in a fascinating TED talk? Well, this one-day learning experience was designed so that you can discover all the secret in and outs on how to actually get ahead by giving back - that is to greatly accelerate your business through the power of generosity. 
You'll also be one of the very first to get your copy of the book "Get Ahead by Giving Back" when it debuts in May AND be invited to the special launch partay! (both are included with your event registration)
Join us for this powerful time to learn the practical and proven "Get Ahead by Giving Back" strategy and leave with simple next steps to dramatically grow your business.
I avoid the typical rah-rah and information dump that are found in most business training programs. Instead, you'll leave inspired, challenged and equipped to see great things happen in your business (and life!) by learning to accelerate your success with the proven power of generosity.
Just like you - I'm absolutely allergic to anything related to the myths of "get rich quick" and "passive" income. I'm appalled at all the false-promise shenanigans out there.
I'll definitely simplify and clarify things for you but it takes a lot of hard work to achieve lasting success and there are absolutely no guarantees in business or life.
But after this impactful training session, you can have the utmost confidence that you're doing all the right things that are proven to grow your business in 2018.
Remember, it's not about merely working "smarter not harder" - true entrepreneurial success is about working smarter AND harder my friend.
I know that there are at least 3 super powerful things waiting for you this day that you can only really experience live and that I guarantee you've probably never seen before... and these are crucial to your success as a generous person in the world of busines!

And of course there are lots of "ah ha!" moments waiting for you throughout our time together.
The straightforward rundown for our time together that day...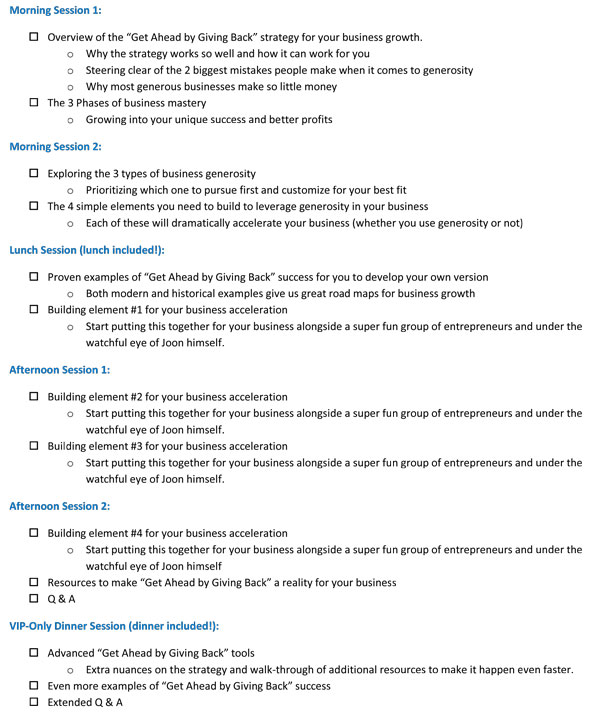 Don't let wishful thinking and good intentions be the extent to which generosity be a driving force in your success; attend this action-packed training experience and get the tools you need to boost your bottomline in the best way possible.
Imagine a room full of super smart and fun entrepreneurs - all who want to make the world a better place with their success!
Come join this great time to meet up and grow with your kind of smart, inspiring and all-around awesome people.
And don't forget to add the VIP dinner option if you want to pick up even more pointers on how to succeed in business through generosity. I'll even share how I lay out my schedule daily, weekly and anually to optimize growth and lifestyle goals.
Thanks and see you there my friends!

~Sincerely,
  Joon S. Han
Save This Event
When & Where

Liberty Station (Point Loma)

San Diego, CA 92106


Saturday, February 3, 2018 from 9:30 AM to 5:30 PM (PST)
Add to my calendar
Organizer
Better San Diego
Better San Diego is dedicated to forging a better San Diego one leader/organization at a time. We specialize in bringing world-class business improvement to your small business.
"Get Ahead by Giving Back" - Business Growth for Bright Entrepreneurs