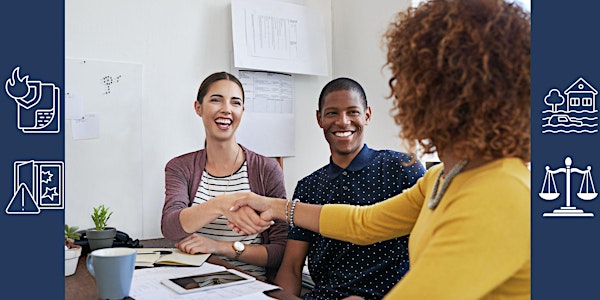 Gestión de riesgos y preparación para desastres
Cómo prepararse para los riesgos y aprovechar los recursos legales en nuestra comunidad.
About this event
Incendios / Inundaciones / COVID / accidentes / estafas y tantas interrupciones inesperadas pueden ser paralizantes para las pequeñas empresas, especialmente aquellas empresas en áreas rurales y desatendidas. La Clínica Legal de Pequeñas Empresas dirigirá una presentación para propietarios de pequeñas empresas que cubrirá cómo prepararse para estos riesgos y aprovechar los recursos legales en nuestra comunidad. Esta clase cubrirá:
• Selección de entidades
• Responsabilidad
• Contratos
• Propiedad Intelectual
• Seguros
• Cumplimiento normative
Como propietario de una pequeña empresa, usted tiene derechos y responsabilidades. Para obtener más información únase.
La Clínica Legal para Pequeñas Empresas ofrece servicios legales transaccionales comerciales a pequeñas y emergentes empresas de bajos ingresos. El SBLC reduce las barreras legales para las personas que históricamente han sido privadas de sus derechos, como las personas de color, las mujeres y los inmigrantes.
The Small Business Legal Clinic provides business transactional legal services to low-income small and emerging businesses. The SBLC reduces legal barriers for individuals who have been historically disenfranchised, such as people of color, women and immigrants.
https://law.lclark.edu/centers/small_business_legal_clinic/about/staff/
Juliana Minn, Executive Director
Abogado del Personal
Juliana nació y creció en Honolulu, Hawái. Se mudó a Portland, Oregón, para su licenciatura y se enamoró de su pequeño encanto de ciudad grande. Después de decidir hacer de Portland su hogar, asistió a Lewis & Clark Law School.
Durante la escuela de derecho, Juliana hizo una pasantía en la Clínica Legal de Pequeñas Empresas. También trabajó para un juez federal y una gran compañía local de energía. También trabajó para un juez federal y una gran compañía local de energía. Después de la escuela de derecho, Juliana continuó trabajando para empresas grandes y pequeñas en los campos de energía renovable, desarrollo de software y mercadeo. Su experiencia abarca desde la revisión de arrendamientos de parques eólicos para una gran corporación, hasta la redacción de contratos de servicios para empresas locales. Su enfoque en el SBLC es ayudar a las pequeñas empresas afectadas por COVID-19. Es bilingüe en inglés y español. En su tiempo libre, Juliana disfruta del ciclismo y la producción de música con sus amigos.as trademarks for tribal enterprises, contracts that protected tribal sovereign immunity, and land purchases. Her favorite work, though, was assisting with an agreement that protected cultural resources on private property while still allowing for safe economic development by the property owners. After returning to the Northwest, she worked at a nonprofit as a legal expert and volunteered with the SBLC to help clients with contracts and trademarks. Now at the SBLC full-time, Shanna looks forward to expanding her practice to serve more small businesses, including Indigenous entrepreneurs in rural Oregon.