About this Event
Tickets not yet on sale. To be notified when tickets will go on sale, follow Soda City on social and sign-up for Soda City's weekly newsletter.
Rain Date: October 27th
Brought to you by Soda City Friends and approaching its fifth year, the Gervais Street Bridge Dinner has become a marquee celebration of the Columbia region. The 1,000-person event continues to draw much needed attention to the Congaree River and its vital importance to our area's ecosystem.
In its first four years, the bridge dinner raised over $180,000 for local charities with particular focus on those organizations working to improve the health and wealth of our protected rivers.
Highlights from previous bridge dinners:
https://www.youtube.com/watch?v=1shz5ILvnEY https://www.youtube.com/watch?v=VNC56g7Vqro
FAQs below!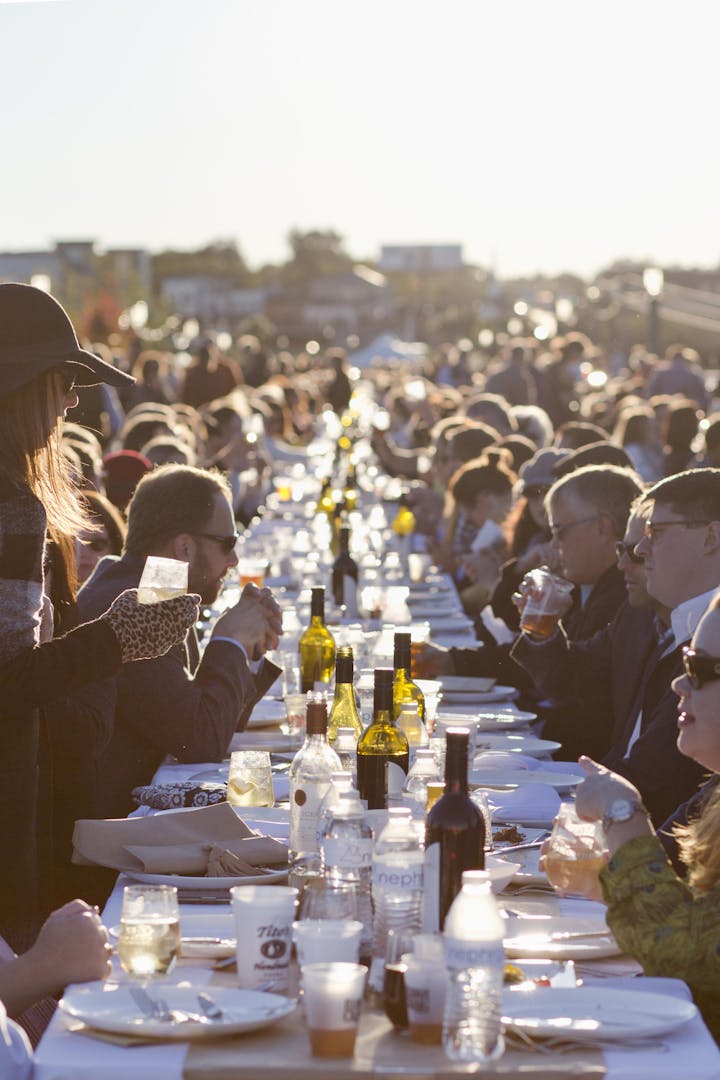 GSBD FAQs
Is there a minimum age requirement to enter the event?
Yes, the minimum age for this event is 21.
What are my transportation and parking options for getting to and from the event?
Soda City Friends works with local businesses and organizations to secure parking areas near the West Columbia and Columbia sides of the bridge. Our team will update this site with parking information closer to the event.
Additionally, we encourage carpooling to reduce traffic or using Uber or Lyft.
Is there an inclement weather plan?
The rain date for this event is the following Sunday, October 27th. If the event is to be moved to the rain date, guests will be notified by Friday, October 18th. Refunds will not be issued for weather related issues.
Myself or an individual in my party may require special assistance on the bridge. Are accommodations available?
For individuals in need of assistance getting to the bridge from the parking areas, golf carts will be circling both lots and able to transport you to and from the event.
Is the event ADA compliant, accommodating individuals in wheelchairs?
The bridge event is open and accessible to wheelchair bound guests. Likewise, the Columbia-side offers ADA compliant restrooms.
Are there vegetarian, vegan, and gluten-free meal options?
A single meal option to accommodate vegetarian, vegan, and gluten-free diets is provided by Southern Way Catering. Upon purchasing your ticket, guests should be prompted to note whether they'd like the vegetarian, vegan, and gluten-free meal option. The alternative meal option needs to be noted prior to the event to ensure proper preparation and supplied quantities.
I did not select the alternative meal option at check out and I need an alternative meal! What do I do?
Email us at sodacityfriends@sodacitysc.com ASAP and we'll take care of you. The deadline to request an alternative meal is Sunday, October 13th.
What do guests usually wear to the event?
Guests attire usually ranges from Sunday best to something a little more formal. The videos available above are a helpful way to see how guests typically dress!
Exposure to the elements is high on the bridge, and you'll want to dress according to the forecast for the late afternoon into the evening. The temperature can change quite quickly once the sun goes down, and it's always a little bit windy on the bridge. Sweaters, scarves, maybe some hand warmers...all encouraged. You may also want to add sunglasses to your list of "what to wear" for when the sun starts to set.
Last but certainly not least -- wear comfortable shoes! You will likely walk the length of the bridge many times throughout the evening, and then there's the dancing!
How does the seating work?
General Admission (4PM) and VIP Early Entry (3PM) are first come first serve seating. Sponsor tables are marked with the sponsor's name and given table numbers. Table numbers are emailed to sponsors in advance of the event.
As you move toward the center of the bridge, from either side of the bridge, guests will see the dining tables set-up in the following order: General Admission, VIP Early Entry, and Sponsors. VIP Early Entry and Sponsor tables are marked as so, with Sponsor tables residing at the most center portion of the bridge, surrounded by red rope.
If you have a General Admission or VIP Early Entry ticket, you are free to see in the GA or VIP section on the West Columbia side or the Columbia side.
Why are some food and beverage options available on the West Columbia side of the bridge and not the Columbia side of the bridge? And vice versa?
The West Columbia side of the bridge is where the cocktail tent is stationed and where all liquor must be served out of due to alcohol license restrictions from the City of Columbia. The beer, dessert, and coffee tents are stationed on the Columbia side of the bridge for reasons of space, staffing, and event flow.
Why are some food and beverage items passed and not served?
The food and beverage items that are decidedly passed throughout different times of the event are done so to ensure equal distribution of those selected food and beverage items to ticket holders, avoiding a shortage of any one thing.
I would like to be notified when tickets are on sale. How do I make that happen?
To be notified when tickets become available for the 2019 Gervais Street Bridge Dinner, please sign up for our newsletter here.
I bought tickets on behalf of others. How can I ensure they receive event email updates?
Email us their names and email addresses (sodacityfriends@sodacitysc.com) or click this link and add their current information.
How can I stay up to date on the latest event news?
To sign-up for the weekly Soda City newsletter, click here.
It's suggested all interested parties follow Soda City across social media channels: Facebook, Instagram, and Twitter. Together, those are the best ways to stay up-to-date.
How can I contact the organizer with any questions?