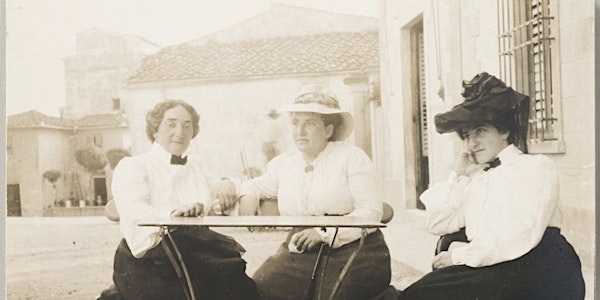 Gertrude Stein: collecting in France & Baltimore's Cone Sisters
This fifth lecture of our series on American Women Collectors explores the lives of Gertrude Stein and the Cone Sisters, avid collectors.
About this event
Gertrude Stein: collecting in France & Baltimore's Cone Sisters: a Serious Eye for Art
Gertrude Stein's presence in early 20th century Paris shaped a whole generation of artists, painters and authors. From her Paris apartment at 27 rue de Fleurus on the Left Bank, which she shared with her life-long companion and secretary, Alice B. Toklas, Stein discovered and helped launch the careers of some of the greatest figures in modern art and literature, including Pablo Picasso, Henri Matisse, Max Jacob, and Guillaume Apollinaire. Larger than life, she is largely remembered for her personality and patronage of the arts, more than for her huge contribution to modern literature.
This lecture will examine various aspects of Gertrude Stein's life and legacy while also exploring the close ties between American collectors and France.
Behind the Cone Sisters are the personalities of Claribel and Etta Cone. Close friends of Gertrude Stein, the two women assembled one of the most impressive collections of modern art in the United States, that they enjoyed in their Baltimore apartments. They also counted in their social circle artists such as Picasso and Matisse. Although, do not get mistaken, the Cone Sisters were very different from one another and shared different perspectives. Etta was considered the shy sister, the one that always came second while Claribel, a doctor, was the one people remembered. Nowadays, Baltimore is home to their legacies and the art scene would not be the same without their generous gift. It is fitting to discuss the lives of Gertrude Stein and the Cone Sisters in the same lecture as their lives intertwined on various aspects.
Join us online on Tuesday, September 6th to find out more about these women who highly contributed to today's American cultural heritage.
The lectures are recorded so you can always watch them after the event in case you have a last minute conflict!
Why a series on American Women Collectors?
The history of art collecting is a fairly recent area of research within the domain of art history but nonetheless highly interesting.
At the beginning, the research focused solely on the big robber barons of the Gilded Age like J. Pierpont Morgan, William and Henry Walters or Henry Clay Frick.
For this new series of lectures, I thought I would share with you the portraits of some of the ordinary and extraordinary women who shaped part of today's American cultural scene thanks to their approach towards collecting art.
Why are we not talking more about women art collectors? Why did the collecting of precious objects became such a significant feature in the lives of American Woman during the late 19th and early 20th centuries? What legacy did they leave behind?
Find out by joining our online lectures (Zoom) where we will discover once a month new portraits of these extraordinary figures!
About the speaker:
Tosca Ruggieri was born and raised in France and has spent a significant portion of her time in Italy.
She graduated with a Master's Degree in Art & Archaeology from the EPHE-Sorbonne in Paris in 2015. Her broad interests in art led her to conduct research on subjects such as Etruscan Jewelry and Decorative Arts in the Italian Renaissance. In London, Tosca obtained her Master's Degree from King's College London.
After a career in the art markets of Paris and London, where she worked with auctions houses, art galleries and private collectors, Tosca reconnected with her passion for art through teaching art history.
Now based in Washington, D.C., Tosca offers cultural tours of the capital's National Gallery of Art which boasts from an overflowing collection of masterpieces from the Italian Renaissance to Modern masters. She also offers a program of online lectures on a wide array of art history subjects. Her objective is to inspire through different aesthetics in art history and to transport her audience across centuries of art.
Find out more on www.artwithtosca.com