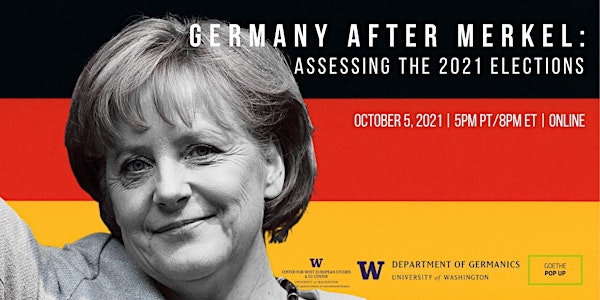 Germany After Merkel: Assessing the 2021 Elections
A Conversation with Prof. Joyce Mushaben (Georgetown), Prof. Christiane Lemke (UNC Chapel Hill) & Acting Assistant Prof. Sarah Lohmann (UW).
About this event
Germany, Europe, and the world face the end of the Merkel era. After 16 years of her chancellorship, the Bundestag elections on September 26 will bring about new coalition formations and uncertainties about the policy course of Germany and Europe. How the country will position itself in terms of addressing climate change, countering antidemocratic challengers, safeguarding the welfare state and a competitive economy, and providing leadership in Europe and beyond, is up for debate.
In our post-election panel on "Germany After Merkel" on Tuesday, October 5, at 5pm PT, we will discuss these questions with three outstanding experts in German politics:
Joyce Mushaben is an Affiliated Faculty member in the BMW Center for German & European Studies at Georgetown University and works with the European feminist think tank Gender5 Plus. She recently retired as a Curators' Distinguished Professor of Comparative Politics at the University of Missouri-St. Louis, and she formerly served as Director of the Institute for Women's & Gender Studies (2002-2005). Her research focuses on new social movements, German national identity and generational change. Mushaben recently published the book Becoming Madam Chancellor: Angela Merkel and the Berlin Republic.
Christiane Lemke is a Visiting Scholar in the Transatlantic Masters' Program at UNC-Chapel Hill and Emeritus Professor of Political Science at Leibniz University Hannover, where she was the Director of the Jean Monnet European Center of Excellence. She received her PhD and Habilitation in political science at the Free University Berlin, and she held the Max Weber Chair from 2010 to 2014 at New York University. From 2006 to 2007, she served as the Director of State Parliament, Lower Saxony. She is also the editor of the series "Europe as a Political Space" with LIT-Verlag.
Sarah Lohmann is an Acting Assistant Professor in the Henry M. Jackson School for International Studies and a Visiting Professor at the U.S. Army War College. She is currently a co-lead for a NATO project on "Energy Security in an Era of Hybrid Warfare". Previously, she served as the Senior Cyber Fellow with the American Institute for Contemporary German Studies at Johns Hopkins University, where she managed projects which aimed to increase agreement between Germany and the United States on improving cybersecurity and creating cybernorms.
The event will be moderated by Sabine Lang, Professor of European Politics at the Henry M. Jackson School of International Studies and Director of the Center for West European Studies, a Jean Monnet Center of Excellence.
The event is presented by the UW Center for West European Studies and the UW Department of German Studies in partnership with Goethe Pop Up Seattle.
Questions? Send an email to info-seattle@goethe.de