Germantown: Hudson River Shoreline Cleanup by Land from Ernest R. Lasher Me...
Description

Join the Germantown community for their 20th annual cleanup at Germantown's Hudson River shoreline from Ernest R. Lasher Memorial Park to Cheviot Park on Saturday, May 6, 2017 for the 6th Annual Riverkeeper Sweep, a day of service for the Hudson River. Check out all the interesting items they've pulled out of the river below!

Volunteers will meet at Ernest R Lasher Memorial Park (Anchorage Road, Germantown, NY 12526), which is can be reached by taking 9G to Northern Boulevard to Anchorage Road (the park is located at the end of Anchorage Road). Parking will be available at the park. We ask all Sweep volunteers to wear sturdy shoes or boots, clothing that they can get dirty, and bring a hat, sunscreen, a reusable water bottle, and snacks. This site not suitable for elementary-aged children.
Questions? Contact Riverkeeper at sweep@riverkeeper.org or site leader Kathy Overington at mkkd@gtel.net.
Below are a few of the amazing finds the Germantown community have found during their 20-year history of river sweeps: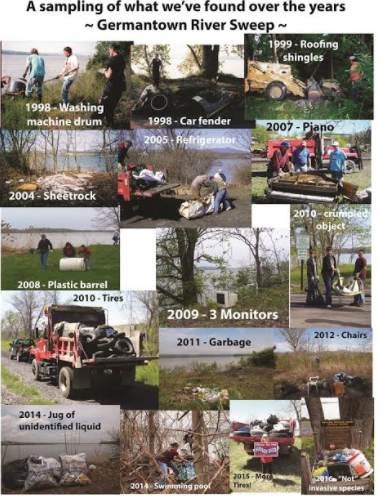 Magnify your impact at Sweep by helping Riverkeeper grow our membership through our Sweep Crowdrise campaign! Join a team, or create your own and demonstrate your Sweep leadership and encourage your neighbors and network to support Riverkeeper's work to protect the Hudson River and its tributaries. Folks who donate using Crowdrise will become Riverkeeper members; the more members we have standing with us, the more we can accomplish together.