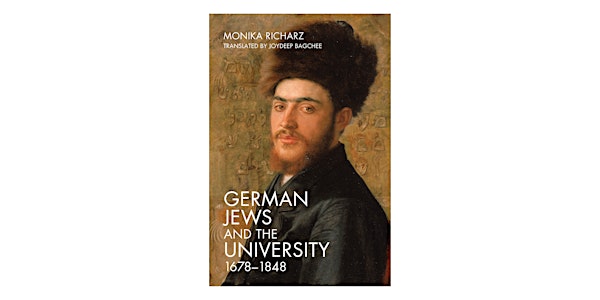 German Jews and the University
Monika Richarz's German Jews and the University addresses the far-reaching transformation of German Jewry under university education.
When and where
Location
Center for Jewish History 15 West 16th Street New York, NY 10011
Refund Policy
Contact the organizer to request a refund.
Eventbrite's fee is nonrefundable.
About this event
For centuries Jews in Germany were denied full rights and excluded from gentile society. At the same time, Jewish law restricted scholarship to exegesis of the Talmud. But from the late seventeenth century onward, as German universities progressively opened their doors to them, many Jews turned toward university studies. Now available in English translation for the first time, Monika Richarz's classic study addresses the far-reaching transformation of German Jewry under the impact of university education. With translator Joydeep Bagchee (Hindu University of America), historian Shmuel Feiner (Bar-Ilan University), Rabbi Edward Reichman (Albert Einstein College of Medicine, Yeshiva University), and moderator Marion Kaplan (New York University).
After registering for this event, you will receive a code for 40% off the book from Camden House/Boydell & Brewer, valid through December 31st, 2022.
About the Speakers
Joydeep Bagchee is a core doctoral faculty member at the Hindu University of America and a visiting lecturer based in Berlin, Germany. He holds a Ph.D. in Philosophy from New School for Social Research, New York. His areas of expertise are twentieth-century Continental philosophy, German Romanticism, Nietzsche, philology, and the Western reception of Indian thought. Along with Dr. Vishwa Adluri, he is the author of The Nay Science: A History of German Indology (Oxford University Press, 2014) and Philology and Criticism: A Guide to Mahābhārata Textual Criticism (Anthem, 2018). He co-edited the volume Argument and Design: The Unity of the Mahābhārata (Brill, 2016). Dr. Bagchee has taught at Technische Universität Dresden, Ludwig Maximilian University, Munich and has been a fellow at Free University, Berlin. 
Shmuel Feiner is a professor of Modern Jewish History at Bar Ilan University and Chairman of the Historical Society of Israel, as well as the Samuel Braun Chair for the History of the Jews in Germany. Among his publications: The Jewish Enlightenment; Moses Mendelssohn; The Origins of Jewish Secularization in Eighteenth Century Europe; The Jewish Eighteenth Century, A European Biography, Volume 1, 1700-1750; The Jewish Eighteenth Century, A European Biography, Volume 2, 1750-1800. He was visiting Professor at Yale University (2011) and Frankfurt University (2012), as well as recipient of the Alexander von Humboldt Research Award, 2012, and the former Chairman of the Jerusalem Leo Baeck Institute.
Marion Kaplan is the Skirball Professor of Modern Jewish History at New York University. She is a three-time winner of the National Jewish Book Award for her books: The Making of the Jewish Middle Class: Women, Family and Identity in Imperial Germany (New York, Oxford University Press, 1991); Between Dignity and Despair: Jewish Life in Nazi Germany (Oxford University Press, 1998); and Gender and Jewish History, co-edited with Deborah Dash Moore (Indiana, 2011). Her most recent book is Hitler's Jewish Refugees: Hope and Anxiety in Portugal (Yale, 2020). All of her monographs have been translated into German.
Rabbi Edward Reichman received his B.A. from Yeshiva University; M.D. from the Albert Einstein College of Medicine; and Rabbinic Ordination from the Rabbi Isaac Elchanan Theological Seminary. In addition to his full-time clinical practice in emergency medicine at Montefiore Medical Center, Rabbi Reichman lectures internationally on Jewish medical ethics. He has edited books and penned many book chapters and journal articles on Jewish medical ethics and Jewish medical history. He is the recipient of a Kornfeld Foundation Study Fellowship and the Michael A. and Jonathan S. Rubinstein Medical Ethics Prize. He was elected to the Davidoff Society for excellence in medical teaching at Einstein and was awarded the Outstanding Mentor Award for two years at Yeshiva University. He has served on the advisory boards of the New York Organ Donor Network, Center for Genetics and Public Policy, the Program for Jewish Genetic Health at Einstein and the Rabbinical Council of America.
Monika Richarz is the former director of the Institute for the History of German Jews and professor of history at the University of Hamburg. She received her Ph.D. from the Free University of Berlin, was a research fellow at the Leo Baeck Institute in New York, and has published widely on Jewish social and cultural history. In addition to German Jews and the University, she is the author of Jewish Life in Germany: Memoirs from Three Centuries and co-author of German-Jewish History in Modern Times, vol. III. She edited Die Hamburger Kauffrau Glikl, Juedische Existenz in der Frühen Neuzeit.