Description
เทศกาลสัปดาห์ภาพยนตร์เยอรมัน ประจำปี 2561
German Film Week 2018
Als Paul über das Meer kam / When Paul came over the Sea
The film will be screened with English subtitles.
ภาพยนตร์เรื่องนี้ฉายพร้อมคำบรรยายภาษาอังกฤษ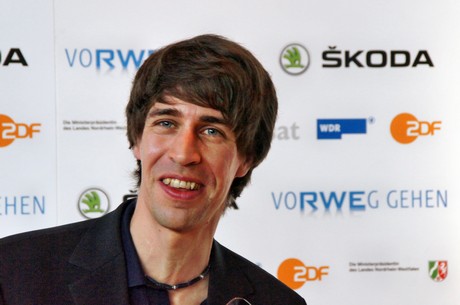 พ.ศ. 2560
สารคดี, 101 นาที, ภาพสี
ผู้กำกับ ยาค็อบ พรอยส์
นำแสดงโดย พอล นกามานี

พอล นกามานี เป็นชาวแคเมอรูนที่ต้องรอนแรมออกจากบ้านเกิด ผ่านทะเลทรายซาฮาราไปจนถึงชายฝั่งโมร็อคโค ที่นั่นเขาได้พบกับยาค็อบ พรอยส์ นักสร้างหนังที่กำลังเดินทางนอกเขตพรมแดนยุโรปเพื่อเก็บข้อมูล ภายหลังรู้จักกันได้ไม่นาน พอลก็ได้โอกาสขึ้นเรือเล็กเพื่อเดินทางยังยุโรป โดยที่ในเวลานั้นเขาไม่ได้ล่วงรู้เลยว่าการเดินทางข้ามทะเลครั้งนี้จะนำไปสู่หายนะ ระหว่างทางมุ่งไปยัง "โลกที่ดีกว่า" เพื่อนร่วมทางของเขาล้มตายไปกว่าครึ่ง เหลือเพียงพอลและอีกไม่กี่คนที่รอดชีวิต พรอยส์ได้เห็นภาพข่าวอันน่าสลดใจทางโทรทัศน์และตัดสินใจออกไปตามหาพอลในทันที เขาได้พบกับพอลอีกครั้งที่ค่ายของสภากาชาดสเปน แต่ด้วยวิกฤตเศรษฐกินของสเปน พอลจึงถูกผลักดันให้เดินทางต่อไปยังประเทศอื่นและจุดหมายก็คือเยอรมนี ยาค็อบ พรอยส์ถึงคราวที่ต้องตัดสินใจว่าจะช่วยพอลให้ได้พบกับชีวิตใหม่ที่ดีกว่าเดิมหรือจะเป็นเพียงนักสร้างหนังที่เฝ้าสังเกตการณ์อยู่ห่างๆ
2017
Germany
Documentary, 101 min, colour
Director: Jakob
With Paul Nkamani

Paul Nkamani makes his way from his native Cameroon through the Sahara to the Moroccan coast. Here he meets the filmmaker Jakob Preuss, who is on a research trip along Europe's external borders. Shortly after they get to know each other, Paul is offered one of the coveted places on a dinghy to Europe. He does not suspect the tragic end this will take. On his journey to a "better world" half of his fellow travellers perish. Paul and a few others survive. When Preuss sees the shattering pictures of the rescue on television, he immediately sets off in search of his friend. He eventually finds him in a Spanish Red Cross station. But the economic crisis in Spain forces Paul to move on to Germany. Jakob Preuss now faces a dilemma: should he help Paul find a better life or should he remain true to his role as objective filmmaker?