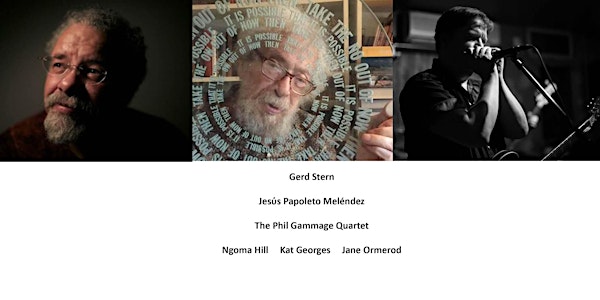 Gerd Stern, Jesús Papoleto Meléndez, The Phil Gammage Quartet & guests
When and where
Location
Parkside Lounge 317 E Houston St New York, NY 10002
Refund Policy
Contact the organizer to request a refund.
Description
great weather for MEDIA is proud to announce a special evening of poetry and conversation with Gerd Stern and Jesús Papoleto Meléndez, featuring guest appearances by poets Kat Georges, Ngoma Hill, Jane Ormerod, and special musical guests The Phil Gammage Quartet.
Hosted by George Wallace
Gerd Stern turned 88 in October of 2016 and is a major figure of the 1950s beat movement. A poet since his late teens, Gerd is extensively published. In 1996 he was the subject of the Regional Oral History Office at University of California interview (From Beat Scene Poet to Psychedelic Multimedia Artist in San Francisco and Beyond, 1948-1978). In addition, he has also exhibited poem collages in two and three dimensional form at galleries and museums in the United States and globally. In the early 1960s Gerd co-founded the communal arts collaborative USCO; a group of artists, engineers and poets creating multi-media performances and environments. Born on the French German border, he arrived in New York as a refugee from Hitler in 1936 and lives presently in New Jersey.
Learn more about Gerd in this fascinating interview with Suzanne LaFleur.
Jesús Papoleto Meléndez is a visual and performance poet, and one of the remaining original founders of the Nuyorican Poets' Movement, a cultural and intellectual movement involving poets, writers, musicians and artists who are of Puerto Rican descent and who were brought up in New York City during the late forties and fifties. With the publication of his first volumes of poetry in the 1970s, Meléndez's poetry emerged at the inception of this movement. His play The Junkies Stole The Clock (1974) was the first production of the NY Shakespeare Festival's Public Theatre's Nuyorican Playwright's Unit. As a performance-poet, Meléndez has distinguished himself as a dynamic presenter of his works in the oral tradition.
Watch Jesús Papoleto Meléndez perform "It Was So Fly."
Phil Gammage is an American musician, composer, and recording artist best known for his eight solo album releases and his work as a songwriter, singer, harmonica player, and guitarist. His recordings are used in film and television projects. His new album is Used Man For Sale which features ten of Phil's song compositions. This follows his critically acclaimed album Adventures in Bluesland which received positive reviews and made numerous 'Best of 2014′ lists internationally. He currently performs his roots and blues based music as a solo performer, with his small combo The Phil Gammage Quartet, and with his large band Adventures in Bluesland.
Learn more at philgammagemusic.com.
Photo by Nikolitsa Boutieros
Kat Georges' poetry books include Our Lady of the Hunger, Punk Rock Journal, and Slow Dance at 120 Beats a Minute. Her poetry, prose and essays have appeared in many regional and international journals and magazines, including The Outlaw Bible of American Poetry. She is co-director and artistic director of Three Rooms Press, a fiercely independent press inspired by dada, punk, and passion.
A former member of Amiri Baraka's "The Spirit House Movers and Players" and the contemporary freedom song duo "Serious Bizness", Ngoma Hill is a a performance poet, multi-instrumentalist, singer/songwriter, Artivist and paradigm shifter who weaves poetry and song that raises contradictions and searches for a solution to a just and peaceful world.
Watch Ngoma Hill perform "I Was Here First."
Jane Ormerod is the author of the full-length poetry collections Welcome to the Museum of Cattle and Recreational Vehicles on Fire (both from Three Rooms Press) and the chapbook 11 Films (Modern Metrics/EXOT Books). Her work also appears in publications including Maintenant, AND/OR, Marsh Hawk Press Review, Post (BLANK), Sensitive Skin, The Nervous Breakdown, and Paris Lit Up. Born on the south coast of England, Jane now lives in New York City and performs extensively across the United States and beyond. She is a founding editor at great weather for MEDIA.
Learn more at janeormerod.com.
Photo by Jay Franco
*
Please note that the Parkside Lounge is a 21+ venue and there is a two drink minimum (alcoholic or non.)