Gerberama Long Island: Bringing Technology Home

Friday, March 3, 2017 from 1:30 PM to 7:30 PM (EST)
Who's Going

Loading your connections...
3 of your friends are going.
Share it to get more people on board!
Share

Sara Haughty
San Francisco, California

Luke Picard
London, United Kingdom

Rick Vespucio
Florence, Italy
Event Details
The "Gerberama: Bringing Technology Home" seminar is focused on the exciting and raplidly changing world of home automation, and everyone's increasingly digital lifestyle. There are dynamic speakers from Microsoft, GE, BMW, Honeywell, Leviton and other industry leaders, who deliver technical and educational content spanning two main areas.

The first half discusses underlying technology, covering:
- Cloud-based File Storage and Backup
- Data Security and Stopping Identity Theft/Hackers
- WiFi Performance and Speed
- In-Home Cell Phone Usage; Do You Need a Landline?
- Parental Controls for Children's Website and Smartphone Applications

With a secure, reliable and fast network in place, the second half of Gerberama focuses on applications:
- Home Automation System Design
- Smart Appliances, HVAC and Lighting
- Digital Entertainment Options: Cable, Satellite, Streaming, Virtual Reality
- Electric Vehicles and Self-Driving Cars
- Virutal Assistants: Amazon Echo, Apple Siri, Google Home, Microsoft Cortana

There is ample time to walk through the exhibit area and see product demonstrations - scroll down to see the specific agenda - plus seat inside the highly-rated BMW i3 electric car in the hotel parking lot before leaving!

Gerberama is of great value to individual consumers, including parents and children, plus real estate professionals designing homes, apartments and college/corporate campuses. All attendees can win a Microsoft XBox gaming console/entertainment system at the end.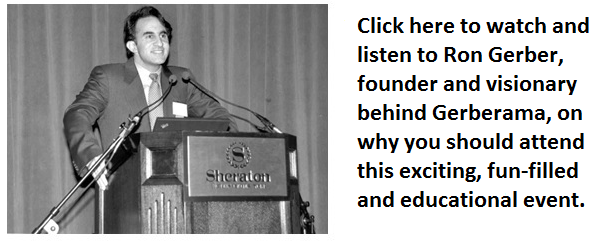 1:30 - 7:30: Gerberama Registration Begins, and Remains Open throughout the Event

1:30 - 3:30: Exhibit Area Opens
Arrive early, walk through the exhibit area, and ask questions from the event speakers. 





3:30- 3:45: Gerberama Overview, WiFi Performance by CEO Ron Gerber
Ron Gerber is the visionary behind Gerberama. He is one of the foremost technology authorities, having run over 1,100 Angelbeat seminars on cloud computing and IT security, for the world's largest corporations, universities, government agencies and hospitals.

Mr. Gerber is now leveraging his expertise and industry contacts, to reach a broader audience through Gerberama. In addition to hearing his strategic insights and technology predictions, Mr. Gerber will provide technical insights on WiFi performance, and why should should upgrade/replace your residential wireless access points every three years.





3:45- 4:30: Microsoft Cloud Applications, File Storage/Backup, Personal Data Protection
Senior Microsoft Evangelist Dan McGuigan will discusses how and why individuals should use cloud-based platforms, such as Microsoft OneDrive and Office365, to run applications such as word and excel, store files and pictures, plus backup data remotely. With individuals always connected to the Internet, and family members requiring secure access to their information from any location, via any network, and on any device, this is an ideal approach, saving you time and money. Worries about file storage on your local machine - be it a PC or Mac - go away.

Cyberattacks and computer hacks are seemingly a daily occurrence. Mr. McGuigan will also discuss how to protect your confidential/sensitive personal data and financial information, including recommendations on password changes, the newest innovations in anti-virus software, and increased usage of biometrics/fingerprint for computer and website logins.

In conclusion Mr. McGuigan will provide recommendations to parents, on the best methods to monitor and control your child's online activities, be it on a desktop PC, laptop, tablet, or your son or daughter's smartphone which is seemingly permanently attached to their hands.




 
Smart Microsoft Store Roosvelt Field Mall Live Demo Bar!!
Microsoft Store Manager Will Norton along side Buisness Specialist Thomas Ciccone will be there live to answer any questions about Microsoft products and provide recommendations on which services are right for your home or buisness.

4:45 - 5:30: Exhibit Area Opens 
The product exhibit area is open, before the second set of presentations starts, allowing all attendees to ask detailed questions and see product demonstrations.






5:30 - 5:50:  Honeywell Total Connect: Integration of Home Security, HVAC and Residential Cameras
Honeywell has a long history in home security, video surveillance, fire protection and HVAC. Learn from Honeywell's George Janelis, Sr. Manager of Connected Homes Markets, how its innovative technology can seamlessly integrate these functions, which were previously handled by separate equipment/systems.

From WiFi-enabled thermostats that automatically adjust temperature settings, to front door cameras that you can watch from a smartphone while on vacation, the list of innovative features available through the Honeywell platform are limited only by your imagination.





5:50 - 6:10: The Connected Kitchen, Smart Appliances, Integration with Virtual Assistants, with GE Monogram
Smart Appliances are an integral part of today's Connected Kitchen. Internet-connected refrigerators use built-in cameras to automatically scan contents and re-order food. Ovens/stoves have built-in touchscreen displays that pull up recipes, while showing instructional cooking videos. And all of these appliances can be controlled from a voice-enabled virtual assistant such as Amazon Alexa.

During this informative session, GE Monogram will provide detailed information on these exciting developments. High-tech innovations are no longer limited to your living room or home office....

Click here for more information on GE's entire range of WiFi-enabled appliances.





6:10 - 6:30  Smart Lighting with Leviton
Today's world of lighting is dramatically different and rapidly changing. WiFi-enabled LED bulbs can change color and intensity, all from a smartphone app. Plus this same app can turn on/off every light, eliminating the need (and expense) of installing wall-mounted switches. Much like the iPhone "Night Shift" functionality, lighting can be automatically adjusted at night, to help you and your children sleep at consistent hours. And all of this functionality can save money off your utility bill.

Learn from lighting control and design expert Patrick Donnely, plus its LI-based partner SDA, on how you can deploy these lighting innovations.




6:30- 6:50: One Sound Choice: Home Automation Control Design, Secure and Seamless Integration
An optimal home control automation design will seamlessly and securely integrate multiple, stand-alone sub-systems: HVAC, Entertainment, Lighting, Alarms, Cameras, etc.. This approach provides the home-owner with a single application, allowing him/her to easily monitor/change each sub-system, from a PC, tablet, smartphone or laptop.

Ryan Herd, Owner of One Sound Choice, will provide valuable insights on how to incorporate your existing equipment, within a state-of-the-art home automation control system.





6:50 - 7:10:  BMW: Luxury,Technology & Power working together 
Today's automobile experience is increasingly digitally-based. with computer-assisted and self-driving modes available on all current and future models.

One of foremost BMW's technology experts will share their vision for the electric car of the future - their i Series lineup of vehicles - covering topics such as electric vs hybrid vs gasoline powered, self-driving software functionality and limitations, why your smartphone may likely replace your ignition key, etc.

Click here to see an informative video on BMW's future technology roadmap. Live Exhibitions of BMW 's latest electronic cars like the I-3 and the 7 Series. 

7:10- Special Raffle of One Room Control 4 Starter Package with Installation Valued at $899
Click Image for Details



7:10 - 7:30: Presentations Conclude, Exhibit Area Opens, XBox One S & Roku Player 4 Raffle

Susan Cozzi

GE Appliances

Designer Engagement Leader

Patrick Donnely

Leviton

Technical Training & Development

M. Bahan Farooqi

BMW

Technology Expert

Ron Gerber

Angelbeat

CEO

Ryan Herd

One Sound Choice

Smart Home Guru

George Janelis

Honeywell

Sr. Manager for Connected Home Market

Dan McGuigan

Microsoft

Senior Evangelist
When & Where

Long Island Marriott
101 James Doolittle Boulevard
Uniondale, NY 11553


Friday, March 3, 2017 from 1:30 PM to 7:30 PM (EST)
Add to my calendar
Organizer
Carlos Valdez
Carlos Valdez is the Event Director for Gerberama. Mr. Valdez is a former profesional basketball player and he received a Computer Science degree from Mount Saint Mary College.
Gerberama Long Island: Bringing Technology Home