Description
Tech Talks, Live Demos & Free Raffles
Please click on "Tickets" on the right hand side to register, where you can follow the prompts to enter your promotional code.

This unique forum helps you understand all aspects of an increasingly high-tech and digital home, not just home automation, virtual assistants and integrated HVAC/Lighting/Entertainment control, but also IT security/ransomware protection, WiFi performance and self-driven cars. That is the vision of Gerberama Founder Ron Gerber, to "Bring Technology Home" and cover all these related topics in a singe, focused and integrated program.

There are dynamic speakers from Microsoft, GE, Honeywell, HomeAdvisor.com, Cadillac/GM and other industry leaders, delivering concise and meaningful talks, with ample time for product demonstrations and peer interaction. Scroll down to see the detailed agenda.

Gerberama is of great value to individual consumers, including parents and children, plus real estate professionals designing homes, apartments and college/corporate campuses. All attendees can win a Microsoft XBox gaming console/entertainment system at the end. Please scroll down to see the detailed agenda.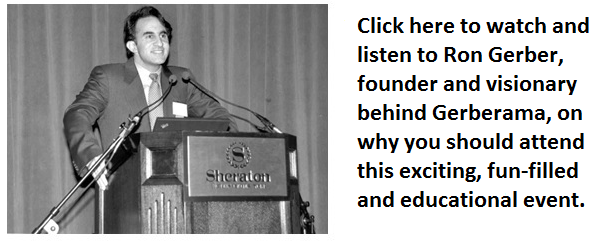 5:15: Registration Begins, Product Exhibits Open
Get here early for a chance to collect a few free giveaways, experience the live demos and sign up for the Xbox raffle!

6:00 - 6:10: Event Overview from Gerberama Founder Ron Gerber
Ron Gerber is the visionary behind Gerberama, a globally renown technology analyst, and the founder of Angelbeat, the largest cloud computing and IT security seminar organization in North America. He will describe these focused program, delivering lots of value through this comprehensive afternoon/evening workshop.

6:10 - 6:30: Opening Keynote: The State of The Smart Home from HomeAdvisor.com and Dan DiClerico
We are living in an exciting age of the smart home. What products should consumers adopt? How can you best select a manufacturer and/or installer, that best meets your and future needs? What are the most widely used applications nationwide? How does automation affect/increase my home's resale value?

HomeAdvisor Strategist Dan DiClerico will provide valuable insights and help you answer these critically impotant questions.

6:30 - 6:45: Integrated Security, Fire Protection, HVAC, Automation Capabilities: A Hi-Tech Home That Adapts To You from Honeywell and George Janelis
Wouldn't it be nice if your alarm/security system, fire protection/smoke detectors and HVAC/Air Condition/Heating Controls all worked together, from a single keypad or smartphone application?

Honeywell's Sr. Manager of Connected Home Markets George Janelis will demonstrate how the new Lyric family system achieves this functionality.

6:45 - 7:00: Video-Based Security Systems, DIY vs Professional Monitoring: LifeSafety Recommendations from Worldwide Security and Dave Young
Burglary and home invasions are unfortunately a growing present danger in every household. Dave Young, VP at Worldwide Security, will help you understand the pro's and con's of deploying Do-It-Yourself (DIY) lifesafety products versus professionally installed alarm and smoke detectors.

Mr. Young will also emphasize the importance of video surveillance, which can be implemented with both approaches.

7:00 - 7:30: Ransomware Protection, XBox Home Entertainment, Cortana Voice Control from Microsoft and Heather Shapiro
The July 28th ransomware attack illustrates the danger of storing pictures, files and financial data on your local computer. Microsoft technology evangelist Heather Shapiro helps you understand how to easily deploy its cloud-based OneDrive storage platform, which is the best way to keep your data safe from cybercriminals.

Ms. Shapiro will also demonstrate how your child's XBox gaming system can serve as the center of your entire family's digital entertainment/television world, plus voice control applications available through Cortana. Yes, not only Amazon, Google and Apple but also Microsoft lets you control your computer and home with your spoken word.

7:30 - 8:00: Coffee Break - Exhibit Area Opens, Q&A, Live Product Demos by All Speakers, plus AT&T/DirecTV
During the break, please visit the AT&T/DirecTV exhibit area, to see how your cellphone can eliminate the need for landline, plus understand how satellite entertainment options compare to cable and streaming options.

8:00 - 8:15: Connected Kitchen & Smart Appliances, Amazon Alexa and Google Home Integration, from GE and Kelly Mills
Can you imagine starting your breakfast and brewing fresh coffee from your smartphone in bed. Reading a recipe from a video display built into your oven? Learn from Ms. Mills how GE is bringing the kitchen of the future to your home today, with these capabilities plus integration with voice control assistants Amazon Alexa and Google Home.

8:15 - 8:30: The Future of Autonomous/Self-Driven Cars from Cadillac/GM and Vance Valente
It is only a matter of time before every automobile can be self-driven, requiring little to no human involvement. Learn from Vance Valente on how Cadillac and GM are incorporating these initiatives into their automotive planning, thereby transforming the world's largest car company into a high-tech giant.

End of Event, Exhibit Areas Open, Product Demonstrations, Q&A, Raffle Drawing for XBox