Gerard Brooks Sunday July 17 Gospel at the Brumder Mansion

Sunday, July 17, 2011 from 6:00 PM to 9:00 PM (CDT)
Event Details
Gerard Brooks Sunday July 17 6pm - 9pm  Gospel at the Brumder Mansion
EACH GUEST WILL BE ENTERED IN A DRAWING TO WIN A FREE NIGHT IN A WHIRLPOOL SUITE AT THE BRUMDER!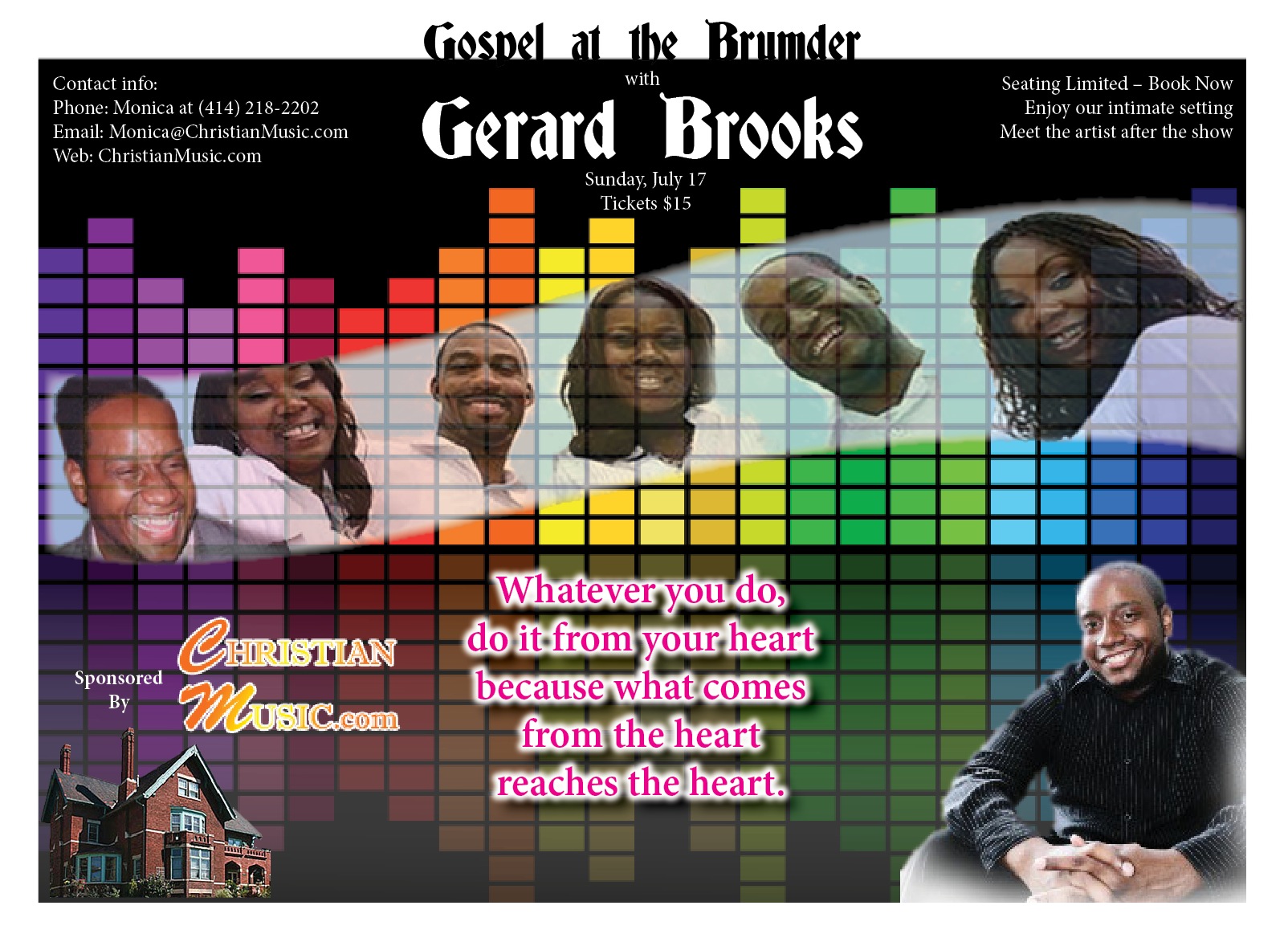 Gerard is no stranger to Gospel Music, he has sung Gospel music since the age of seven.  His first lead song was with the Junior Choir at his home church Second Timothy Missionary Baptist Church entitled "Jesus Christ is the Way."  Horrified, terrified, and petrified yet he sung because his mother threatened him during choir rehearsal.  She saw something in him that he didn't see in himself.   His mother, Annie Brooks, also a singer sung with many groups almost every weekend and everywhere she went, Gerard was sure to go.  Truly she was very instrumental in being an example to Gerard and ultimately leading Gerard to the Lord.
As a child, Gerard was exposed to many different Genres of music, but it wasn't until he was 14 years old that he discovered his love for Gospel music.  He sung about God since he was a child but did not have a relationship with him.  One day while singing the power of God came in and changed his life and his song.  He now knows what it is like to have a relationship with Christ by not just singing about him, but accepting Christ as Lord and Savior.
Gerard was very involved in high school activities especially if it involved singing.  He performed with the Mumford High School choir on numerous occasions.  He also performed in numerous school plays and became the Class speaker of the Graduating Class of 1993.  Gerard along with three other young men formed a Gospel group while in high school entitled Inner-mission.  They sang all over the metro Detroit area and even shared the stage with Fred Hammond, Vicki Winans, Darryl Coley, Men of Standard and many other well-known Gospel Artist.  After graduating from high school, Gerard received a scholarship from Wayne State University in Theatre.  He attended college for one year in his pursuit of one day becoming an actor then accepted a role in the traveling play "Perilous Times".  However, God was dealing with him in regards to preaching the Gospel.  He left the play and began to seek God for direction for his life.
In 1997 Gerard answer the call to ministry and began preaching the Gospel.  Also in the same year he married his wife of almost 13 years Angelee Brooks whom he had known most of his life for they both grew up in the same church.  They now have five beautiful children from this union.  In 2003 Gerard was ordained as a Gospel Minister and was named youth Pastor of his home church in 2005.  He currently is the Worship Leader, Youth Pastor, and Minister of Music at Second Timothy Missionary Baptist Church where Rev. Dr. Wilbert Humphries is Senior Pastor.
While in his solo career, Gerard shared the stage with named artist such as Pastor Marvin Winans, Marcus Cole, 21:03, Jonathan Dunn, Dr. Dorinda Clark-Cole, Rance Allen, Shirley Murdock, Aretha Franklin, Micah Stampley.  He has sung and recorded with many local groups, choirs, gospel artist, such as Joe Smith Blessing and Praise, Detroit Sings Mass Choir, Psalms One, Reginald Williams and Worshippers United, Emanuel Johnson and GIWU, Jay and Jay Soul.  He has done numerous studio projects and background studio work for many artist.  Gerard has been leading praise and worship for Detroit Revival, one of the longest running televised revivals in history.  Not only is Gerard a singer and a preacher; but is also gifted to "MC" concerts, programs, shows, etc.  He was MC at Upper Room Entertainment Complex, a Christian entertainment venue, for many years.
In 2008 Gerard entered the Detroit Singing Star Competition. The competition awarded the winner a $1,000.00 cash prize and a chance to sing the Star Spangled Banner at a major League Detroit Tigers Game.  Gerard did not make the top ten however the next week he received a phone call from the promoter saying that one of the competitors was disqualified and there was a spot open for him.  Gerard not only got back in the competition but made it to the finals and actually won the entire competition singing the nationally recorded song by Pastor Marvin Sapp entitled "Never Would Have Made It" before tens on thousands of people at Comerica Park in Detroit, Michigan.  This performance may be viewed on youtube or myspace. 
Gerard loves to minister in song.  He has a hard time saying no to anyone who ask him to sing, preach or MC.  His Pastor, Dr. Wilbert Humphries said this about Gerard:  "Gerard loves to sing.  I think sometimes he would rather sing than eat!  He has a passion for worship and edifying the people of God." 
On March 6, 2009 Gerard stepped out on faith and released his first compilation project, a Maxi single entitled "It's Me", which are songs written by other Artists that feature Gerard.  However, on April 2011, Gerard released his first solo Maxi single entitled "Made For His Glory."  He is called upon to sing at numerous conferences, revivals, churches and local Gospel television programs.  He is currently working on his full project which is due to be released October 2011.
Gerard feels that God has called him to share the good news whether it is through teaching, preaching or singing.  He allows God to use him and he feels that every opportunity to minister for God is an honor and a privilege because we owe God everything and so much more.  Gerard's Motto is " Whatever you do, do it from your heart because what comes from the heart reaches the heart."  Gerard's prayer is that you would be blessed, inspired and empowered by his ministry.  
Ministry Highlights for Minister Gerard 

1         Married with five children;
2        Minister of Music, ordained Minister and Youth Pastor at Second Timothy Baptist Church under the Pastorate of Rev. Dr. Wilbert Humphries;
3        Numerous appearances on TCT Network "The Dorinda Show" with Dr. Dorinda Clark-Cole;
4         "The Travon Brooks Show" on CTN Network;
5        Several Appearances on Bishop Greg Davis' "Rejoice in the Word" program on the Word Network;
6        Recorded with such artist as Jay and Jay Soul, Eric Deon(Live Recording), Pastor Kelli Williams(Live Recording), Minister Reggie Williams(Live Recording), Calvin Golden and Shekinah(Live Recording), Emanuel Johnson and GIWU, Bishop Greg Davis Latest project "let the healing Begin: My Change Has Come.
7        Won the 2008 Detroit Singing Star competition and a chance to sing the Star Spangled Banner at a Major League Baseball Game in Detroit, Michigan(You can view this on youtube/ myspace under the tag line 'Gerard Brooks singing the Star Spangled'
8       Won 2nd Place in the NAACP Detroit Gospel Competition in 2009
9        Led Praise and Worship for the Detroit Revival on the CTN Television Network for 3 Months(The Longest running Televised revival)
10    March 2009 released 1st Maxi Single entitled "It's Me."
11     April 2011 released 2nd Maxi Single entitled "Made For Your Glory."
12    Above all this and most importantly Gerard Loves God with all his heart, mind, body and soul.
When & Where

The Brumder Mansion
3046 West Wisconsin Ave
Milwaukee, WI 53208


Sunday, July 17, 2011 from 6:00 PM to 9:00 PM (CDT)
Add to my calendar
Organizer
BrumderMansion.com
If you have a large group call Monica Kelly for Group rate 414/218-2202
Gerard Brooks Sunday July 17 Gospel at the Brumder Mansion