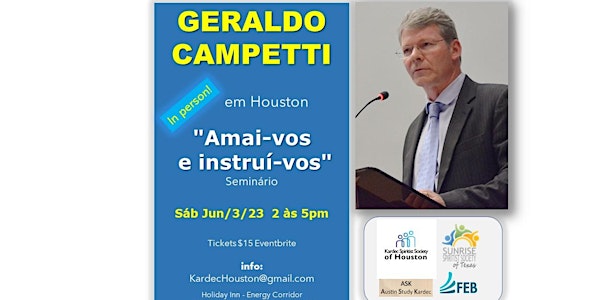 GERALDO CAMPETTI in HOUSTON - Seminário "Amai-vos e Instruí-vos"
GERALDO CAMPETTI in HOUSTON - Seminário "Amai-vos e Instruí-vos" - Em português
By Kardec Spiritist Society of Houston
Date and time
Saturday, June 3 · 2 - 5pm CDT
Location
Holiday Inn Hou Energy Corridor Eldridge 1112 Eldridge Parkway Houston, TX 77077
About this event
É com um imenso prazer que os grupos Kardec Spiritist Society of Texas e o Sunrise Spiritist of Texas recebem Geraldo Campetti Sobrinho em Houston, Texas para um workshop.
Palestrante espírita vibrante, além de Vice-presidente da Federação Espírita Brasileira, Coordenador da FEB Editora, trabalhador incansável na doutrina espírita participa de seminários entre outras atividades de divulgação e esclarecimento.
Responsável pelas áreas de:
-Editora
-Comunicações
-Comercial
- "O Reformador" (Revista)
-Memória e documentação (que inclui: Biblioteca de OBRAS RARAS e o Museu)
- Apresentador na FEBTV dos programas Palavras de Luz Mensagem ao Seu Coração e Espiritismo Ontem e Hoje
-Autor de vários livros.
Em destaque:
- A Vida No Mundo Espiritual
- Um Estudo da Obra de André Luiz
- O Espiritismo de A a Z
- Biblioteca Espírita
- Elucidações Psicológicas à Luz do Espiritismo
- Orientações Terapêuticas à Luz da Psicologia Espírita
- Anotações Espíritas
- Índice da Revista Espírita
E outros!
Mais importante do que todas essas credenciais é sua simpatia e amizade.
Essa é uma oportunidade imperdível de conhecer pessoalmente este excepcional e carismático trabalhador e grande amigo desses dois grupos.
Esse evento inclui o seminário com break, sessão de autógrafos, fotos e meet-and-greet.
Organização:
Kardec Spiritist Society of Houston e
Sunrise Spiritist Society of Texas
Informações: KardecHouston@gmail.com
Join us for this great event!
Schedule:
1:45PM - Check in
2:00PM - Talk, Q&A, Book signing and photos
_______________________________
- Free Parking
- Age 14 & up
- Limited space => Tickets required (Tickets in Eventbrite)
- The Hotel offers a special price for this event. Get the code with us (KardecHouston@gmail.com)
- Donations welcomed and appreciated, to cover event and guest expenses:
conference room, air ticket, accommodations, meals and transportation
See you there!
About the organizer
Non-profit organization aiming to promote, difuse and facilitate the study of Spiritism and the books of Allan Kardec in Houston.