Geoteaming Presents Janine Driver's Body Language Institute

Monday, March 20, 2017 at 9:00 AM

-

Wednesday, March 22, 2017 at 5:00 PM (PDT)
Event Details
Geoteaming Present's
Body Language Institute Program
March 20-22, 2017
https://youtu.be/ALY7zVP7RMw
75% Off Body Language Institute with Geoteaming's Special Deal!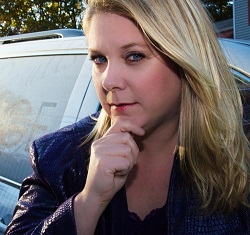 Geoteaming Presents Janine Driver's Body Language Institute, offering nonverbal communications training that helps executives, sales people, and future leaders build executive presence, explode their selling skills, and create and deliver winning business presentations.  Business leaders are learning not only how to send the right signals, but also how to read them as well. The Body Language Institute is part of a thriving industry of consultants helping people to climb their career ladder.  Imagine how powerful your life would be if it were full of more successes this coming year then last year - and the year before that? Wouldn't you get excited if you were given the opportunity to discover how to easily decode the non-verbal secrets to reaching your ultimate success potential?
 Wouldn't you like to ensure you're putting your best foot forward?  Whether meeting new people, dating or interviewing.
Wouldn't your life be a lot easier if you could quickly spot body language that suggested there's something more to the story?
Would you like to know who's lying to you?
Wouldn't you love to know exactly what to do or say when your customer or client closes down?
Then you need to be at Geoteaming Presents Janine Driver's Body Language Institute on March 20-22, 2017 in Seattle, WA.  Janine Driver is the New York Times Best Selling Author of "You Say More Than You Think" and "You Can't Lie To Me", a frequent guest on Dr. Oz, NBC's Today Show, and ABC's Good Morning America, and a body language expert.  Janine is well-trained human lie detector that used to work at the ATF to get bad guys to confess.  Now she uses her skills, training and powers to help you grow your business and be better in life.
In this Body Language Institute, you will learn:
How to spot and stop the liars in your life dead in their tracks

The three steps to a killer first impression

Where to stand to increase your perceived value

How to stop that know-it-all from interrupting you      

What to do to always get the sale, even when a client or customer closes down

How to dominate the office bully 

Become Body Language Institute Certified

Plus much more!
Chris Ulrich is the founder of CU in the Moment.  He's a body language expert, political consultant, improvisational actor, and personal coach. He's frequently seen on CNN, MSNBC and Headline News.  You get 2 instructors for 1!
This course normally costs $2,995 but through a special Geoteaming deal, it's only $1,495 (general admission).  That's 50% off!  And if you click now, I'll give you the incredible deal of BUY 1 GET 1 FREE + 1 FREE UPGRADE, so that's 2 for $1,495 for Gold Level admission that includes 2 BONUS evening breakout sessions!!!.  That's 75% off, WOW!  Prices increase in 2017!
 I am personally Body Language Institute Certified and I can tell you that it makes a difference in my life. I use many of the tips and techniques to help teams and leaders around the world.  Now YOU can learn to read the body language of others and gain the body language advantage!
Gary Gibson, a sales manager at Wyndham Vacation Ownership, took a course at the Body Language Institute earlier this year.  "The Day after Janine's training, in the first four-hours at the office; we closed more than $100,000 in sales..unbelievable!"
3/19/2017 6:30pm-8:30pm (Optional) Evening Session with your host John Chen
3/20/2017 9am – 5pm Janine Driver's Body Language Institute Day 1
3/21/2017 9am – 5pm Janine Driver's Body Language Institute Day 2
3/22/2017 9am – 5pm Janine Driver's Body Language Institute Day 3
Have questions about Geoteaming Presents Janine Driver's Body Language Institute?
Contact John Chen
When & Where

Hilton Seattle Airport & Conference Center
17620 International Blvd
Seattle, WA 98188


Monday, March 20, 2017 at 9:00 AM

-

Wednesday, March 22, 2017 at 5:00 PM (PDT)
Add to my calendar
Organizer
John Chen is the CEO and Big Kid of Geoteaming, infusing team and leadership through technology and adventure.
Geoteaming is the recipient of the Top 40 Entrepreneurs Under the Age of 40, BBB's Innovative Busines Practices Award, the Fastest Growing Minority Owned Business for 3 years running and the MPI Supplier of the Year.
You can contact John at john@geoteaming.com or (206) 856-8491 for more information or group sales.