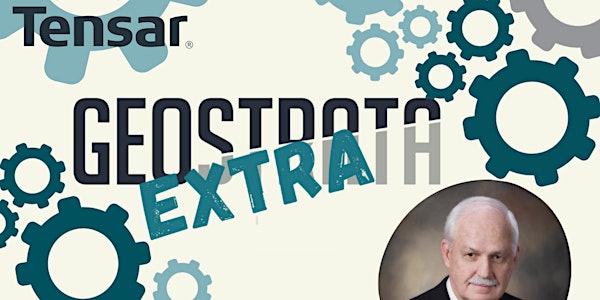 GEOSTRATA Extra with Ed Cording - sponsored by Tensar
Join us for GEOSTRATA Extra - Ed Cording on Pressurized Tunnel Boring Machines
About this event
Join us for GEOSTRATA Extra - where you get an in-depth conversation with a GEOSTRATA author from the magazine's current issue! The February/March Extra will be a conversation between Editor Jeff Dunn and Ed Cording about his piece "Filling the Gaps with Pressurized Tunnel Boring Machines". Read his article at https://bit.ly/34HNMXG.
Edward J. Cording has contributed to the geotechnical engineering profession for more than 50 years. He's recognized for improvements in theories and investigation of rock stability for slopes and underground excavations, and for developing efficient means of calculating, measuring, monitoring, and analyzing ground movements due to tunneling and excavation, with attention to safety in unfavorable environments.
Cording is professor emeritus at the University of Illinois at Urbana-Champaign, where he served on the Civil and Environmental Engineering faculty for 35 years. His interests in the impacts of underground construction on existing structures in urban areas started with his work on the Washington Metro subway in the 1970s.
Cording has received many honors, including election to the National Academy of Engineering (1987), ASCE's Martin S. Kapp Award (1983), the Thomas A. Middlebrooks Award (1985), and the Harry Schnabel Award (2007), and the Terzaghi Lecture (2020).
This episode is sponsored by Tensar. Tensar's solutions create faster, better value for customers. When compared to conventional site development solutions, Tensar's technology-based alternatives are faster to install, incorporate higher performance, remain reliable over time and are more cost-effective. Together, these benefits create a greater total value through upfront and lifecycle cost savings, as well as time savings and increased sustainability. Tensar offers leading-edge, high-performance solutions that save time and money on every project. Find out more at http://www.tensarcorp.com.
Want to learn more about the Geo-Institute? We're a technical society with about 12,000 members - mostly geotechnical engineers and geologists. Visit geoinstitute.org to get to know us!
Check out the last GEOSTRATA Extra!