Description
Dear guests,
You are cordially invited to attend the first pop-up Georgian Supra (feast) experience in the Bay Area. During this very rare dining experience you will learn more about Georgian culture, its history, and will hear eloquent improvised toasts by a Tamada (the toastmaster). You will also be serenaded by live Georgian music and will be encouraged to dance till dawn. And, of course you will enjoy an abundance of Georgian dishes, prepared by your hosts.
So, what is Supra, you might ask?
Georgians take celebrating very seriously. Supras are held when celebrating any life event in Georgia. A Supra (Georgian: სუფრა) means "table-cloth" in Georgian, and is a traditional feast and an important part of local social culture. Community meals are never held in Georgia without a supra. And, when there are no tables, the supra is laid on the ground. Regardless of size and type, a supra is always led by a Tamada, or toastmaster, who introduces each toast during the feast. A successful tamada must be a great story teller and be able to consume a large amount of wine without showing signs of drunkenness.
Our Supra Menu

Appetizer
Eggplant Rolls stuffed with Walnuts and Roasted Garlic
Savory Spinach & Walnut Rolls
Khachapuri - Georgian cheese bread

Salad
Green Salad with tomatoes, cucumbers, pomegranate, walnuts and rose petals in a pomegranate & red wine vinaigrette

Main Course
Katmis Satsivi - Chicken in Walnut sauce
Tolma - Georgian stuffed bell peppers with brown rice pilaf
Mchadi - Georgian stuffed cornbread (pairs well with eggplant and spinach dishes, salad, and cheese)
Ghomi - Georgian cornmeal with olive oil served with fresh Georgian cheese, pairs well with Satsivi, eggplant and spinach dishes

Drink
Georgian Red (TBD)

Dessert
Fresh fruit with honey-rose syrup
Mint tea

*Upon RSVP please indicate any dietary restrictions and we will happily accommodate you
The Location
The feast will take place in a lovely garden in Berkeley, CA.
952 Bancroft Way. Berkeley, CA 94710
The Country
Nestled in the Caucasus mountain range between the Black and Caspian seas, the Republic of Georgia is a country with ancient rich history, breathtakingly beautiful and bountiful . The unique geography of the land, which includes both alpine and subtropical zones, has created an enviable culinary tradition.

The Legend
According to Georgian legend, God took a supper break while creating the world. He became so involved with his meal that he inadvertently tripped over the high peaks of the Caucasus, spilling his food onto the land below. The land blessed by Heaven's table scraps was Georgia.
Your Hostesses


Irma Gogiashvili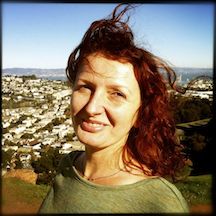 Irma was raised in Georgia and moved to the US fifteen years ago. She is passionate about environmental and social justice and works on various projects honoring our planet and indigenous knowledge. She loves to cook and has been offering Georgian hospitality and dinings experience at her home for many years. She has an anthropological approach to food - intertwining history, culture, language, music, wine making - and creating a unique feasting experience for her guests. Irma is also your special tamada and singer for the evening.


Jodie Kleeman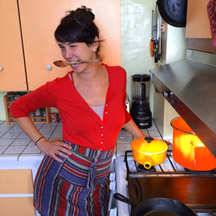 Jodie is a passionate chef who brings laughter and play into the kitchen. She is inspired by cultures and foods from around the world and is a lover of discovering new ways of cooking. Jodie is an alchemist when it comes to perfecting flavor and style. Currently living in Berkeley, CA, she is a professional freelance chef and caterer, and is the founder of the new Clandestino Supper Club.