Georgia Trail Summit 2014
When and where
Location
Classic Center and Hilton Garden Inn 300 N Thomas Street Athens, GA 30601
Refund Policy
Contact the organizer to request a refund.
Description
Let's connect across organizations
That's right. Here's your chance to meet like-minded trail users, lovers, builders and designers to share lessons learned. In addition to informative presentations, there will be plenty of time to network and socialize, all with the goal of realizing a first-class, connected trail system in Georgia. And state tourism partners will join us to discuss best practices of themed trails now active around the state.
Let's solve problems
Sessions will follow three tracks with interactive forums we call an UNconference and mobile workshops and tours on nearby trails. Bring your gear to hike, bike or paddle.

Trail Economics

Growing Community Vision and Buy-in


Plan it. Build it. Maintain it.
Let's plan the future of trails
When: April 11 & 12, 2014
Where: Classic Center and Hilton Garden Inn, Athens, GA
Who: Managers, users, builders, policy makers, planners, advocates, tourism types, community development folks, old salts, new blood and visionaries
For: Pedalers, paddlers, horses, hikers, history buffs, foodies, culture vultures, and urban walkers.
Reserve your ticket now. Print it and bring it to the Summit.
In addition to fascinating presentations and a keynote speaker, the Summit includes an UNconference component. Short sessions will be created spontaneously based on YOUR interests and ideas. We'll gather an impressive group of trail experts on a range of relevant topics to lead interactive conversations that matter to you. There's also a dynamic menu of mobile workshops on nearby trails for hikers, cyclers, paddlers, heritage and cultural enthusiasts, foodies and mountain bikers.
Reserving your hotel room
The deadline to reserve your room was Wed, March 26.
Our unsold rooms have now been released. It's a busy weekend in Athens.

Please weigh in now on the UNconference component.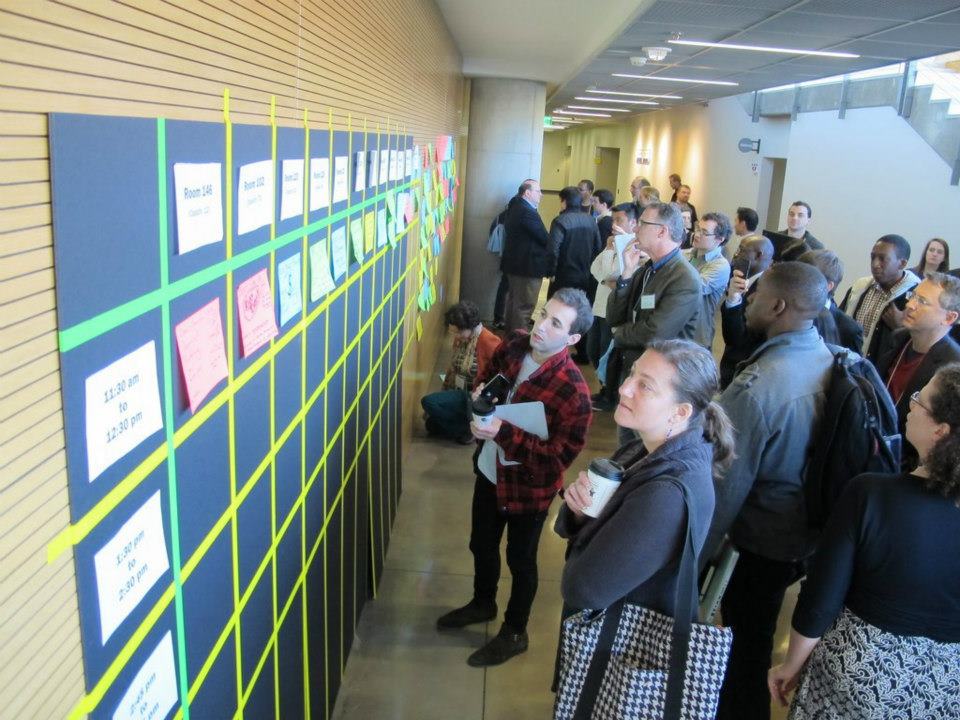 As we plan ahead, please indicate topics you want to discuss with our trail experts (listed below). Like you, they're a wealth of knowledge on relevant topics. Help us shape the program of short sessions to make sure you get your questions answered and learn what YOU came to learn. You can select from suggested topics and/or enter your preferred topics at checkout under 'Other'. They will all go on the Wall (pictured here) of topics to choose from. Our wall ranger will organize it so each topic has a table to chat at during the afternoon. Feel free to move between them and fit in as much as you can.

---
AGENDA
Thursday, April 10 - Georgia Museum of Art

5:00 - 8:00 pm Reception at the Georgia Museum of Art featuring a group walk to The Benefit Art Exhibit and Sale: Celebrating Healthy Habits through Art - an exhibit by UGA students hosted by Public Health Association of UGA, Walton Wellness and Georgia River Network. Complimentary wine and appetizers. Short video by local trail champion Stephen Lush created especially for the Georgia Trail Summit. Free shuttles will run between the Museum and the Hilton Garden Inn.
Friday, April 11 - Classic Center

8:30 am Breakfast and registration at Classic Center. Sign up for mobile workshops.

9:30 am Summit welcome, orientation and explaining the UNconference
10:30 am Break

10:45 am Three speakers back-to-back for all to enjoy.


Julie Smith and Byron Rushing on Silver Comet Trail Economic Impact Study
Ryan Gravel on Visioning of Trails in Urban and Rural Environments
Ed McBrayer on The PATH Story – 200 Miles of Trails in 23 Years

11:45 am Break

12:00 pm Lunch with keynote speaker Jim Langford, MillionMile Greenway, immediately followed by a group visioning session on the future of Georgia's trails. Sponsored by UGA College of Public Health.

1:15 pm Break

1:30 pm UNconference – about 12 sessions suggested by you on topics like:


Hosting trail special events and gamification to engage new audiences

All about trail surfaces: mulch, concrete, slate, rock, asphalt, board walks

Understanding land trusts and easements as another powerful tool for trail building

Overcoming objections to new trails and NIMBYs. Don't let them stop you!

New technologies for determining the best trail routes

Trail erosion restoration and public funding

2:30 pm Break

2:45 pm

UNconference – another 12 - 18 sessions suggested by you on topics like:




Overcoming permitting hurdles in flood plains and wetlands

Thematic trails: blending driving, walking and cycling

Retrofitting trails into your community

Proven economic impact of trails and latest case studies

Trails 101: Best practices for trail planning, design, building and funding

The state of water trails and blueways

Trail maintenance guide for national and state parks

4:00 pm Greenway Heritage Trail hike (nearby)

6:00 to 8:00 pm Party at New Earth Music Hall (nearby). Tasty food from Holy Crepe. Beer compliments of local brewery Terrapin Beer Company.

Saturday, April 12 - Hilton Garden Inn

8:30 am Breakfast in Hilton Garden Inn ballroom. Check-in for mobile workshops.

9:00 to 9:15 am: Ed McBrayer of the PATH Foundation speaks on overcoming the objections of NIMBYs.



9:30 am to 12:30 pm: Mobile workshops tours including:




Bike: Greenway Connectivity, Micro and Macro. Bring your own bike.

Horse ride: Ride the Trails at Sandy Creek Park. Bring your own horse.


Walk: Athens Music History Walking Tour

Hike: Cook's Trail, According to Cook

Paddle: GA Water Trails Paddling Adventure. Canoes and all gear provided.


Hike: Discover the Trails and Grounds at the State Botanical Garden

Bike: Mountain Bike Ride/Learn/Build. Bring your own mountain bike.

1:00 pm: Lunch on your own. Happy Trails home, or stroll on over to the stadium for the annual spring G-Day game at 3:00.
---
Confirmed Experts and Speakers in attendance
Bryan Alexander, grant writer

Whit Alexander, Lose & Associates

Richard Beck, National Bicycle Dealers Association

Jim Brown, Rails-to-Trails Conservancy

Brent Buice, Georgia Bikes!

Celeste Burr, Connect the Comet


John Campbell, US Forest Service

John Devine, Northeast Georgia Regional Commission


Robyn Elliott, Georgia Bicycle Adventures

Dick Field, Retired ACC Greenway Coordinator

Ryan Gravel, Perkins + Will

Bruce Green, Georgia Tourism

Jo Hickson, Coastal Georgia Greenway

Herb Hiller, East Coast Greenway Alliance

Beda Johnson, Georgia Tourism

Jim Langford, MillionMile Greenway

Dan MacIntyre, Georgia Canoeing Association

Scott Mackey, Kennesaw Mtn Trail Club

Ed McBrayer, PATH Foundation

Jonathan McCaig, PATH Foundation

Gwyneth Moody, Georgia River Network

Marcie Moore, Gwinnett County

Kelly Pack, Rails-to-Trails Conservancy

Dan Popovic, cMEcompete

John Purcell, Cobb County Parks & Rec

Byron Rushing, Atlanta Regional Commission

Oliver Seabolt, ALTA Planning + Design

Julie Smith, Bike! Walk! Northwest GA

John Steward, GSU School of Public Health