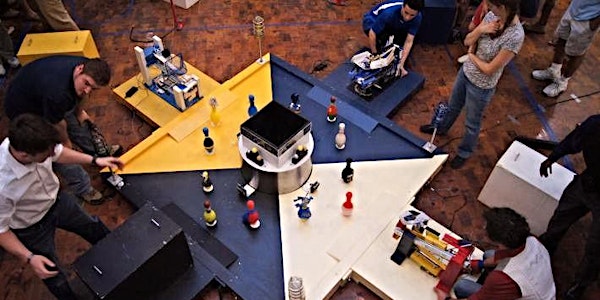 Georgia Tech ME 2110 Design Competition: Spring 2022
ME2110 is a second-year design and build course in which all students in the School of Mechanical Engineering at Georgia Tech participate.
When and where
Location
The design review will be held in the first and second floor Love Atrium ( Love Manufacturing Bldg. (MRDC II), and the final competition will be held in the GTMI Atrium (Callaway Manufacturing Research Center Building). 813 Ferst Drive Atlanta, GA 30332
About this event
Join us for the ME2110 Competition on April 8, 2022. Registration is required for judges, sponsors, and attendees!
The competition theme for this semester is based on the classic animated franchise Scooby Doo. To score points in this robotics competition, the teams must chase away ghosts, deliver Scooby Snacks to Scooby Doo, and help the Mystery Gang return to the Mystery Machine. The night will start with an in-person design review event, where students will present their designs to a panel of rotating judges. This will be followed by a robotic competition event on the Georgia Tech campus that will be live streamed to all attendees. The night will conclude with a live steamed awards ceremony.
If you have industry or academic work experience then we would be thrilled to have you judge student teams. Judges and sponsors instead may use Georgia Tech's visitor parking. The closest visitor lots are Visitor Lt 4 (State St. & Ferst Dr. ) and the top of the Curran Deck (roof only).
Dinner will be provided to in-person judges and sponsors.
Schedule:
4:30 PM- Judges' Briefing
5:00 PM - Design Review/Judging begins
6:00 PM - Judging ends and live Competition broadcast to all attendees
9:00 PM - Awards