| | |
| --- | --- |
| Georgia Mountain Storytelling Festival April 10-11, 2015 | |
Event Details
The first Georgia Mountain Storytelling Festival will be held at Young Harris College on April 10-11, 2015. Learn about the tradition and history of the Appalachian region through storytelling and become part of its preservation. The two-day festival brings together an array of award-winning storytellers who will also host workshops to teach listeners to claim their own voices. 
Tickets may be purchased in advance through EventBrite by 9:00PM on Thursday, April 9th. After this time, online ticket sales will close. Tickets will be sold at the event on April 10th and April 11th for cash or check only. There is an ATM at the festival venue.  
Limited Seating Available
SCHEDULE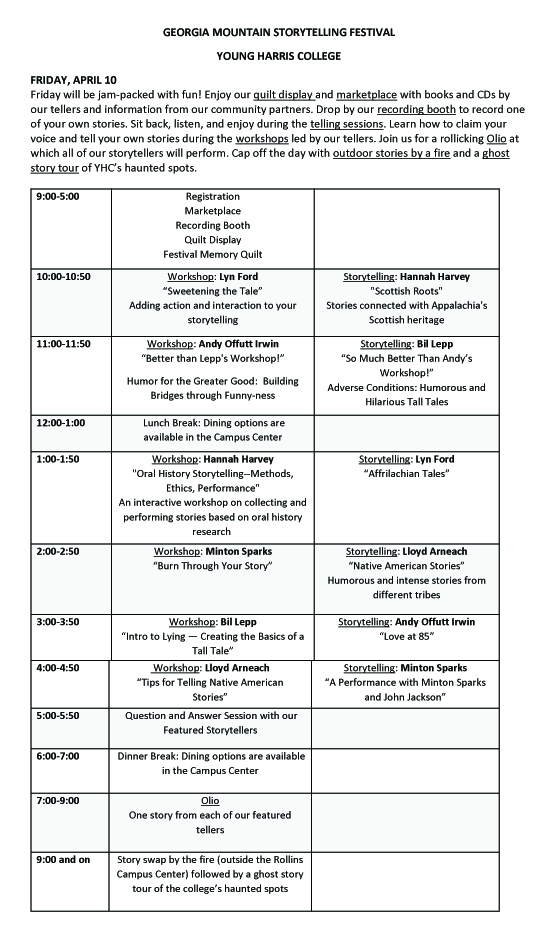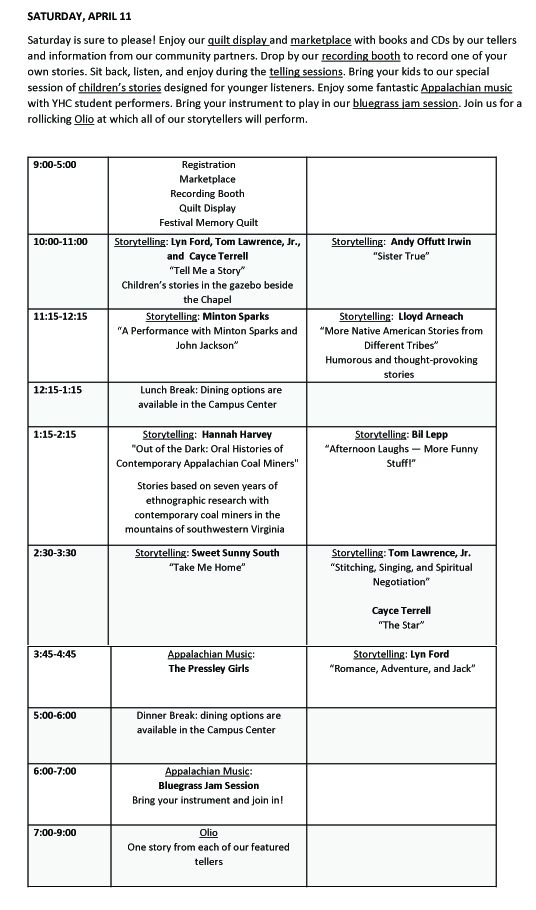 ---
SPONSORSHIP
       Want to become part of the story? Join us as a festival sponsor. Your donation will enable us to provide free tickets to students. 
       Donation levels:
| | |
| --- | --- |
|     Legend: $1000 and up |       *Name/logo on festival signs, on t-shirts, and in program *Recognition via festival website, press releases, and social media *Name announced at festival events *Invitation for 2 to attend "Taste of Home" dinner with storytellers *Reserved seating at festival and 2 free tickets to with sponsor badges *Sponsorship certificate to display at your business *Souvenir poster |
|      Myth: $500-$999 |       *Name/logo on festival t-shirts and in program *Recognition via festival website and social media *Name announced at festival events *Invitation for 2 to attend "Taste of Home" dinner with storytellers *Reserved seating at festival and 2 free tickets to with sponsor badges *Sponsorship certificate to display at your business *Souvenir poster |
|      Tall Tale: $200-$499 |      *Name/logo on festival t-shirts and in program *Recognition via festival website and social media *Name announced at festival events *Invitation for 2 to lunch with storytellers on Saturday *Reserved seating at festival and 2 free tickets to with sponsor badges *Sponsorship certificate to display at your business *Souvenir poster |
|      Folktale: $100-199 |       *Name/logo in festival program *Recognition on festival website *Reserved seating at festival  *Sponsorship certificate to display at your business *Souvenir poster |
|      Fable: $50-99 |      *Name/logo in festival program *Souvenir poster |
|      Proverb: up to $49 |      *Name/logo in festival program |
Georgia Mountain Storytelling Festival April 10-11, 2015