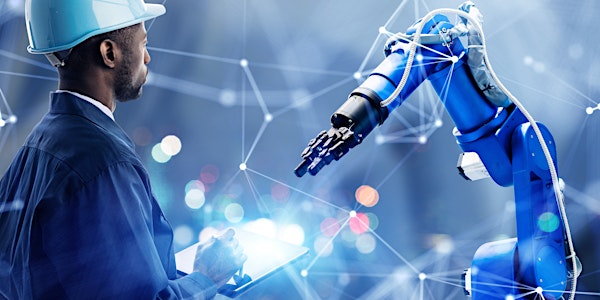 Georgia Manufacturing 4.0 Consortium Webinar: Asset Health Monitoring
Sales Have Ended
Registrations are closed
Unfortunately ticket sales have ended for this event.
Learn how to utilize asset health monitoring technologies as part of a predictive maintenance plan.
About this event
Asset Health Monitoring
Join Georgia Tech's Georgia Manufacturing Extension Partnership (GaMEP) for the first of our one-hour webinars discussing Industry 4.0 technologies and solutions as part of the Georgia Manufacturing 4.0 Consortium funded by the Department of Defense Office of Local Defense Community Cooperation (OLDCC).
This webinar will highlight how small and medium defense contractors and manufacturers can utilize asset health monitoring technologies as part of their predictive maintenance plan to extend complete visibility into the overall health and performance of their assets - and help keep them running smoothly.
During the one-hour, interactive webinar, we will discuss:
Current trends in Industry 4.0 technology and how they are being used to monitor asset health.
How to better track asset productivity, including legacy machine productivity.
Roadmapping to leverage the power of Artificial Intelligence/Machine Learning on data sets from your assets.
Solution providers and other resources that you can connect with to achieve your Industry 4.0 technology adoption goals.
Speakers:
Sean Madhavaraman, Project Manager for Industry 4.0, Strategy and Leadership Development, Georgia Manufacturing Extension Partnership (GaMEP)
Sean utilizes his 17 years of process engineering and advanced manufacturing experience as well as his passion for technology to serve as the GaMEP Industry 4.0 expert. He has a proven track record of utilizing data, communication, and organizational skills to deliver key business objectives through alignment and next-generation technology.
His expertise includes Process Automation, Process Control, Process Engineering, Manufacturing IT/OT, Industrial Internet of Things (IIoT), and Program & Project Management.
Sean holds an M.S. in Mechanical Engineering from Louisiana Tech University, a B.S. in Mechanical Engineering from Madurai Kamaraj University, and is Six Sigma Certified.
Dr. Christopher Saldaña, Ring Family Professor, Associate Professor, George W. Woodruff School of Mechanical Engineering
Christopher began working at Georgia Tech in 2014. Prior, he previously held the Harold and Inge Marcus Career Professorship at the Pennsylvania State University and worked as a research engineer at M4 Sciences Corporation. He has also previously held visiting affiliations/positions with the US Air Force Research Laboratory, the Indian Institute of Science (Bangalore, India), Technische Universität Dortmund (Dortmund, Germany), Autodesk, and Sandia National Laboratories.
Christopher has received several awards, including an NSF CAREER award, the Robert J. Hocken SME Outstanding Young Manufacturing Engineer award, and an R&D100 Technology Award. He serves as an Associate Editor for IISE Transactions (Design and Manufacturing) and serves on the Editorial Boards of Manufacturing Letters, Computer-Aided Design and Applications, and the ASTM Journal of Smart and Sustainable Manufacturing.
Nathan DeVol, Ph.D. student, George W. Woodruff School of Mechanical Engineering
Nathan's research focuses on digital architectures for enabling Industry 4.0 technologies as well as data science and machine learning methods for making use of sensor data to improve manufacturing processes. He has participated in and won, several challenges including ASME's Computers and Information 2021 Hackathon and the Prognostics and Health Management Society's 2021 Data Challenge. Nathan supports projects with various sponsors including the Department of Defense, Moog Inc., and Delta.
He received his B.S. in Mechanical Engineering from Clemson University, M.S. in Mechanical Engineering from Georgia Tech, and has work experience at various companies including Moog Inc., Hubbell Lighting, RBC Bearings, and Duke Energy.