Georgia Innovation Summit: Georgia Mentor Protege Connection presents in pa...
Description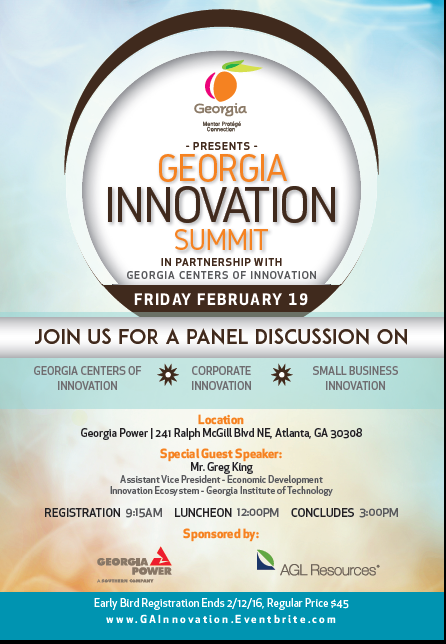 Join us for a day packed with conversations centered around innovation from all perspectives.
PROGRAM AGENDA
9:00-9:30am Registration
9:30-9:45 - Welcome -
Veronica Maldonado-Torres, Georgia Mentor Protege Connection
Mary Ellen McClanahan, Georgia Department of Economic Development
David Nuckolls, Georgia Centers of Innovation
9:45am- 11:15am - GA Innovation Center -Directors Panel
"What New's, What' Trending & Small Biz Resources"
Agribusiness, AeroSpace, Energy Technology , Information Technology, Manufacturing, Logistics

11:15-11:45 Break

11:45- 12;45 Luncheon/Keynote
Greg King- Associate Vice President- Economic Development-Innovation EcoSystem, Georgia Tech

1:00pm-1:45- Corporate Panel; Inside Look- The Race to Innovate with Georgia Power, The Coca-Cola Company, AT&T & Brilio.

1:45- 2:15- How Innovation has changed Media/PR Branding for small business - Paul Lachhu- President/CEO of DiversityPlus, Inc. Magazine

2:15- 3:00pm- How Small Businesses Innovate
Mary Parker, CEO- All (n)1
Chris Spears, CEO- Arke Systems
Geoff Kho, CEO- Supreme Resources
Mike Nilan, CEO- Tree Zero Paper Company
We hope you'll join us as we conclude Georgia Small Business Week!