Georgia Entertainment Summit + Cinema Park Studios Launch
Description
The Georgia Entertainment Summit, hosted at the Cinema Park Studios 20,000 sq. ft. flagship location, will include panels and workshops from prestigious members of the Oscars and Emmys, financiers, casting directors, producers and directors. Complimentary Catered Breakfast, Brunch, Dinner and Open Bar to ALL VIP Pass Holders.
Members from the Writer's Guild of America, the Director's Guild of America, Producer's Guild of America, Invest Atlanta and Georgia Film Commissioners will also be present. The event will be free for new Elite Access members.
Additional Georgia Entertainment Summit and Cinema Park Studios information can be found at CinemaParkATL.com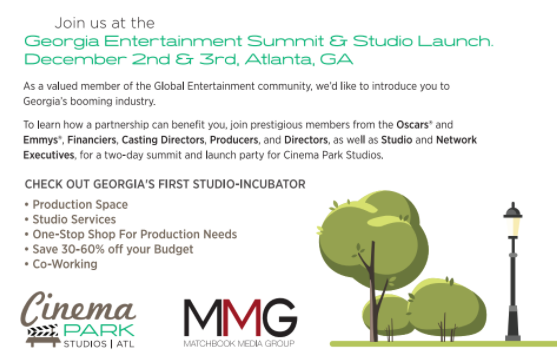 ---
PARTIAL SPEAKER LIST
---
Studio Executive and Industry Advisor- MARTY SHINDLER - 20th Century FOX, Lucasfilm, Kodak, PWC
Since early 1996, Shindler has provided management and business expertise to a wide range of companies, from previs and development through to production and post production and onto sophisticated next generation distribution technologies. After an engagement in the entertainment division of Coopers & Lybrand (now PriceWaterhouseCoopers) to analyze the business practices of Lucasfilm/Industrial Light & Magic, resulting in a broad report of recommendations to improve the business practices of the company without compromising its creative and technical expertise, Marty was recruited by ILM to become Director of Finance, to implement these recommendations. Marty was later recruited by Kodak's Cinesite to be VP Sales & Marketing for this start-up digital studio.
Chief Financial Officer - HARRY VASAVADA - Dick Clark Productions, 20th Century FOX, FUNimation Studios
Before locating to Atlanta, Harry was Interim CFO of a Dallas based Anime distributor, which under his direction, was engaged in the development, production, revitalization and distribution of Anime content and merchandising for the traditional and digital space. Within a year he secured a $10 million line of credit that facilitated the company's bold international expansion. Additionally, he spearheaded a multi-million dollars film fund for the production of Christian movies solely marketed directly to faith-based organizations using alternative distribution means. His illustrious career history includes providing financial leadership to both publicly traded and privately held entertainment companies namely, Matchbook Media Group, Funimation, Group 1200, Lightworks Enterprises, Dick Clark Productions, GRB Entertainment, Reelplay.com, IRS Media, Twentieth Century Fox, Film Roman, Live Entertainment and Atlantic Entertainment.
Casting Director/Producer - BARBARA DIVISEK - Divisek Casting
Director/Producer - RAY BENGSTON
Executive Producer/Director - JOHN C. Joseph
INVEST ATLANTA - Sheoyki Alexis Jones
MAYOR'S OFFICE OF ENTERTAINMENT - Tiphanie Watson
WRITER'S GUILD OF AMERICA - Geoff Betts
MACON FILM COMMISSIONER - Terrell Sandefur
---
***Complimentary Catered Breakfast, Brunch and Evening Receptions with Open Bar + Special Guests & Live Entertainment
VIP Green Room, Studio Tours and Gifts***