Actions and Detail Panel
"Georgia Domestic Violence Awareness Day"
Thu, February 16, 2017, 8:30 AM – 1:30 PM EST
Description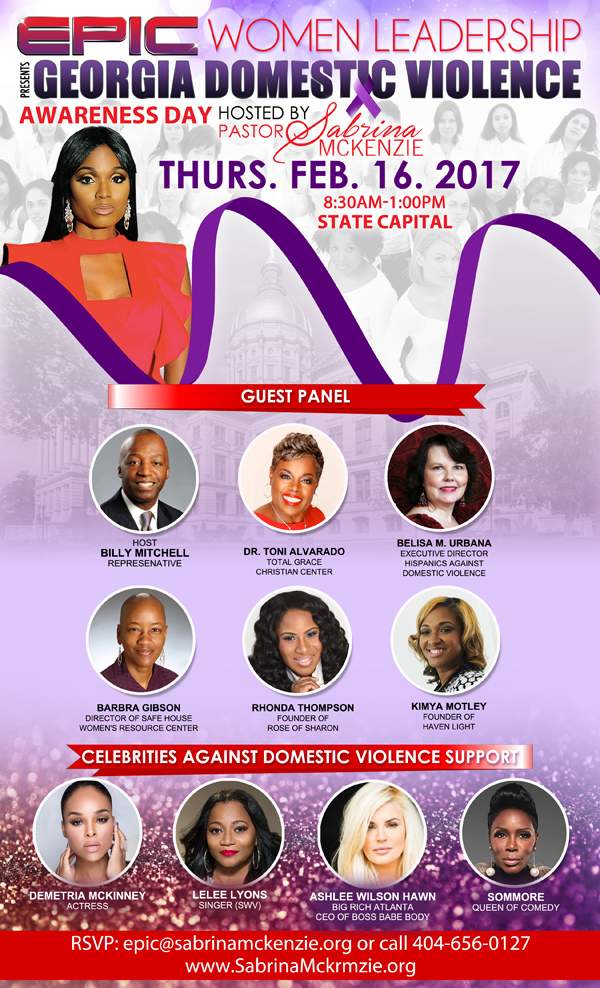 The First Annual "Georgia Domestic Violence Awareness Day at the Capitol," on Monday, February 16, 2017. This day is intended to influence policy and bring awareness to Domestic Violence, while Educating, Empowering, and Inspiring Women.
Registration for this event will begin at 8:30 AM sharp, inside the Coverdell Legislative Office Building
8:30AM - 10:00AM
(CLOB); room 605.
10:00AM -12:00AM
House Chambers, closing with a gathering
1:00PM Press Announcement in the Rotunda
Our goal is to network and hold innovative conversations that will help us in the service of Domestic Violence Survivors of our great State and its communities. This is an opportunity for you to share your concerns and ideas about how we can go about improving matters that affect us as residents and citizens in the state of Georgia.
Email: Epic@sabrinamckenzie.org
Contact: 404-656-0127