Georgetown University New Employee Orientation
Description
Congratulations and welcome to Georgetown! As a new employee you will play an integral role in advancing the University mission of Jesuit education, innovative research, and service to others.
New Employee Orientation (NEO) is the university-wide employee orientation session coordinated by the Department of Human Resources and the Office of Faculty and Staff Benefits. You will have the opportunity to meet fellow new employees, learn about the first steps in our onboarding process, gain an understanding of Georgetown's Jesuit values and traditions, and discover a variety of campus resources. This orientation also includes an overview of your staff benefits and how to make your benefits elections.
*New Employee Orientation will be held from 9:30 AM - 12:30 PM on Monday, August 12th in the Healey Family Student Center - Herman Room. Please register as attending if you or your new hire plan to attend this event. You can navigate campus using our interactive campus map and reference the transportation information provided below.
If you have questions or need additional information, please send an email to hrtraindev@georgetown.edu. We look forward to welcoming you to the university and providing you tools to support a meaningful work-life balance.
Hoya Saxa!
Sincerely,
Georgetown University Department of Human Resources
__________________________________________________________________
Additional Information:
GU BENEFITS
The New Employee Orientation will include an overview of your GU Benefits. You will need to make certain benefit elections within 60 calendar days of your first day at Georgetown. If you do not, your next opportunity to enroll will be during Open Enrollment (once annually during the fall) and benefits will not become effective until the next calendar year. Employees are encouraged to ask any questions they might have about their benefits at NEO.
For more information, effective dates, and eligibility please visit the Office of Faculty & Staff Benefits website at: http://benefits.georgetown.edu/enrolling/newemployees.
LOCATION & TRANSPORTATION OPTIONS
Healey Family Student Center location: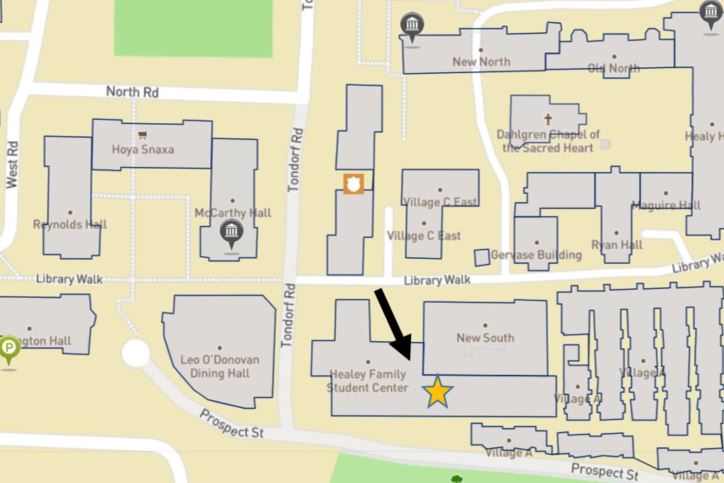 If you are entering campus from the Healey Lawn (37th and 0 St) then you will want to cross the lawn on your left to Library Walk and follow the road downhill until you reach the Student Center. The Herman Room is located past the restaurant, Bulldog Tavern, on your left.
Georgetown University is accessible for faculty, staff, students, and visitors through many transportation options, including our free university shuttle (GUTS bus), public transportation (WMATA buses and the DC Circulator), bicycling, or ride-sharing. There are also transportation benefits available to staff. Learn more here: https://transportation.georgetown.edu/. We do not reccomend parking at Georgetown for orientation without a parking pass.
GETTING YOUR NETID & UNIVERSITY INFORMATION SERVICE (UIS)
This is a unique identifier used for email and other electronic services. You can find your NetID by visiting the Georgetown University Directory at http://contact.georgetown.edu and entering your name. If you are having difficulty identifying your NETID, please contact your direct supervisor or hrtraindev@georgetown.edu. Once your NETID is activated, you will need to create a password. Please contact UIS at (202) 687-4949 or visit https://uis.georgetown.edu/new-to-georgetown for assistance.
GETTING YOUR GOCARD
This is Georgetown University's official employee identification card. When your NetID is activated, go to the GOCard Office (located in the Leavey Center) to receive a card. This card allows access to the Georgetown University Transportation System (GUTS) and the library. It will also regulate access to restricted buildings and offices. The card may be used as a campus debit card and to make purchases on campus, which we will discuss at NEO. Employees may elect to enroll in the GOCard Direct Deposit Program and receive a 1% bonus deposit for every payroll deposit. For more information visit GOCard.georgetown.edu.
SELF-IDENTIFICATION IN GMS
As a new employee you will be asked to complete a number of tasks in the Georgetown Management System (GMS) as part of your on-boarding process. You will be asked to self-identify your personal demographic information which includes race, ethnicity, gender, disability, and veteran status. As a federal contractor, Georgetown University is subject to government recordkeeping and reporting requirements for the administration of civil rights laws and regulations and is required to solicit this information. The information obtained will be kept confidential and may only be used in accordance with the provisions of applicable laws, executive orders, and regulations. When reported, data will not identify any specific individual.
For more information on the university's federal obligations and various definitions, please visit the Office of Institutional Diversity, Equity and Affirmative Action's (IDEAA) website. For instructions on how to self-identify in GMS, please refer to the GMS On-boarding Guide.