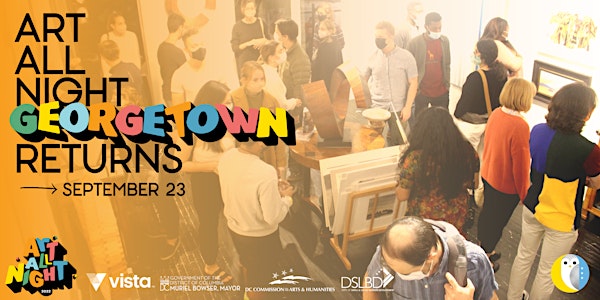 Georgetown Art All Night 2022
A night of music, art, and performance
When and where
Location
Georgetown 3217 P Street NW Washington, DC 20007
About this event
GEORGETOWN ART ALL NIGHT
In the second year, Georgetown Art All Night is next level with 13 activation locations and an additional 20+ participating small businesses, it's one night you want to stay out late in Georgetown.
Enjoy art and performance from local art institutions like Georgetown University and the National Conservatory of Arts. Discover local creatives and makers at the Neighbors DC pop up at the Georgetown Neighborhood Library. Paint outside the lines at Shop Made in DC. Bring the kids along and engage with art teachers from Hyde-Addison, Little Folks, and Anna Banana. Discover African art at the African Union Embassy.
FOR UPDATED INFO, VISIT THE EVENT PAGE HERE.
WELCOME LOCATION
Start off your night at the Georgetown Art All Night Welcome Location at the front entrace of the Georgetown Neighborhood Library - 3260 R St NW
ACTIVATION LOCATIONS
Georgetown Neighborhood Library - 3260 R St NW
Addison/Ripley Fine Art - 1670 Wisconsin Ave NW
African Union - 1640 Wisconsin Ave NW
Gallery Article 15 - 1624 Wisconsin Ave NW
Calloway Fine Art & Consulting - 1643 Wisconsin Ave NW
Washington Printmakers Gallery - 1641 Wisconsin Ave NW
TD Bank Parking Lot - 1611 Wisconsin Ave NW
Hyde-Addison Elementary School - 3219 O St NW
St. John's Church - 3240 O St NW
Georgetown Theater Building - 1351 Wisconsin Ave NW
National Conservatory of Dramatic Arts - 1556 Wisconsin Ave NW
Chase Bank Parking Lot - 3217 P St NW
Shop Made in DC - 1304 Wisconsin Ave NW
RSVP
Your RSVP is not required for attendance, but it helps us keep up with interest and allows us to keep you updated.
EVENT GUIDE
All AAN attendees will be given a printed Event Guide booklet that outlines the program details at each of the Activation Locations, participating businesses, and places to eat. Don't forget to support the businesses who included ads in this year's Guide Book - we're thankful for their support of the event..
FUNDERS & SPONSORS
Art All Night Funders:
DC Commission on the Arts and Humanities
Department of Small and Local Business Development
Mayor Muriel Bowser
Georgetown Art All Night Sponsors: