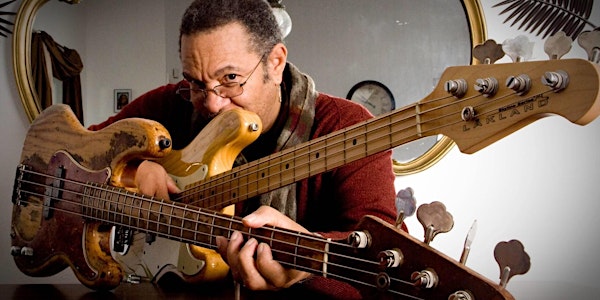 George Porter Jr. & The Runnin Pardners w/ Mike Dillon Punkadelick
Ages 21+
The Pour House Music Hall & Record Shop
Help celebrate The Pour House's 25th Anniversary w/two of our favorites, George Porter Jr & The Runnin Pardners & Mike Dillon Punkadelick!
When and where
Location
The Pour House Music Hall & Record Shop 224 S Blount St Raleigh, NC 27601
About this event
GEORGE PORTER JR. & THE RUNNIN PARDNERS:
George Porter Jr. is an award-winning bassist, songwriter and vocalist. He is a founding member of New Orleans' seminal funk band, The Meters and widely recognized as one of the greatest bass players of all time. Formed alongside Art "Poppa Funk" Neville, Leo Nocentelli and Joseph Zigaboo Modeliste, the pioneering R&B funk outfit hit the scene on the streets of the Crescent City in the 1960s, to ultimately become one of the progenitors of the funk music genre. The groundbreaking collective carved out syncopated polyrhythms and grooves inherited from New Orleans' deep African musical roots. Porter's heavy pocket and fat notes formed the rubbery bass lines behind funk classics like their signature "Cissy Strut," the now classic 1969 funk instrumental released as a single from their eponymous debut album, which reached No. 4 on the R&B chart and No. 23 on the Billboard Hot 100 respectively. While the group rarely enjoyed massive mainstream success, they are widely heralded alongside James Brown, Sly Stone, and George Clinton's Parliament/Funkadelic as the founding fathers of funk. The Meters have been nominated four times for induction into the Rock and Roll Hall of Fame (most recently in 2017), and were presented with a Grammy Lifetime Achievement Award at the 60th Annual Grammy Awards in 2018.
At the outset of his young career, Porter developed his signature style on sessions in his hometown New Orleans, with early musical pioneers Johnny Adams, Irma Thomas, Snooks Eaglin, Eddie Bo and The Lastie Brothers. While Porter developed his pedigree, The Meters were gaining notoriety, soon becoming the house band for Allen Toussaint's recording label, backing classic records from Dr. John, Lee Dorsey and Earl King, while later supplying the musical foundation for classic hit albums and singles from modern artists Robert Palmer, Paul McCartney, Tori Amos, Taj Mahal, not to mention Patti Labelle's No. 1 R&B hit "Lady Marmalade." George and The Meters toured with the Rolling Stones in '75, were embraced by Led Zeppelin and The Beatles, and became primary influences to modern artists such as Red Hot Chili Peppers and the Beastie Boys. Porter's rhythmic work with drummer Modeliste also became the building block behind primary samples used by the most relevant hip-hop artists of the 1980's and 1990's, including A Tribe Called Quest, Run DMC, N.W.A. and Queen Latifah.
Porter has accompanied the stage as a band member or special guest with the likes of David Byrne, Dead & Company, Jimmy Buffet, Warren Haynes, Widespread
Panic, Tedeschi Trucks Band, John Scofield, Bill Kreutzmann, Mickey Hart and various members of Phish, to name a few.
He continues to be the bandleader of current projects, George Porter Jr. and Runnin' Pardners and George Porter Jr. Trio; with both incarnations still playing often locally, and touring prolifically, garnering respect not only as quintessential New Orleans' bands, but also as major national attractions within the jam band and festival scene. On special occasions, Porter still anchors Foundation of Funk, a current Meters "reinvention" with original drummer Zigaboo Modeliste, boasting a rotating line-up which has featured members of Widespread Panic, Medeski Martin & Wood, Dumpstaphunk and 2018's now infamous Lockn Festival sit-in by Bob Weir, John Mayer and Grateful Dead drummers Mickey Hart and Bill Kreutzmann, the latter of whom George played with in the popular side project, The 7 Walkers.
Currently, Porter still maintains a healthy touring schedule with his trio and Runnin' Pardners projects with a cast of seasoned and talented musicians including long-time collaborator Michael Lemmler (keyboards), Terrence Houston (drums) and Chris Adkins (guitar). George and his Runnin' Pardners recently released their highly acclaimed first new studio album in six years, Crying For Hope in March 2021. The album garnered national coverage with Billboard, Tidal, MOJO, Premier Guitar and Bass Player, along with Porter's hometown publication, Offbeat, which declared:
"While the title cut harkens back to the social commentary lyricism of some of the best Meters songs and references the déjà-vu all-over-again experiences of Black America in these fraught times, the rest of the album remains emotionally upbeat and hopeful. For a band that is known for its stop-on-a-dime tightness when performing live, this album proves over and over that with the right musical ingredients the magic can actually be bottled."
During the course of his career spanning more than four decades, Porter has made a deep impression as an elite player; acknowledged as one of Rolling Stone Magazine's 50 Greatest Bassist of All Time. At 74 years young, George Porter Jr. plans to keep a smile on his face and often says, "I feel like I am working towards something that will be remembered."
MIKE DILLON & PUNKADELICK:
How many artists have been praised a "punk rock provocateur," "jazz vibraphone visionary," and "percussion virtuoso" in the same sentence? There's only one: Mike Dillon. Whether through his affiliation with artists like Les Claypool, Primus, Rickie Lee Jones, Dean Ween Group and Ani Difranco, and collaborations such as Nolatet, Garage a Trois, The Dead Kenny G's, Critters Buggin or bands he has led, including Mike Dillon Band, Mike Dillon's New Orleans Punk Rock Percussion Consortium, Billy Goat and Hairy Apes BMX, the Texas-native has set his own standard for 25 years now.
Over the past decade, Mike Dillon has released a number of acclaimed albums, intertwining a range of influences from Zappa-esque eccentricity to Fishbone punk funk, D.C. Go-Go to Milt Jackson-influenced vibraphone majesty. Never before, however, has he recorded music so personal and committed to a sustained mood as his latest album, Functioning Broke. The recording finds Dillon solo on vibraphone and various percussion, building each track into its own minimalist, but multi-dimensional auditory landscape.
The current version of the Mike Dillon Band features guitarist Cliff Hines, Bassist Nathan Lambertson and a rotating cast of drummers including Claude Coleman Jr. (Ween), Simon Lott, G. Maxwell, Doug Belote and Paul Thibodeaux. With this line up, Dillon has continued exploring the connection between New Orleans street beats, Ska, funk, Hardcore and jazz. The band will release a new record in February 2017 titled, "Life is not a Football." Produced in New Orleans by Richard Maloney and Dillon with engineers Rick Nelson and Robert Mercurio, this album sounds like a Spotted Cat trad band that grew up playing Dead Kennedys and invited Captain Beefheart over for a dinner cooked by Thelonious Monk. The Mike Dillon Band has supported acts like Galactic, The Revivalists, Clutch, Primus, and Fishbone, while continuing to play music festivals and in cities across the U.S.
In 2016, the Gambit's Big Easy Awards named Mike Dillon "Performer of the Year" and the Mike Dillon Band "Best Punk/Metal Band" in New Orleans. Living in New Orleans for over 10 years now, when not on the road with Rickie Lee Jones, Nolatet, or the Mike Dillon Band, Mike resides in the Musician's Village.
Mike's latest release, Life Is Not A Football, released April, 2017 (Royal Potato Family) is "A recording with the Big Easy coursing through its veins and equal parts Frank Zappa and The Butthole Surfers in its DNA. Life Is Not A Football, is a no-holds-barred affair, complete with rallying cries for justice, truth-to-power political and existential rants and plenty of inside jokes.