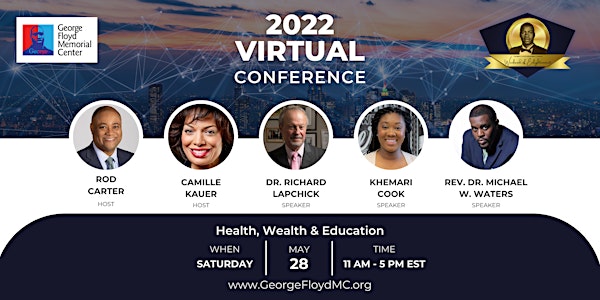 George Floyd Memorial Center Weekend of Enlightenment Virtual Conference
Sales Have Ended
Ticket sales have ended
Sales have ended for this event, please check back for future events.
George Floyd Memorial Center hosts the Weekend of Enlightenment to initiate the first steps from perpetual trauma to global transformation.
About this event
George Floyd Memorial Center Announces Hosts and Speaker Lineup for Their First Annual Virtual Conference: "From Perpetual Trauma to Transformation" Memorial Day Weekend
The Center's First Signature Fundraiser During the "Weekend Of Enlightenment"
Honoring the Life and Legacy of George Floyd
A central component of Raleigh's George Floyd Memorial Center's (GFMC) Weekend of Enlightenment is the inspirational virtual conference its hosting on May 28, 2022 themed "From Perpetual Trauma to Transformation." Hosted by evening news anchor Rod Carter of WNCN, CBS Channel 17, and E-Spot podcaster, Camille Kauer, the conference features nationally recognized and powerful speakers to harness the energy and commitment of those interested in making the world more just and to inspire attendees in communities all over the country and world.
Dr. Richard Lapchick, Khemari Cook and Rev. Dr. Michael W. Waters will engage, inspire and inform those attending virtually.
Dr. Richard Lapchick, an author, educator and ESPN columnist, is an internationally recognized expert on sports and social issues. He is often described as "the racial conscience of sport." He is the president of The Institute for Sport and Social Justice (formerly The National Consortium for Academics and Sport), Director of The Institute for Diversity and Ethics in Sport, and the Endowed Chair of the University of Central Florida's DeVos Sport Business Management Program, and the co-founder of Hope for Stanley Alliance.
Khemari Cook is the Chief Diversity & Inclusion Officer at Red Ventures where she is responsible for leading the development and execution of Red Ventures' DEI strategy to advance the company's mission and business objectives.
Rev. Dr. Michael W. Waters, a pastor, professor and activist, is the founder and lead pastor of the Abundant Life African Methodist Episcopal Church in Dallas, Texas. Waters' words of hope and empowerment inspire national and international audiences.
We will also have special performances throughout the day, as well as impactful workshops on Wealth, Health, and Education from our partners at First NC, Socratic Wealth, and Empower All.
The funds raised through the support of donors will be used towards staffing, programming and to build the Center and begin the far-reaching programming for the community, and eventually the nation and world.