George F. Will on American Happiness and Discontents
Cut and Paste zoom link below into your browser to connect to the program: ZOOM LINK: https://us02web.zoom.us/j/89171473813
About this event
George F. Will
Examine the ways in which expertise, reason, and manners are continually under attack in our institutions, courts, political arenas, and social venues with this collection from the Pulitzer Prize-winning conservative columnist.
George F. Will has been one of this country's leading columnists since 1974. He won the Pulitzer Prize for it in 1977. The Wall Street Journal once called him "perhaps the most powerful journalist in America." In this new collection, he examines a remarkably unsettling thirteen years in our nation's experience, from 2008 to 2020. Included are a number of columns about court cases, mostly from the Supreme Court, that illuminate why the composition of the federal judiciary has become such a contentious subject. (Hachette Books)
George Frederick Will is an American libertarian-conservative political commentator and author. He writes regular columns for The Washington Post and provides commentary for NBC News and MSNBC. (Wikipedia) In 1986, The Wall Street Journal commented that in terms of his power as a journalist, Will is in a league with Walter Lippmann (1889–1974). Will won, among MANY other awards, the Pulitzer Prize for Commentary.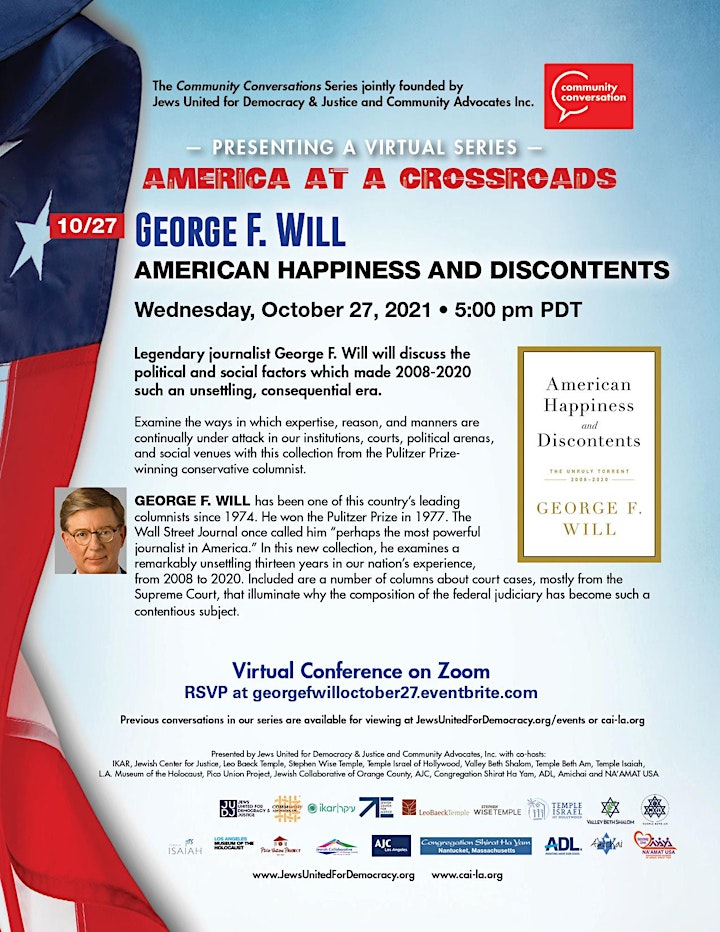 Organizer of George F. Will on American Happiness and Discontents
Jews United for Democracy and Justice (JUDJ) is a broad cross-section of Los Angeles Jews who stand with our community and others to assert a Jewish voice to safeguard the principles and foundations of our constitutional democracy.
Founded in the wake of the executive orders on immigration and refugees, JUDJ is deeply concerned about rising threats to religious tolerance, equal rights, a free and fair press, human dignity, and long-held norms of decency and civil society. We will speak out and take action when our shared Jewish values require us to counter those threats.
Community Advocates, Inc. (CAI) is a nonprofit organization that advocates innovative approaches to human relations and race relations. It was founded on the idea that while we do not live in a perfect world, there has been steady and continuing progress in the arena of race and human relations. CAI is led by its Chairman Richard Riordan, former Mayor of Los Angeles and President David A. Lehrer, former Regional Director of the Anti-Defamation League. For many years its vice president was the late Joe R. Hicks, former Executive Director of the Los Angeles City Human Relations Commission. CAI spreads its vision through op-eds, speeches, panel presentations, journal articles and broadcast programming.