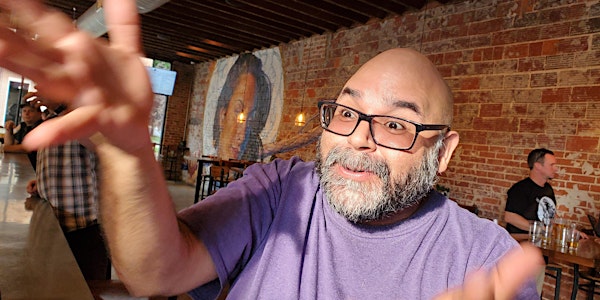 George Banda & Friends Farewell Show/Party!
Award Winning Charlotte Singer-Songwriter, Open Mic Host, Teacher & Friend
Location
The Evening Muse
3227 N. Davidson Street
Charlotte, NC 28205
Come out to catch George before he heads to the Big Apple!!
About this event
George Banda was born in Arizona, where his father taught him to play guitar when he was just five years old. In the 25 years since, George has dedicated his time and resources to pursuing this passion. He attended Central Piedmont Community College and Queens University, where he graduated Summa Cum Laude with Honors and was awarded degrees in music theory and guitar performance. In addition to devoting time to his studies, George has also released his own music. He has produced two albums, one of which was an independent EP (2016) and the other a collaboration with local Charlotte artists (2017). While he considers The Evening Muse his musical home, he has played on multiples stages in Charlotte and the surrounding region. When not performing locally, George makes a priority to give back to the community. He has worked with multiple Charlotte organizations, including the Charlotte-Mecklenburg Dream Center, where he serves as the Creative Arts Director; and the School of Rock, where he teaches guitar, music theory, and provides any additional resources required for the musical education of the students the organization serves. In addition, he also provides private lessons. George enjoys expressing himself through both his writing and his musical compositions. His writing draws on themes of prior hardship and love, while his musical compositions have been performed by members of the Charlotte Symphony Orchestra and members of the Queens University Music Department. He hopes to exert a positive influence on the world through his passion for music and works every day to achieve this goal through his commitment to personal growth, community involvement, and artistic expression. In his spare time, George enjoys MMA training, boxing, and riding his yellow motorcycle named Pikachu. He also hates cucumbers. A lot.
*************