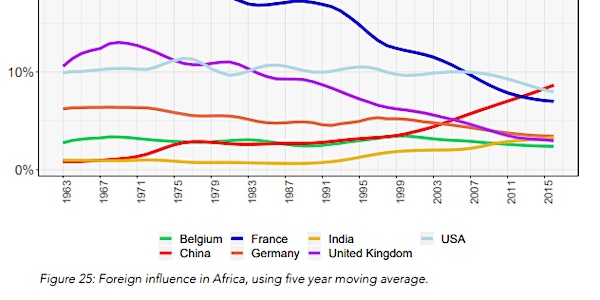 Geopolitics, Development, and Africa with Institute for Security Studies
Representatives from the Institute for Security Studies and the Pardee Center will present on geopolitics, development, and Africa.
By Pardee Center at the University of Denver
Date and time
Wednesday, February 22 · 4 - 6:30pm MST
Location
University of Denver 2201 S. Gaylord Street Maglione Hall, 5th Floor Denver, CO 80208
About this event
The African Futures Project is an ongoing collaboration between the Pardee Center and the Institute for Security Studies (ISS), headquartered in Pretoria, South Africa. The ISS, established in 1991 as the Institute for Defense Policy, is a pan-African think tank focused on issues of human security. The Pardee Center and the ISS have come together to leverage each other's expertise and to develop a series of scenario-based, on topics such as the potential for a green revolution or for malaria eradication in Africa (each brief also has a supporting video feature).
The ISS hosts a website that models potential progress towards the African Union's Agenda 2063 vision through the individual and combined impact of various scenarios on the future of Africa, its five regions such as North Africa, eight RECs such as ECOWAS, country income groups such as the average for Africa's low-income countries, and 54 countries.
The African Union's Agenda 2063 ambition is a comprehensive 50-year blueprint that aims to transform Africa into an integrated, prosperous and peaceful continent, 'driven by its citizens, representing a dynamic force in the international arena.' It consists of 20 goals encapsulated in the broader seven aspirations and 15 flagship projects. The first 10-year implementation plan will conclude in 2023. The three main objectives of the second plan will revolve around three main objectives: to ensure greater physical connectivity of the Continent through the construction of roads and other communication infrastructures, to establish the conditions for sufficient domestic agricultural production to reduce imports of foodstuffs and build the technical capacities to make the energy transition a success.
Agenda
4:00 PM - 4:30 PM
Doors open for food and drinks
4:30 PM - 5:30 PM
Presentation begins
5:30 PM - 6:30 PM
Questions and conversation