Join a nature hike and discover the Rocks on the Hill!
About this event
Ever wondered why the Coyote Hills rise up out of the surrounding marshland? Take a walk with Dr. Malcolm Pringle around the hills of the refuge. Observe rocks that formed deep in the ocean during the time of the dinosaurs. Ponder how they could have joined North America, then been uplifted to form the rocks, colors, and soils that provide the footing of the varied plants and animals that we see now. Appropriate for scouts, and inquisitive students of all ages. Sturdy walking shoes recommended.
Organizer of Geology Rocks on the Hills
Containing almost 30,000 acres of estuarine habitat, uplands, open water, mudflats, salt ponds, and salt marshes, including much of southern San Francisco Bay, Don Edwards San Francisco Bay National Wildlife Refuge provides habitat for many wildlife.  Its purpose is to protect wildlife habitat for endangered species and migratory birds, and to offer opportunities for nature study.  The refuge has two main facilities - a Visitor Contact Station in Fremont, and an Environmental Education Center in Alviso.    The Visitor Contact Station is open Wendesday-Saturday from 11 a.m. - 4:30 p.m., and the EEC in Alviso is open Saturdays from 10 a.m. - 4:30 p.m.  Both are closed on all federal holidays.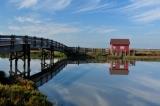 Don Edwards San Francisco Bay National Wildlife Refuge is part of the San Francisco Bay National Wildlife Refuge Complex and is administered by the US Fish & Wildlife Service.