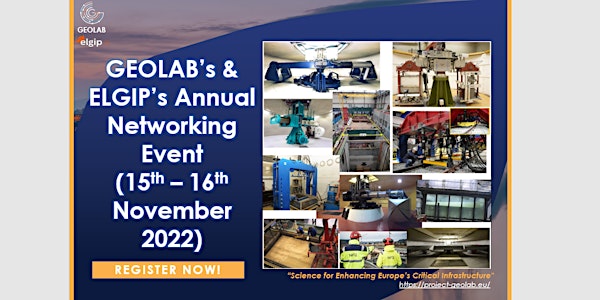 GEOLAB Networking Event 2022
GEOLAB will be hosting its annual Networking Event in collaboration with ELGIP in November at the premises of ETH Zurich, Switzerland.
When and where
Location
ETH Zurich (Hönggerberg Campus) Wolfgang-Pauli-Strasse 27 8049 Zürich Switzerland
About this event
The Networking Event will consist of series of workshops delivered by GEOLAB and ELGIP with a specific focus on Joint Research and Innovation.
Project GEOLAB's Research Infrastructure (RI) consists of 11 unique installations in Europe aimed to study subsurface behaviour and the interaction with structural CI elements (e.g. a bridge) and the environment. The overarching aim of GEOLAB is to integrate and advance these key national research infrastructures towards a one-stop-shop of excellent physical research infrastructure for performing ground-breaking research and innovation to address challenges faced by the Critical Infrastructure of Europe.
At the Networking Event, dedicated workshops will be delivered by the University of Cambridge, TU Delft, ETH Zurich, Deltares, CEDEX, NGI, Technical University of Darmstadt, University Gustave Eiffel and the University of Maribor. Esteemed guest speakers will also be presenting on the day.
This event has been organised in collaboration with ELGIP (European Large Geotechnical Institutes Platform), which is a consortium of major European research organizations in geo-engineering, that have joined forces since 2002. Each organisation has a strong national position working in research, development, and innovation. Currently, ELGIP comprises 15 members, which employ in total over 2000 professional research staff. ELGIP is member of the European Council for Construction Research, Development and Innovation (ECCREDI). Furthermore, ELGIPs member are (strongly) involved in the European Construction Technology Platform (ECTP), the Forum of European National Highway Research Laboratories (FEHRL) the Renewable Heating and Cooling European Technology Platform (RHC ETP) and a large number of European research, development and innovation projects within its framework programmes.
Find more information here: GEOLAB Networking Event
Agenda for the event is as follows: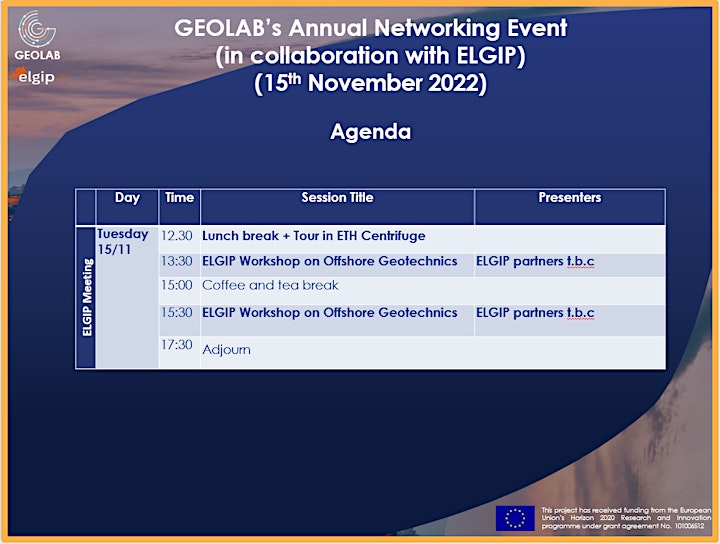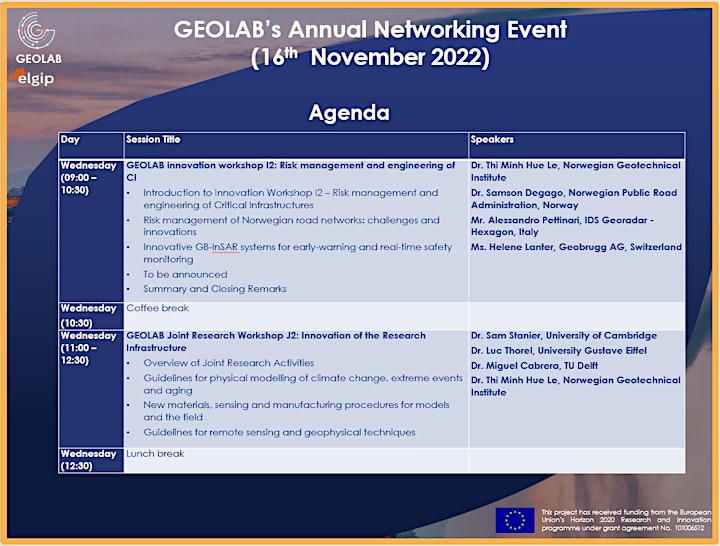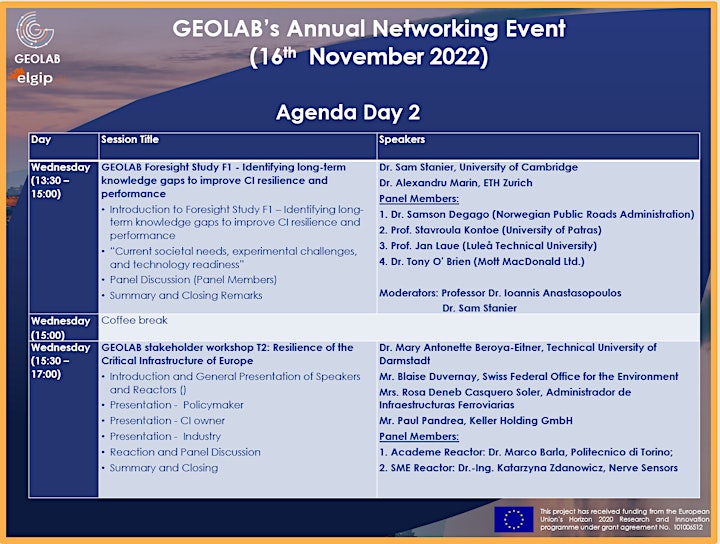 INFORMATION ON THE PROCESSING OF PERSONAL DATA
The GEOLAB Networking Event aims at offering an overview of the project's objectives and introduce GEOLAB's geotechnical research facilities and how to gain access to them.
The event does not have any commercial purpose. The involved participants do not receive any monetary benefits by conducting this activity. They participate voluntarily and can withdraw from the activities at any time. The event results may be published in project reports, journal articles, conference presentations, and via any other mode of scientific exchange and dissemination considered appropriate while protecting the participants' anonymity.
Data collected will be published in an anonymous form. Photos and videos taken during the event may be used for internal purposes only. Participants' personal data (Full name, nationality, country of residence, profession, organisation name, email) will be only used by GEOLAB for the purposes of the event. Only if specific permission is given, they may be used to invite the participants to take part in future research activities. Personal data will be collected, processed and protected according to the General Data Protection Regulation (GDPR) (EU) 2016/679. Participants will have the right to request access to and rectification or erasure of personal data or to object to processing as well as the right to data portability just sending an email to the responsible of data treatment listed hereafter. They will also have the right to lodge a complaint with a supervisory authority.
After reading the information sheet above, I consent voluntarily to participate in this event and understand that I can withdraw from the event at any time, without having to give a reason.