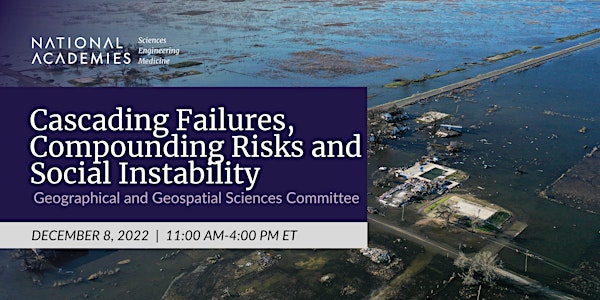 Geographical and Geospatial Sciences Committee Fall 2022 Meeting
Register for this event on the geographical dimensions of extreme climate change in-person, or virtually
When and where
Location
National Academy of Sciences 2101 Constitution Avenue Northwest Washington, DC 20418
About this event
Droughts, storms, floods, wildfires, heatwaves and similar weather-related events have been increasing in recent years. These billion dollar disasters are expected to continue to increase over the next few decades due to climate change, putting stress on infrastructure, institutions, communities, and people. Predictions of future climate change are critical to preparing for impacts. Most planning for future impacts has been based on mid- and lower-end predictions from earth system models, but impacts and implications for society could be much worse under extreme climate change scenarios.
This meeting of the Geographical and Geospatial Sciences Committee will address the geographic dimensions of these scenarios and the role of novel geospatial data sources and analytics to improve understanding for basic research, policy and responses.
Email Oshane Orr at orr@nas.edu with questions.

Disclaimer: This registration information is being collected via Eventbrite. Eventbrite is not affiliated in any way with, or endorsed by, the National Academies of Sciences, Engineering, and Medicine, and your submission via the Eventbrite website is subject to Eventbrite's privacy and terms of use.