Description
The Interval at Long Now welcomes
Geoff Manaugh (journalist, BLDGBLOG, author of A Burglar's Guide to the City)
Breaking the Close:
 Burglary and the Limits of Architecture
Check-in begins 6:30pm; talk will start 7:30pm sharp at The Interval at Long Now

Geoff's book A Burglar's Guide to the City will be on sale and he will sign after the talk.
Burglary reveals unexpected ways of moving through—and misusing—the built environment. In his talk Manaugh (author of the BLDGBLOG blog since 02004) will discuss how, for burglars, architecture itself is a tactical tool. Seen through the lens of breaking and entering, walls become doors, sewers merely underground streets.
At the core of A Burglar's Guide to the City is an unexpected and thrilling insight: how any building transforms when seen through the eyes of someone hoping to break into it.
Encompassing nearly 2,000 years of heists and break-ins, the book draws on the expertise of reformed bank robbers, FBI Special Agents, private security consultants, the L.A.P.D. Air Support Division, and architects past and present.
A Burglar's Guide to the City, a multidisciplinary, eclectic, voraciously readable book that views architecture, built environments, and cities themselves through the lens of breaking-and-entering.
— Cory Doctrow, author, co-editor of Boing Boing, previous Long Now Seminar speaker

Long Now members can view a free livestream of this event online. Join Long Now for access to live streams of our Seminars and Interval events.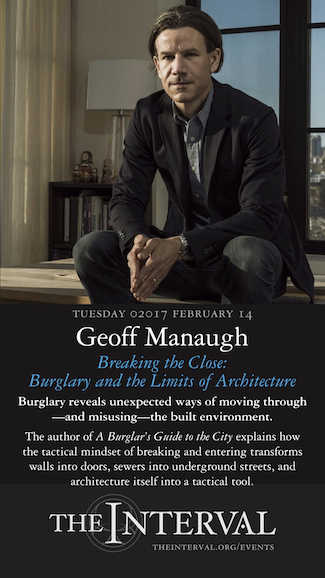 Geoff Manaugh is the author of BLDGBLOG ("building blog"), the New York Times-bestselling A Burglar's Guide to the City, The BLDGBLOG Book, and editor of Landscape Futures: Instruments, Devices and Architectural Inventions. A Burglar's Guide to the City is being adapted for television by CBS Studios.
His writing has been published in The New York Times Magazine, The New Yorker, Cabinet Magazine, The Atlantic, New Scientist, and many others. An article for The Daily Beast about a former Los Angeles bank robber sent overseas to plot heists against al Qaeda is being adapted for film. His essays appear in books, exhibition catalogs, and artist monographs, including publications by photographers David Maisel and Michael Wolf, artist Ai Weiwei, and architects Philip Beesley and Bjarke Ingels.
Manaugh has lectured on architecture, technology, and landscape around the world including the Aspen Ideas Festival, Harvard's Graduate School of Design, the Australian National Architecture Conference, and the Bauhaus Universität in Weimar. Previously, he was senior editor of Dwell and contributing editor at Wired UK.
This burglar's guide isn't for ordinary smash and grab burglars, it's for the rest of us―who like to steal in, steal out, and get away with glorious dreams. A spectacularly fun read.
―Robert Krulwich, co-host of Radiolab
This is a marvelous wonder-room of a thing, an intricate, deeply researched, and brilliantly written mad scientist's tour of crime and how it's bound to the world we've built. Revealing, spectacular, and riveting.
―Warren Ellis, author of Gun Machine and The Planetary Omnibus
Long Now members hear about Interval events first: become a member today