Description
CONFERENCE OVERVIEW

The Geo-Carolinas Chapter of the Geo-Institute is proud to announce the Inaugural Geo-Carolinas Conference. The event will take place October 9 and 10, 2017 in Charlotte, North Carolina. The conference will include state-of-the art technical presentations by leaders in the field of geotechnical engineering. Guest speakers will include Anne Lemnitzer, Dave Paul, Allen Marr, Tim Stark, Silas Nichols, Jimmy Martin, Tom O'Rourke, Dan Brown, John Daniels, Ken Stokoe, Rick Deschamps and George Koerner.
The conference will consist of 8 presentations followed by a reception on Monday, and 4 presentations on the following Tuesday, for a total of 12 pdh opportunities. Breakfast, lunch and hors d'oeuvres will be provided on Monday, as well as breakfast and lunch the following day.
Lodging for the event will be provided by SpringHill Suites Charlotte Uptown (www.marriott.com/cltsd). For the group discount rate, click here or call 704-439-8100 and asking for the Group Code GEO. (Note that the group code doesn't work from the regular hotel website or the Marriott app).
Onsite parking is also available at the UNC Charlotte Center City Building where the event will be held. Parking is included in your registration.
Exhibit space and sponsorships are now available. Please see exhibit layout below and registration for additional details. Take advantage of our early bird registration and exhibit discounts by registering before August 21.
Thanks and we look forward to seeing you there.
Geo-Carolinas Chapter of the Geo-Institute
Conference Committee
Billy Camp
Duane Bents
Jesse Jacobson
Ron Andrus
Matt Silveston
SPONSORS

---
---
A special thanks to those companies who have already committed to supporting the conference; BLE, ECS, Catawba Valley Engineering and Testing and S&ME.
CONFERENCE PROGRAM
---
---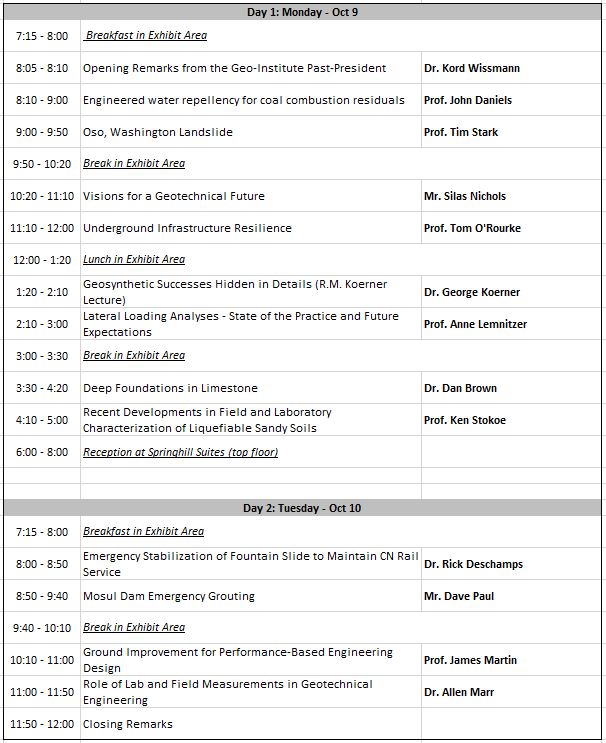 ---
---
SPEAKERS
---
---
Dr. Dan Brown
Biography: Dr. Dan Brown is recognized as one of America's leading authorities on the construction and design of deep foundations. After completing his education and his early engineering career in Louisiana, he spent 22 years on the faculty at Auburn University, where he taught and conducted research on deep foundations. Dr. Brown remains active in deep foundation practice through his consulting firm, Dan Brown and Associates. His consulting work includes the foundation design of numerous large bridge projects as well as commercial structures. He remains active in teaching through short courses, including the National Highway Institute course on Drilled Shafts, and in organizing the ADSC Professor Training Workshops in Chattanooga, TN.
Dr. Brown has authored numerous technical papers and was lead author of the 2010 FHWA manual on design and construction of drilled shafts. He has been recognized with the ASCE Huber Prize for research, the ASCE Martin Kapp Foundation Engineering Award, the Deep Foundations Institute Distinguished Service Award and the ADSC Outstanding Service Award. He is a member of the Moles, a Trustee and Vice President of the Deep Foundations Institute, past chair of the Geo-Institute Deep Foundations Committee, a member of Transportation Research Board Committee AFS30, and an honorary technical affiliate of ADSC: The International Association of Foundation Drilling.
Dan and his wife Barbara entertain their grandchildren and occasional wayward motorcyclists at their home in the Tennessee Mountains near Chattanooga.
Presentation Title: Deep Foundations in Limestone
Abstract: Limestone provides the bearing formation for civil engineering works in large parts of the U.S., and the design and construction of foundations in this geology presents unique challenges because of the potential for karstic and other features associated with nonuniform weathering. The challenges and risks associated with construction and quality assurance must be considered in design and the approach to risk mitigation must be understood and agreed by all stakeholders involved in the project. This presentation describes several case histories and proposes some effective methods that might be employed for design and construction of deep foundations in limestone.
---
Dr. John Daniels

Biography: John Daniels is a Professor and Chair of the Department of Civil and Environmental Engineering at UNC Charlotte. He also Chairs the National Ash Management Advisory Board for Duke Energy. Previously Dr. Daniels was a Program Director in the Directorate for Engineering at the U.S. National Science Foundation where he was responsible for funding research in geotechnical and geoenvironmental engineering as well as engineering research centers. While at UNC Charlotte, Dr. Daniels has led numerical, laboratory, and field-based projects for utilities and consultants, as well as state, national, and foreign agencies. Much of this work has focused on physical and chemical controls on soils and industrial byproducts, with a focus on coal fly ash. His textbook, co-authored with H-Y. Fang, entitled "Introductory Geotechnical Engineering: An Environmental Perspective" was released in 2006 and he has over 80 publications in various journals, book chapters, conference proceedings and technical reports. He has worked for TRC Environmental Corporation, Lowell, MA as a project engineer and is a licensed Professional Engineer (PE) in North Carolina. He holds a Bachelor of Science degree in Civil Engineering from Lehigh University, Bethlehem, PA; a Masters and a Doctorate in Civil Engineering from the University of Massachusetts at Lowell.
Presentation Title: Engineered water repellency for coal combustion residuals
Abstract: Coal-fired power currently accounts for 30% of electricity in the US and 40% worldwide. By 2040, coal is forecasted to represent 26% of electricity in the US and 30% worldwide. And if the use of coal ceased today, there would be more than ten billion tons of coal combustion residuals (CCR) across the globe, with much of it located in impoundments. Unprecedented scrutiny of CCR impoundments by legislation, regulation and litigation is summoning the expertise of geo-engineers. To that end, geo-engineers are uniquely suited to apply the principles of sustainability to CCR management in general and ash impoundment closure in particular. Technical leadership by our community will determine whether closure activity costs trillions (~US $2.3 trillion) or billions (~$US 230 billion) with a commensurate impact to our environment and social capital. This presentation provides several examples where the state of practice and research can be advanced, including a perspective on stabilization and beneficial use, as informed by engineered water repellency. Data and insights from a recently completed three-year (2014-2017) project that evaluated CCR materials from three utilities will be presented.
---
Dr. Tom O'Rourke

Biography: Tom O'Rourke is the Thomas R. Briggs Professor of Engineering in the School of Civil and Environmental Engineering at Cornell University. He is a member of the US National Academy of Engineering, Distinguished Member of ASCE, International Fellow of the Royal Academy of Engineering, and a Fellow of American Association for the Advancement of Science. He received many distinctions for his research and teaching, including the Stephen D. Bechtel Pipeline Engineering and Ralph B. Peck Awards from ASCE and the George W. Housner Medal from the Earthquake Engineering Research Institute (EERI). He gave the 2009 Rankine and 2016 Terzaghi Lectures. He served as President of EERI and as the chair or member of many professional society committees. He authored or co-authored over 380 technical publications. His research interests cover geotechnical engineering, earthquake engineering, underground construction technologies, engineering for large, geographically distributed systems, and geographic information technologies and database management. He has served on numerous government advisory boards, as well as the consulting boards or peer reviews for many projects associated with highway, rapid transit, water supply, and energy distribution systems.
Presentation Title: Underground Infrastructure Resilience
Abstract: Key lessons from the Tohoku Earthquake and Tsunami, Canterbury Earthquake Sequence, and Hurricanes Katrina and Sandy are discussed with respect to infrastructure resilience and adaptability. Measures being taken in Los Angeles and San Francisco to build resilient water supplies are addressed. The development of next generation hazard resilient underground infrastructure is discussed with reference to large-scale soil-pipeline interaction tests and numerical modeling of geometrically nonlinear soil and pipeline performance. The technical, institutional, and social challenges of introducing new technologies and engaging community support are examined, and a strategy for improving infrastructure resilience through smart technologies and policies is proposed.
---
Dr. George Koerner
Biography: Dr. Koerner is Director of the Geosynthetic Institute. He is in charge of laboratory accreditation, field certification and continuing education at the Institute. He also manages several research projects and has published over 300 technical papers in his 35-year association with polymers used in below ground construction. Dr. Koerner's Ph.D. is from Drexel University in Geotechnical Engineering. He is a registered professional engineer and a certified quality auditor. George has received many awards over the years. The most notable being IFAI's Environmental Technologies Award of Excellence 1995, ASCE's DVGI Geotechnical Engineer of the year in 2004, the title of ASTM Fellow in 2013 and GMA's first Koerner lecturer in 2017.
Presentation Title: Geosynthetics Successes Hidden in the Details
Abstract: This lecture will review research and experience from case histories related to geosynthetic used in transportation, geotechnical and environmental application. This Geosynthetic Materials Association (GMA) lecture is part of a biennial award and lecture series named for Dr. Robert M. Koerner, founding director and now director emeritus of the Geosynthetic Institute. Specifically, the lecture will address details about the following Geotextile, Geogrid, Geonet, Geospacer Composite, Geomembrane, Geosynthetic Clay Liner and Erosion Control Product.
The lecture is focused on the "quality system approach" of geosynthetics as placed in permanent and/or critical applications. Design, specifications, testing and proper installation are emphasized. It focuses on both the pre-and-post manufactured geosynthetics processes. Taking a page out of the ASCE playbook, the lecture ends with a summary "Geosynthetic Report Card" grading the areas of manufacturing, design, index test methods, performance test methods, generic specifications, installation, earth work contractors, inspectors, monitoring and regulatory reviews.
---
Rick Deschamps
Biography: Rick Deschamps is Vice President of Engineering at Nicholson Construction Company. He is a licensed professional engineer in several states and has over 30 years of industry experience in consulting, academia and construction. He currently oversees Nicholson's design group in the development of competitive design-build systems for geo-construction projects throughout the U.S.A.
Presentation Title: Emergency Stabilization of Fountain Slide to Maintain CN Rail Service
Abstract: Fountain Slide, located approximately 16 km Northwest of Lillooet BC, is a relic landslide that has been active since the 1970's. The progressive movements have posed a significant challenge to BC 99, the main North-South highway in the region, and a Canadian National Railway Company (CN) line. Some of these measures implemented by CN included a track realignment, shotcrete tie back wall and a soldier pile and lagging wall with three levels of anchors. For many years the measures had proved to be successful, until in mid 2014 it was observed that the retrogressive slide activated two blocks uphill of the tracks. Slide movements were typically 6 mm per day, leading to extreme distortion of the earth retention system and frequent realignment of the tracks. In the summer of 2016 a design build system of micropiles and anchors was implemented to stabilize the slide. The approach was used because of limited access for large equipment and the need for a ductile stabilization system because of the ongoing movements during construction (as much as 20 mm/day) Three dimensional numerical modeling demonstrated that common state-of-practice design approaches for micropile walls can be unconservative. The longevity of the stabilization is uncertain because of the magnitude and nature of the relic slide above the tracks. The presentation will discuss the design considerations and final approach implemented, construction activities, and deformation monitoring during and post construction.
---
Dr. Timothy D. Stark
Biography: Timothy D. Stark is a Professor of Civil and Environmental Engineering at the University of Illinois at Urbana-Champaign with an expertise in Geotechnical Engineering. Dr. Stark has been conducting research and teaching on the static and seismic stability of natural and manmade slopes and earth structures for over twenty-five (25) years. He is currently researching fully softened and residual shear strengths for slope stability analyses, three-dimensional slope stability analyses, transient and unsaturated seepage analyses for stability analyses, shear strength of liquefied soils for stability analyses, and interface strengths for geosynthetic lined slopes. He is the author or co-author of more than 300 reviewed technical papers. He served as Chair of the Earth Retaining Structures Committee and as an He is an Editor of the ASCE Journal of Geotechnical and Geoenvironmental Engineering and Vice Chair of the Embankments, Dams, and Slopes Technical Committee of the Geo-Institute.
Dr. Stark has received a number of awards for his research, teaching, and service activities including: Best Paper in Geosynthetics International Journal, 2016; 2015 James M. Hoover Lecturers at Iowa State University; R.S. Ladd D18 Standards Development Award, Standard Designation D6467, ASTM, 2014, 2011, and 2002; Thomas A. Middlebrooks Award from the American Society of Civil Engineers (ASCE), 2013 and 1998; Associate Editor Award, Journal of Geotechnical and Geoenvironmental Engineering, ASCE, 2012; Journal of Legal Affairs and Dispute Resolution in Engineering Scholarly, Paper, ASCE, 2011; Classic Paper in Geosynthetics, Geo-Americas Conference, 2008; elected Fellow, ASCE, 2005; R.M. Quigley Award from the Canadian Geotechnical Society, 2003, and Walter L. Huber Research Prize, ASCE, 1999.
Presentation Title: March 22, 2014 Oso Landslide– Initiation and Flowslide
Abstract: Dr. Stark's presentation will focus on the March 22, 2014 Landslide near Oso, Washington. This major and tragic landslide exhibited some interesting geo-mechanical behavior including a runout of over one mile, which devastated the adjacent Steelhead Haven Community. The presentation will focus on this and prior landslides at this site, triggering of the 2014 landslide, and initiation and runout of the resulting flowslide. In particular, Professor Stark will focus on the field investigation, laboratory testing, and slope stability analyses used to determine the triggering mechanism for the 2014 landslide and the shear strength and dynamic analysis used to explain the flowslide volume and runout distance. The results of this study are being used to gain a better understanding of landslide triggering mechanisms and develop improved methods for landslide hazard and risk assessments.
---
Dr. Anne Lemnitzer
Biography: Anne Lemnitzer currently works as an Assistant Professor at the University of CA, Irvine. She received her Bachelor degree from the University of Applied Science in Leipzig, Germany, a Masters in Geotechnical Engineering at CSU Long Beach and a MS/PhD in Structural and Earthquake Engineering from UCLA. At UC Irvine she teaches the undergraduate and graduate coursework in geotechnical engineering. Her research interests include experimental soil-structure-interaction studies, underground structures, deep foundations, and development of sensor instrumentation. She is currently serves as the Co-editor in chief for the Deep Foundations Journal, as the Chair of the LA Geo-Institute Chapter and as Chair of the Geo-Institute's Earth Retaining Structures Technical Committee.
Presentation Title: Next-generation p-y curves
Abstract: In many areas of the U.S., the design of deep foundation systems for large (e.g., bridges and tall buildings) and movement-sensitive structures (e.g., machine supported foundations) is governed by increasingly complex, multidirectional loading demands and interaction mechanisms. Foundation response behavior is reviewed by taking a critical look at the most frequently used lateral soil-pile interaction relationships, i.e., p-y curves. A 'state of the art' and 'state of practice review' (currently underway as part of PEERS "Next-generation p-y curves" project, will provide a fundamental summary of recent research studies and discuss future directions and opportunities for performance -based deep foundation frameworks. The presentation will specifically focus on studies of pile-soil configurations with complex geo-structural boundary conditions, i.e., fixity at the pile head and pile tip, and present results from research conducted on the effect of non-linear shear-flexure interaction and its impact on structural design assumptions.
---
Silas Nichols
Biography: Silas Nichols is the Principal Geotechnical Engineer for the Federal Highway Administration's Office of Infrastructure. Silas is responsible for providing leadership and direction for the FHWA National Geotechnical Team through policy development, technical guidance development, and coordination with industry and professional groups. Silas has been with the FHWA for 15 years both in Headquarters and with the Resource Center. Silas has a Bachelor's Degree in Civil Engineering from Syracuse University, and a Master's Degree in Geotechnical Engineering from Tuft's University. Prior to employment with the FHWA, Silas served more than 10 years in private consulting in the Northeastern and Mid-Atlantic United States.
Presentation Title: Visions for a Geotechnical Future
Abstract: This presentation will focus on issues impacting the future of transportation geotechnics. Discussion will focus on broad research topics and deployment efforts led by the Federal Highway Administration and its partners that are intended to reshape the geotechnical landscape. Topic that will be covered include load and resistance factor design platform issues, optimization in design for deep foundations, understanding and assessing performance of in-service assets, and evaluating scour in weak rock. The broad topic areas have been identified by the FHWA National Geotechnical Team as focus areas that must be addressed as part of advancing geotechnology, and improving design and construction practice for the discipline
---
Dr. Kenneth H. Stokoe, II
Biography: Dr. Kenneth H. Stokoe, II has been working in the areas of field seismic measurements, dynamic laboratory measurements, and dynamic soil-structure interaction for more than 40 years. He has been instrumental in developing several small-strain field methods for in-situ shear wave velocity measurements. He has also developed two types of resonant column systems that are used to evaluate dynamic soil and rock properties in the laboratory. Over the last 17 years, Dr. Stokoe has led the development of large-scale mobile field equipment for dynamic loading of geotechnical systems, foundations and structures. The equipment has already led to the development of new testing methods to evaluate soil nonlinearity and liquefaction directly in the field. Dr. Stokoe has received several honors and awards, including the H. Bolton Seed Medal and the Karl Terzaghi Distinguished Lecturer from the American Society of Civil Engineers and election to the National Academy of Engineering.
Presentation Title: Recent Developments in Field and Laboratory Characterization of Liquefiable Sandy Soils
Abstract: A comprehensive set of field trials was conducted in the suburbs of Christchurch, New Zealand to investigate the natural sandy soils that liquefied during the 2010-2011 series of powerful earthquakes. These field tests were performed in 2013 using a large mobile shaker, called T-Rex, to perform a staged-loading sequence of increasing sinusoidal horizontal loads at the surface of six natural-soil test panels. Each test panel was instrumented with embedded arrays of sensors and was characterized by direct-push crosshole seismic testing before shaking. The staged-loading tests were used to identify the threshold strain at which pore pressure generation was initiated and to measure changes in pore pressure with increasing number of cycles and strain amplitude. This initial testing is briefly discussed and refinements in data analysis for improved understanding of the field behavior are presented. To better understand the nonlinear response of these sandy soils, a laboratory testing program of reconstituted specimens of these soils is underway using combined cyclic torsional shear and dynamic resonant column equipment. The laboratory and field results of the linear and nonlinear shear moduli are in good agreement when: (1) the field pore pressure measurements are used to adjust the confining pressures in the laboratory and (2) a new and improved set of G/Gmax – log g relationships are used. These nonlinear modulus-strain relationships with and without the associated pore pressures are used to develop nonlinear shear stress-shear strain curves to illustrate the change in the sandy soils during earthquake shaking.
EXHIBIT LAYOUT
---
---